How to Control Android from PC / Mac
by Anna Sherry Updated on 2021-10-12 / Update for Mirror Android
Android has many significant features that help use your device in various manners. For example, users can control their android device through pc. So, at this point, we will discuss some such applications that will help access and control phone from PC. You can select the best one according to your requirements and follow the instructions given in this article to control your smartphone from PC.
5 Options for How to Control Android from PC
1. Tenorshare Phone Mirror for Android
The first option for you is Tenorshare Phone Mirror, designed to help Android users mirror and then control their mobile devices on PC. With Phone Mirror, you don't have to look down for your phone while using computer. Just a USB cable and this desktop application can help you control Android from PC.
Connect your phone to the computer with a USB cable. And follow the steps one by one to enable USB debugging.

When it detects your Android phone, click on the mirror button to start mirroring.

Then your phone screen will show on PC. Now you can control it with mouse and keyboard!
2. Teamviewer Android to PC
Teamviewer is secure and fast to control Android phone to PC. Teamviewer delivers features to chat, transfer files, stop processes, view device information, and many more. To work with it, then go through the following steps.
Install TeamViewer on your pc, then create an account and set up easy access from the remote-control tab directly.
On the Android device, download and launch TeamViewer QuickSupport app.

You will see a ID in the main interface, click on Share your ID and allow it.

On your PC, enter the ID to get connected. And then start to control your Android device from PC.
3. Vysor Android
Vysor helps their users to control their Android device through computers. Users can play games, control their device by using keyboard and mouse. Users can also go wirelessly and mirror their android on desktop for great visualization. Users just have to perform following requests.
Search Vysor on Google to install the app for chrome and set up ABD for Android devices.
Also on your Android, download the app from Google Play Store and enable USB debugging.
Click on the "Find Device" button from the Vysor main menu, and select your Android device here. The screen will start mirroring within few seconds.
Once you have connected and started mirroring your Android device on the pc window, you can control it by using a mouse and keyboard to navigate your phone as you usually do.
4. Samsung Smart Flow
Samsung Smart Flow provides a very secure, seamless experience to establish a connection between your Samsung phone and pc. Users can move their documents and get phone notifications on pc and content of phone on a large screen. They can also use mirror their phone to PC and control it on the computer. So, follow the given steps to this.
Start the Samsung Flow app on your pc and phone.
On your pc, select your phone from the given list, and then confirm code on both devices. Now, Samsung smart flow will complete steup, and you can perform your activities.

Open the app on the Samsung device and choose the Samsung View logo. Within a few seconds, you can mirror and control the phone on pc.
5. Anydesk
Anydesk also helps to connect computers remotely. It ensures fast and reliable connections for professionals to go and access from anywhere. The remote desktop application is very easy to use and set up and provide all features desired without being cluttered. To control Android from PC, just go through following steps.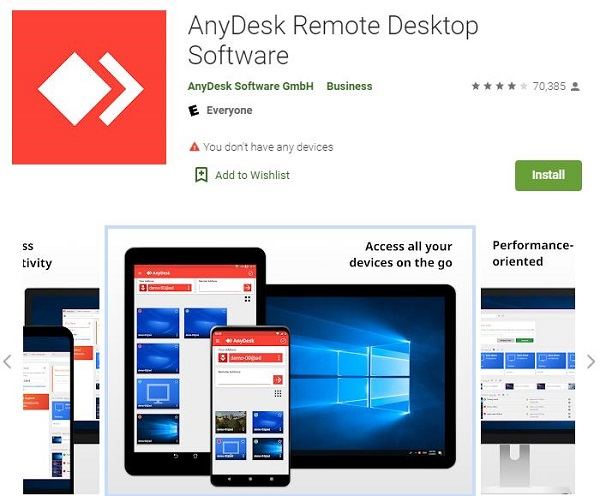 Download and install Anydesk on your 2 devices and set them up in a few steps.
Open the main interface on Android and it will immediately show a new address ID.
Then on your desktop app, enter the address ID under the Remote Desk panel and click on Connect.
To make your device available remotely, accept this process on your Android.
Now close the app and you can control your device on PC now.
Conclusion
Most of users rely on mobile devices but sometimes situations occurs that we want to use computers for a larger screen. For this variety of methods and applications available to control android screen on pc. So you can choose anyone in this article according to your requirements and enjoy mobile screens on pc.
Screen Mirroring Android to PC freely!
Screen Mirror Android phone to PC No Delay
Directly control Android devices from PC
Mirror up to 5 Android devices at the same time
Take screenshots and recordings of Android screen on PC in high quality
Share contents between mobile and PC