[Step-by-Step] How to Factory Reset iPod Touch without Password
by Anna Sherry Updated on 2021-11-24 / Update for iPod Tips
The iPod touch has been designed by Apple Inc. as a multifunctional device that you can use for listening to music, checking iCloud files, browsing the internet, checking your email, and watching videos on YouTube. For most individuals, it is vital to safeguard the data on the iPod touch; hence, the use of a screen lock passcode is common. Unfortunately, you may forget your iPod touch passcode. Also, you may be denied access to using a pre-owned iPod touch if you don't know the passcode of the previous user. After entering the wrong passcodes for a few times in a row, your iPod touch may be disabled.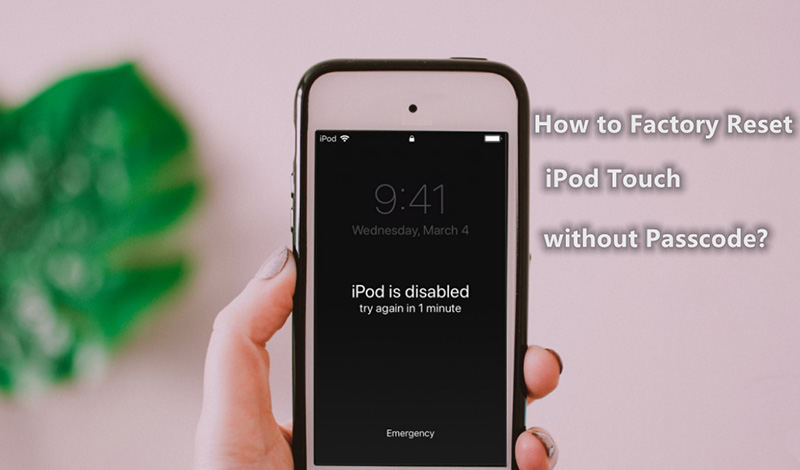 If you find yourself in any of these situations, it is vital for you to look for a way to factory reset your iPod touch to get unlimited access to its data once again. And this is where this tutorial comes into the picture. Here, we will describe some basic but useful ways to factory reset your iPod touch without a password.
Part 1. How to Reset iPod Touch to Factory Settings without Computer or Password
If you don't know the password of your iPod touch and cannot access a computer, this particular method is specifically meant for you.
Press both the "Sleep/Wake" and "Home" buttons at the same time and hold them for around 10 seconds.

Once the Apple logo shows on the screen of your iPod touch, release the two buttons.
With these two steps, you have reset your iPod touch. The easy-to-follow initial setup process will be displayed on your screen. Notably, you need to sign in your existing Apple ID and iCloud usage once you have completed the factory reset.
You should note that this method may not work in some instances and this is why we will describe some more reliable methods to factory reset your iPod touch without a passcode.
Part 2. How to Factory Reset iPod Touch without Password or iTunes (Recommended)
Assuming you cannot remember the password of your iPod touch and don't have access to iTunes, this is the method you can rely on. Whether you are locked out of the device, unable to enter passcode because of a broken screen, or iPod touch is disabled, Tenorshare 4uKey can get the job done for you easily and quickly. Tenorshare 4uKey doesn't require iTunes and is good for removing the password, Touch ID, Face ID, etc.
If you are ready to use this tool to factory reset your iPod touch without password or iTunes, here are the things you should do.
Get started by downloading Tenorshare 4uKey on your computer. Once you have the program on your computer, install and launch it. On the home screen of the program, choose "Start" to proceed.

Using a USB cable, connect your iPod touch and PC or Mac. Generally, your iPod touch will be detected automatically by the program. From the interface, tap "Start" to begin the process.

At this stage, you need to download the latest firmware file. Select the preferred save path and hit "Download" to get the package.

Once the firmware package has been downloaded on your PC or Mac, tap "Start to Remove" to continue the passcode removal process.

The process requires some minutes, so you have to be patient here. It is important to ensure that the two devices remain connected through the process to avoid any problem.
If you can follow the 5 steps explained above, you cannot have any challenge with resetting your iPod touch.
Related Video
Part 3. How to Factory Reset iPod Touch without Password (Using iTunes)
Do you have access to iTunes that was previously synced to the iPod touch? If yes, this third method is good for you. Let's highlight the things you need to do below.
Use a USB to connect your iPod touch to the computer it has been synced with.
Open iTunes and enter the required passcode.
iTunes will take a few seconds to detect the connected iPod touch.
Check out the left panel of the screen and tap "DEVICES". Look for the iPod touch under this option and then select it. This should show you the detailed information of your iPod.

In the summary tab, you should see the "Restore iPod…" button. Hit this button to continue this process.

This will start resetting your iPod touch immediately. This may take some time so wait until the device leaves lock screen mode successfully.
Once you have completed this process, your iPod touch will be like a new one; If you have a recent backup on it, click "Restore from iTunes Backup" to retrieve it.
It is important to note that only people that know the password of iTunes synced to the iPod touch can use this particular method. Hence, if you have just bought a pre-owned iPod touch and cannot ask the owner to unlock it, this method is definitely not for you.
Conclusion
In conclusion, if you have any problem with accessing your iPod touch because you don't know or remember the passcode, you can utilize any of the 3 methods mentioned above to factory reset it. However, the first and third methods are too limited in their applications. Therefore, we recommend to use the Tenorshare 4uKey to factory reset your device. The tool is easy to use as you only need a computer. In addition, it doesn't require any experience or technical know-how to get the job done as quickly as possible. So, it is the best tool for the job.
Remove Any Password in Minutes
Remove Apple ID or iCloud account on iPhone/iPad without password
Remove screen time passcode in 3 simple steps
Fix disabled iPhone/iPad without iTunes or iCloud