[Fixed] iPad is Disabled and Connect to iTunes Error
This may be for the first time you have seen "iPad disabled cannot connect to iTunes" message on your iOS device. For the moment your device is unusable, the only way to fix the device now is to unlock the device safely. Unfortunately, any usual methods will not work on your iPad! So, you can just follow the instructions on the screen and connect the device to iTunes. If you are able to connect to iTunes then you will definitely be able to fix the device but if you are not able to connect then do not worry. In these circumstances, you can use the iCloud app or you can go for any other third-party option. And that's why we are here with a detailed guide on the same. Let's get started.
Solution 1: Enter Recovery Mode and Restore Disabled iPad with iTunes
If you have a disabled iPad in your hands then your first medium to fix the device is to connect it to iTunes. Apple is world renowned and a responsible company; they have foreseen such problems and provided the official solution to connect the device to iTunes and get it fixed. So, if you are wondering how to unlock iPad passcode with iTunes, just follow the steps below:
Step 1: Launch iTunes.
Step 2: Turn off the iPad/iPad Pro/Air/Mini.
Step 3: Press and keep holding the Home button on your iPad until the Apple logo is seen.
Step 4: Connect the iPad and your computer via USB cable.
Step 5: "An iPad has been detected in recovery mode", this will pop-up on your screen.
Step 6: After this, you will see "There is a problem with iPad 'iPad' that requires it to be updated or restored"

Step 7: Simply tap on the Restore button and iTunes will again verify to wipe out all the data and settings.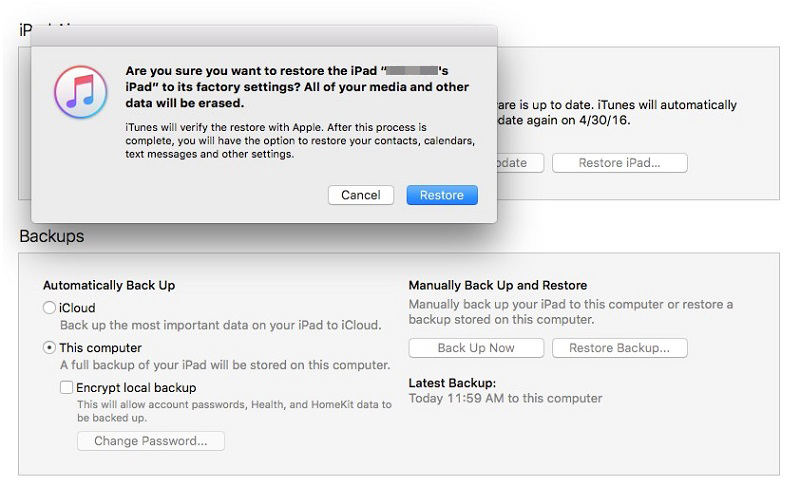 Step 8: Click "Restore and Update"
Now, just wait for the iPad to get restored. As you have realized that this is the official procedure provided by Apple but the main drawback of this system is that you won't be able to connect to iTunes if you haven't already done that before.
Solution 2: How to Unlock Disabled iPad without iTunes Restore
Every year several people get locked out of their iPads. In most cases, their tablet got stolen and someone else tried to force open the device. So, to protect the data, Apple's security system kicked in and disabled the device so that no one could get into the device anymore. Unfortunately, even if you recover the device you will see a disabled iPad won't connect to iTunes. So, what can you do if your iPad is disabled and won't connect to iTunes?
Sadly, in such circumstances, the conventional procedures won't be effective. So, you need to try Tenorshare 4uKey. It is a third-party tool specifically designed for this purpose. It will unlock the device instantly without any hassles whatsoever. The steps to unlock your disabled iPad using Tenorshare 4uKey is as follows:
Step 1: You need to start by downloading Tenorshare 4uKey on your computer. You can use a PC or Mac as the tool is supported on both devices.
Step 2: Now, you need to double-click on the set-up file of the app to install. After the installation is complete, launch the app.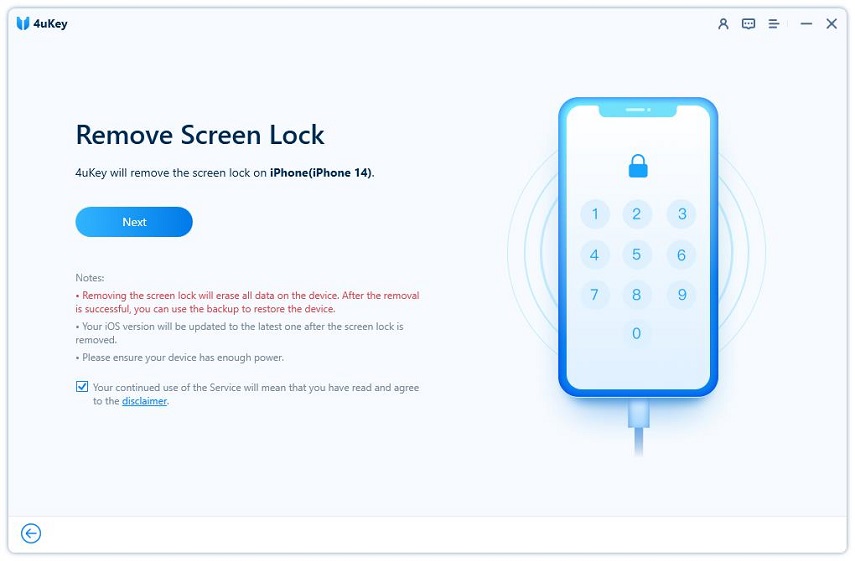 Step 3: Then find a USB cable and connect the devices together.
Step 4: The will detect the iPad automatically then you have to go to the main interface and click on "Start" to initiate the procedure.
Step 5: At the beginning of the procedure, it will ask you to download the firmware package.
Step 6: You need to choose a folder to download the package and then click on "Download" to proceed.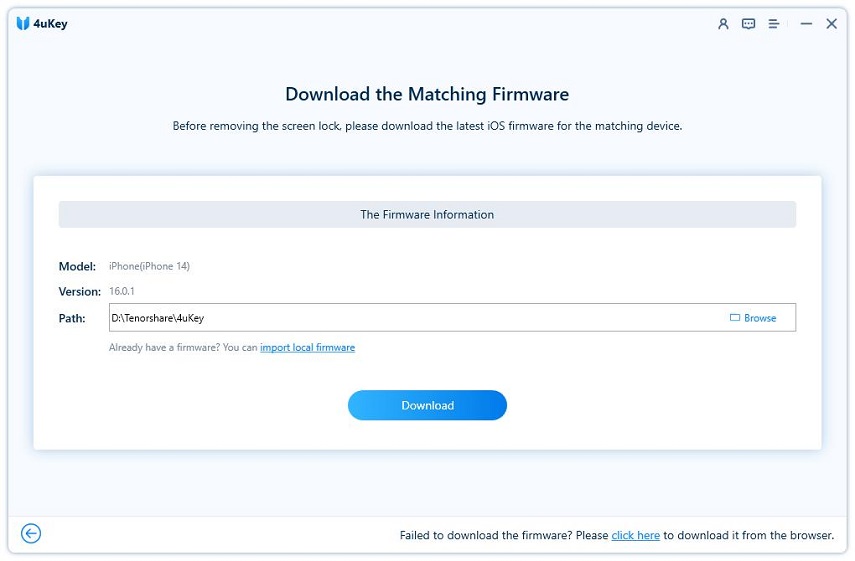 Step 7: When the firmware package is downloaded you will have to click on "Unlock Now" to start the unlocking procedure.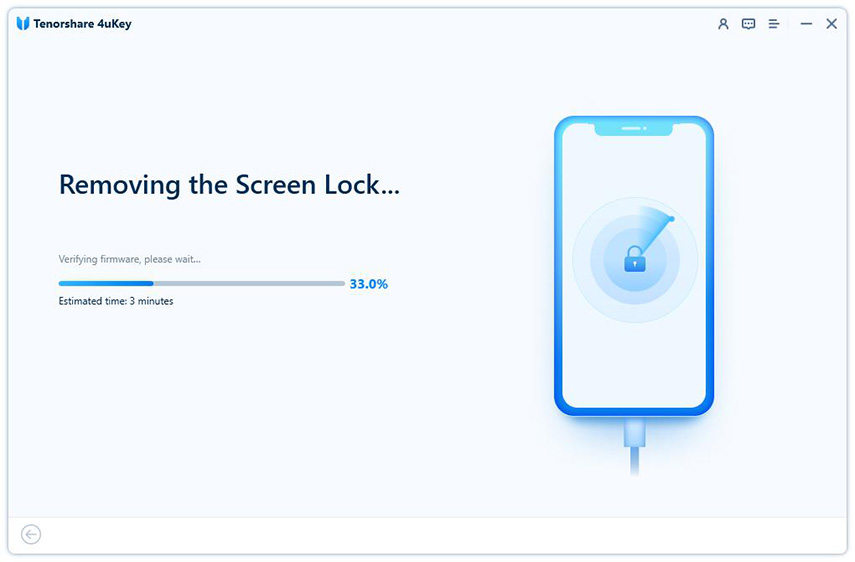 This is how to unlock iPad passcode without restore using 4uKey. The entire procedure will take a few minutes to complete. Make sure that the devices do not get disconnected during that time. After the process is finished you can use the device.
This is a very efficient program that uses modern techniques to conveniently remove the lock from your device immediately. It will remove all the previous data and settings from your device so that you can restore the device from a previously saved backup file.
Video Guide: iPad is disabled, connect to iTunes? Unlock It without iTunes!
Solution 3: Another Way to Fix Disabled iPad without iTunes
If your iPad is disabled and cannot connect to iTunes, then you should look for other apps to unlock your device safely. One of the best apps to unlock the device is mentioned above but if you are uncomfortable using a third-party app like Tenorshare 4uKey then you have another official option available for you, it is iCloud. The usual way to unlock the device in this situation is to use iTunes; since you are unable to connect to iTunes then you can iCloud to get your device fixed.
So, the steps to unlock your iPad using iCloud are mentioned below:
This procedure will require s different device as your iPad is currently disabled.
Step 1: So, you can use an iOS device if your own one or just go to your computer.
Step 2: Open a browser and visit the official website of iCloud.
Step 3: Then you have to use your Apple ID and password to enter your iCloud account.
Step4: On the next screen, you have to click on "All Devices" and select your iPad.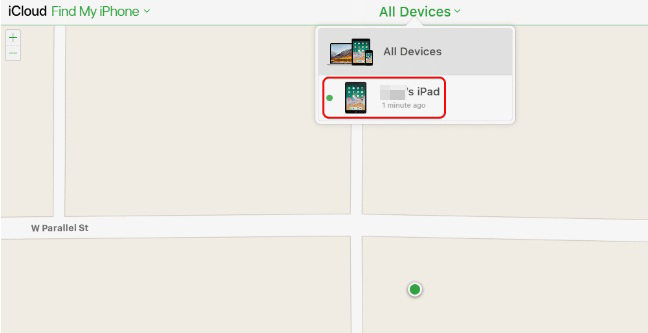 Step 5: Now, click on the "Erase Device" option to erase the device.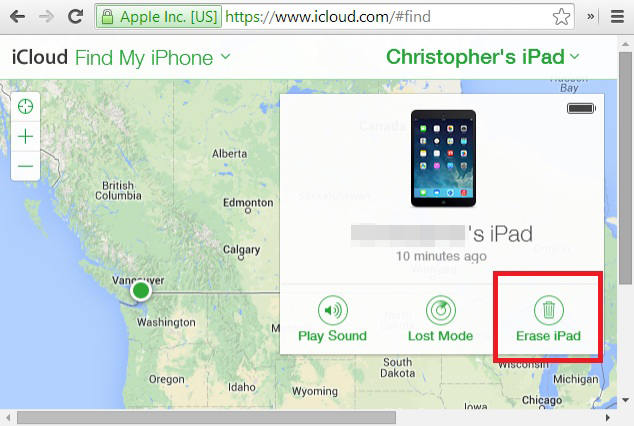 As all the data from your device has been removed, the password has also been removed. You can safely use the device now. But as the procedure tells you, it will definitely remove all the data from your iPad. So, after the iPad is fixed you have to restore it from a backup to use it again.
Conclusion
There are lots of people complaining that "My iPad is disabled and says connect to iTunes" so, this article was designed to inform you about how you can use iTunes to fix your device and if you are unable to connect to iTunes then there are other apps as well like iCloud or Tenorshare 4uKey that you can use to unlock your locked iPad. But in the end, it is up to you to decide which seemed to be the most convenient option for you. We highly recommend 4uKey as it is the easiest and by far the most convenient option here. Go for it!