How to Use Bluetooth File Transfer between Devices
by Jenefey Aaron Updated on 2020-07-15 / Update for iOS File Transfer
Our devices contain a lot of important data and transferring becomes necessary whenever we decide to switch to the new device. We all know about Bluetooth technology when it comes to transferring of the data. In this article, we are going to talk about Bluetooth File Transfer app and learn how you can transfer the content from one phone to another. So, to transfer the data between the devices will not be a burden for you. Just check out this article and get the information about Bluetooth data transfer.
What is Bluetooth File Transfer
Bluetooth file transfer is an Android app that lets the Android users transfer their file types from one Android to another in a simple way. This app gives advantage of wireless transferring. That is to say, you can transfer data between Android devices without any cord or USB cables while doing Bluetooth transferring. It covers a certain range of distance which means your device should be in limited distance when you use Bluetooth transfer app for transferring data.
The app helps you to share your data between the devices with high quality results. It automatically enables Bluetooth and offers a clean and easy to understand interface. The app also support Google Drive and Dropbox so that you can upload your files their and save them for any future loss. Moreover, you can also transfer the data from Android direct to PC with the help of the app, be it Bluetooth music transfer or photo/video transfer. You can share with social media platforms as well namely Gmail or Facebook.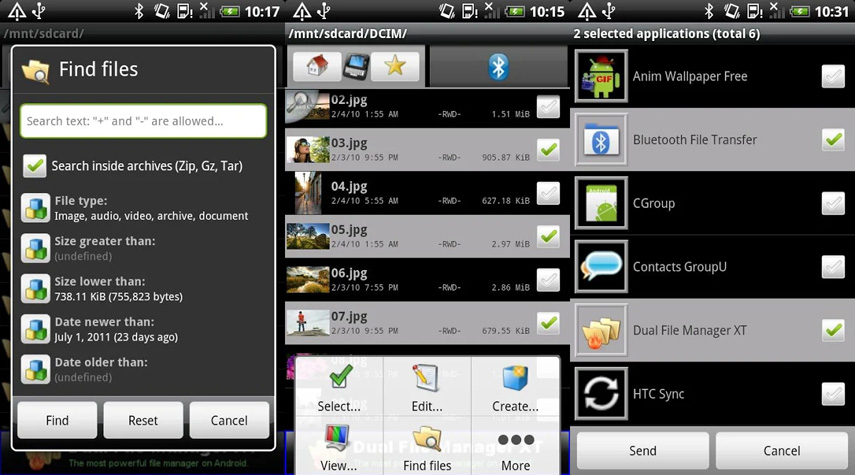 Types of Transferrable Files
You can transfer your videos, photos, music, documents, apps to the other device. However, you need to make sure that the target device should be able to recognize the file type so that it can be used properly. For instance, if you're sending a PDF document, the receiving device should have a source to open and use it.
Limitations of Bluetooth File Transfer
The prime limitation of this app is the rate and size of transferring. In other words, when you carry out transferring via Bluetooth File Transfer, it tests your time and patience. The process is relatively slow and can be very time-consuming.
In addition, the bluetooth file transfer also limits the distance between two devices, long distance may lead to file transfer failure.
Easiest Way to Transfer Files Between iDevices
Well! You see that Bluetooth file transfer for iPhone is unfortunately not available. So what if you wish to transfer files between iOS devices? Don't worry we have solution for that too. The best way to transfer data between iDevices is to use Tenorshare iTransGo. It is the most trustworthy software and can help the users in flexible transferring of the data. This one-click tool is fully compatible with any of iOS deivce, Windows OS as well as Mac OS. More than this, it saves much time for its sound performance and intuitive design. Here is how to use it.
Step 1 – Step 1 – Visit the official page of Tenorshare iTransGo and download it from there.
Install and run it afterwards to begin the process. Now, make sure to connect minimum two devices to the computer between which you need to do transferring. Subsequently, click on the 'Next' button.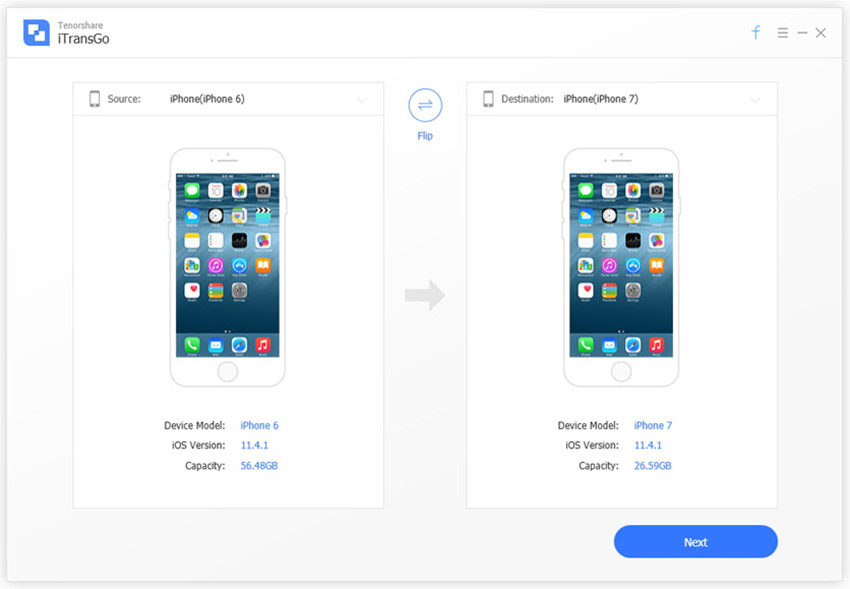 Note: If you want to switch between the source and the target device, you can click on the button having the flip icon.
Also, if you have connected more than two devices, the drop-down options will help you in switching between the source and the destination devices.
Step 2 – Now, when your devices are successfully connected, the software will start scanning the data from the source device. Also, it will display the target phone's capacity.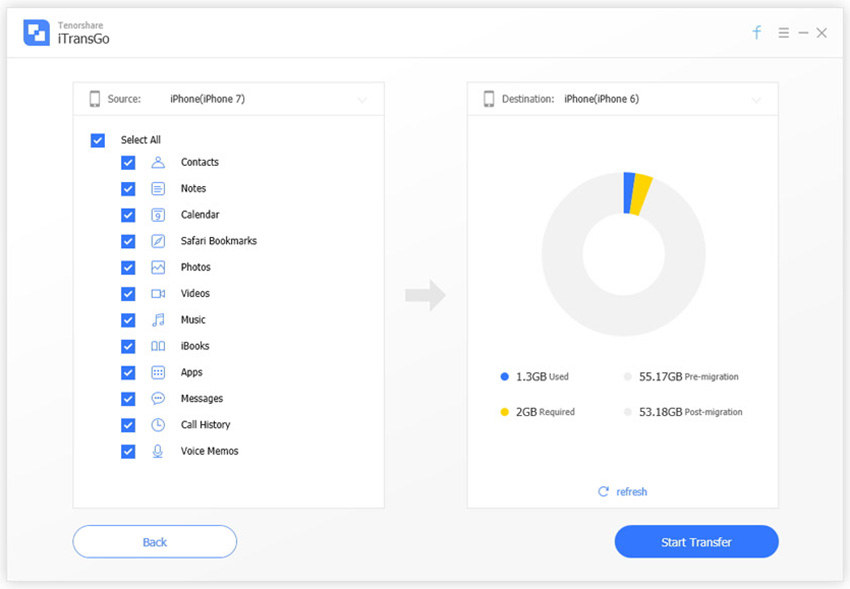 Step 3 – Now, you will find your file types from the source device appearing on the screen.
Click on either 'Select All' or just choose those data types that you want to transfer by checking the tiny boxes beside each of the content. With selecting each type, you could notice the storage it is going to take in the target device. When done with the selections, click on 'Start Transfer' and the selected data will begin to move into the new device. Wait and don't disconnect the devices until the process is finished.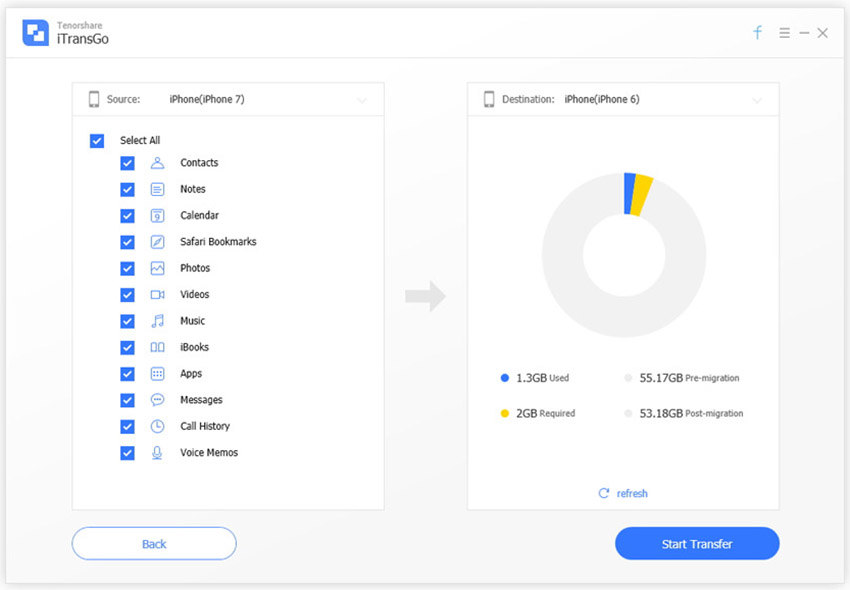 Conclusion
We made you aware with Bluetooth file transfer and its limitations. We also made you familiarize with the best product out there that can help you to transfer files between iOS devices. Tenorshare iTransGois one of the most talked about software in the market and the most reliable when it comes to safe transfer. We hope now that you know everything about Bluetooth data transferring and iOS data transferring too. Help us knowing how you felt reading the article.