Top 4 Way to Open HEIC file on Mac Easily
by Anna Sherry Updated on 2019-11-15 / Update for Mac OS
Numerous macOS users are facing a difficult issue and they are asking the same question how to open file extension HEIC on Mac?
This issue may sound simple enough but this isn't. The older versions of Mac and macOS doesn't support HEIC files. So, in order to open photos with the said formats, you will have a use a few tips and tricks. The tips will be effective providing you are using effective methods. Our compiled list of fixes are provided below;
Part 1. What Is A HEIC File?
So, what is a HEIC file? HEIC format refers to High Efficiency Image Format. As the name suggests, it is a more efficient way to store pictures. The file size will be very small but the picture quality will be high, in comparison with JPEG format. So, if you are looking at both a JPEG file and a HEIC file, you would know that HEIC files are superior in every possible way.
Here are a few advantages of using HEIC files;
Compared to JPEG files, HEIC takes too little space while keeping the image quality.
It is compatible with any transparency.
Also stores the photo edits.
Equipped with 16-bit color while JPEG uses 8-bit.
While HEIC file is very convenient, but this format is not compatible with older macOS and Mac OS X versions.
Part 2. How to Open HEIC File on Mac by Converting HEIC to JPG
So, if you are using an inferior version of macOS; you need to know how to open HEIC file on Mac?
As we told you before, the older versions of macOS doesn't support HEIC file format. So, your only option is to convert HEIC to jpg. Well, on a Mac, there are multiple ways to turn HEIC to jpg. Let's have a look,
Way 1. One-click to Change HEIC to JPG on Mac with iCareFone
First, we are going to recommend a professional program that can be used to change HEIC to jpg. You will find numerous such programs available online but we would like to recommend Tenorshare iCareFone.
Tenorshare iCareFone is the said professional program, provides the ease of converting the files with its simplest operating procedure.
Step 1Step 1: So, download and install the program on your Mac and connect the iPhone.
Step 2Step 2: After the connection is established, launch it and click on the 'Manage' tab.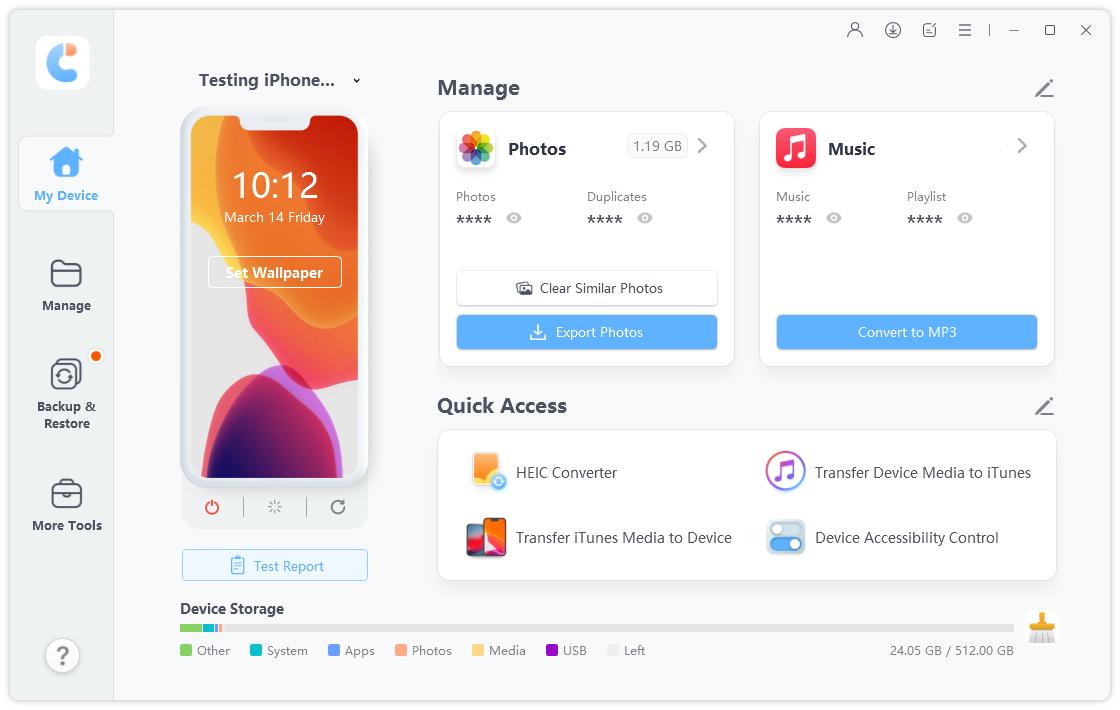 Step 3Step 3: All the file available on the iPhone will be displayed on the screen. Click on the 'Photos' folder. All the photos will be displayed on the screen.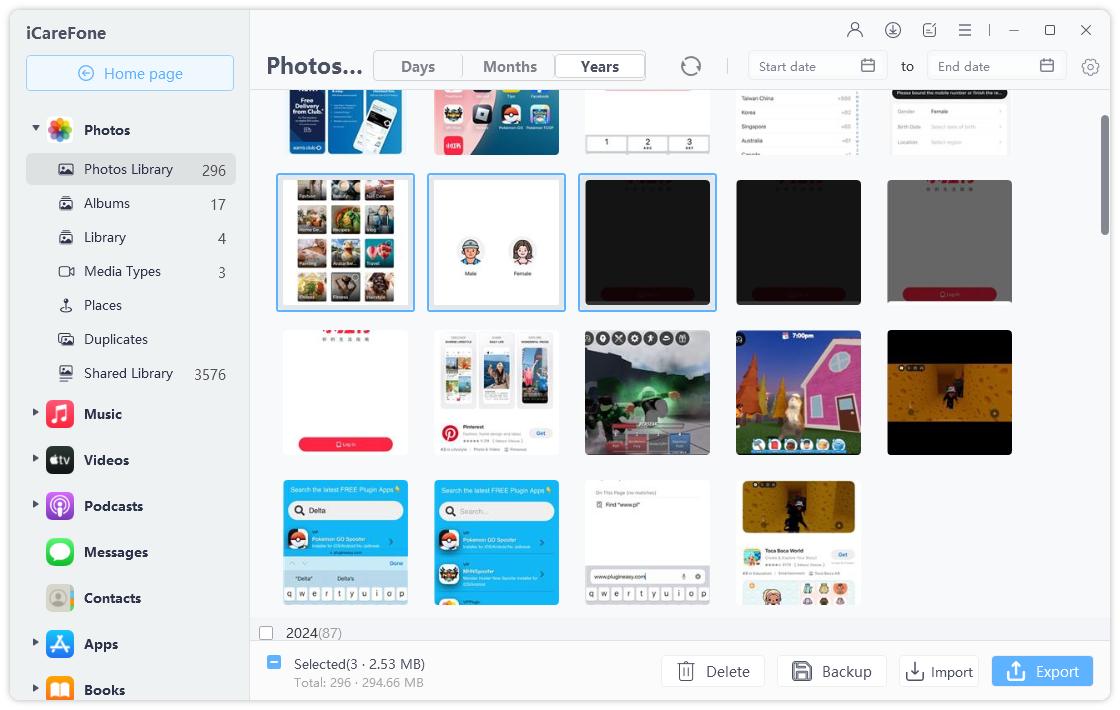 Step 4Step 4: Now, you need to choose the photos with HEIC format and click 'Export'. The files will be converted into JPEG.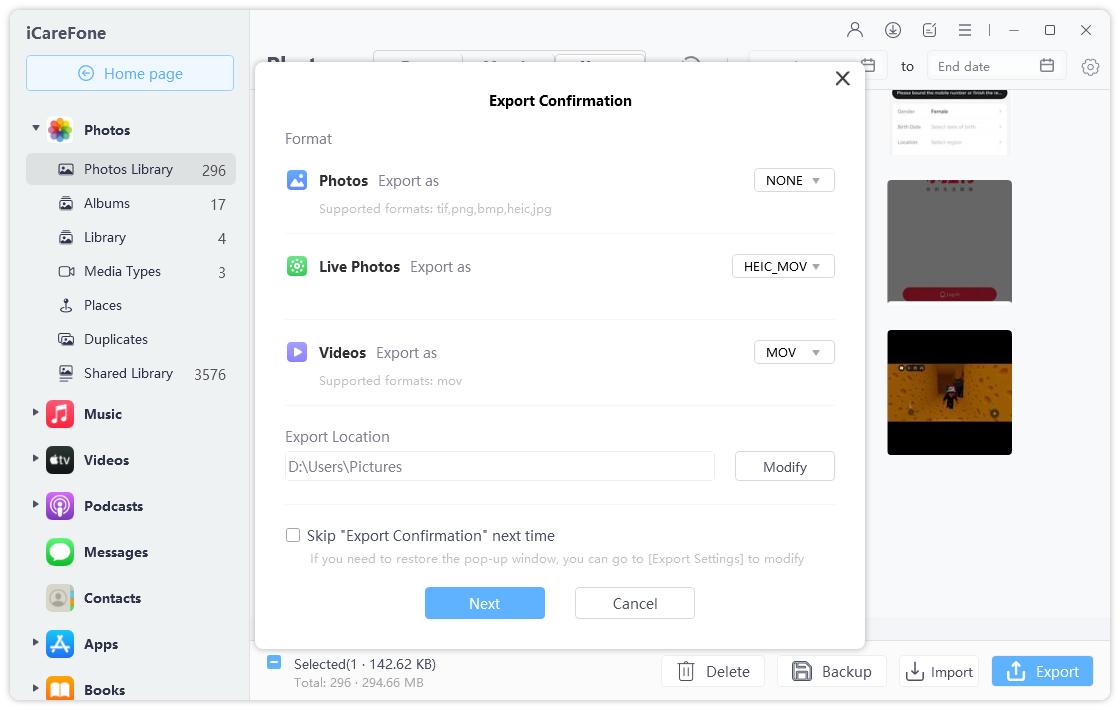 Tenorshare iCareFone is the simplest way to convert from HEIC to jpg but there are other methods available too.
Way 2. Enable Automatically Transfer HEIC to JPG on iPhone Settings
If you are asking, how do I convert HEIC files to JPEG? You will find that it is pretty simple. You will be able to convert iPhone photo to jpg from the settings of the said device. Take a look;
Step 1: Navigate to the 'Settings' of your iPhone and scroll.
Step 2: Find 'Photos' on that list and tap.
Step 3: Then, tap to 'Automatic' under 'TRANSFER TO MAC OR PC' option.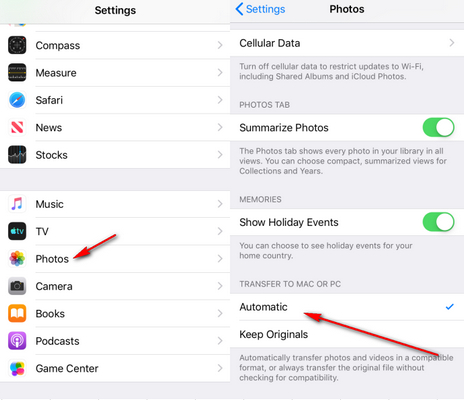 This is actually a very convenient way to transfer HEIC to jpg, very effective. Give it a try.
Way 3. Change HEIC to JPG on Dropbox
You can also use the Dropbox services to convert HEIC to jpg on Mac. The steps are pretty simple. Here's how to convert HEIC to jpg on Mac,
Step 1: Download the Dropbox on your iPhone.
Step 2: Then, launch the app and upload the said photos on your Dropbox account.
Step 3: Now, install the Dropbox app on your Mac. Then open the app and navigate to your account.
Step 4:Now, you will be able view and download those files on your Mac. Dropbox automatically converts the format.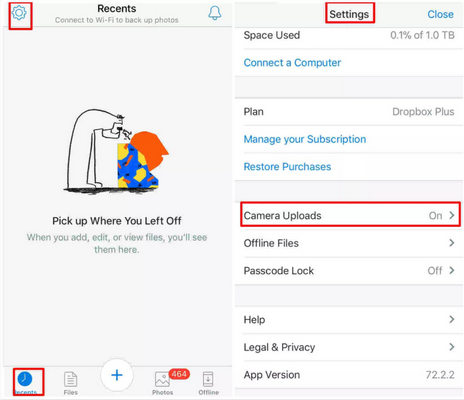 Well, you will be able to open HEIC files on your Mac, effectively using Dropbox. But there are a few drawbacks. First of all, Dropbox provides questionable security and the procedure is just too complex.
Way 4. Convert from HEIC to JPG by Emailing
If you are still asking; how do I open a HEIC file? Well, the last method on this list uses email to convert the files. The steps are simple to Mac convert HEIC to jpg. Take a look;
Step 1: Run the email app on Mac and compose a new email.
Step 2: Then, choose the HEIC files and add them as attachments.
Step 3: Now, send the email to any email account or you can even save it as a draft.
The files will be converted automatically. You can download them directly from the Drafts or you need to access that other email ID and download the photos.
This method works but the procedure is not secure at all, and also not very convenient.
Conclusion
Therefore, you won't be able to open HEIC files on older Mac devices unless you use a few tips and tricks to overcome the limitations of the macOS. We have provided a few effective ways to open the files with said formats but using Tenorshare iCareFone is still recommended.