[Free] How to Test Hard Drive Speed Efficiently on Windows and Mac
by Anna Sherry Updated on 2020-03-29 / Update for Mac OS
"Any standard tests i can use to check my new iMac - it's slow"
Over time, as you use your computer more and more, the components on it will slow down. If you are facing any slowdowns with the hard drive of your computer, you can test hard drive speed to find out if your drive has actually slowed down. There are a number of ways to perform speed test for hard drive and the following guide covers some of those methods for you.
In this guide, you are going to find out how you can run a speed test for the hard drives on both your Windows and Mac based computers. Once you have the data you were looking for, you can then take appropriate actions to speed-up your hard drive. Maybe you can buy a new drive or you can use a software to clean-up whatever it is causing your drive to slow down. Before you do that, here's how to find out the speed of your hard drives:
Part 1. How to Test Hard Drive Speed on Windows 10/8/7 Free?
If your computer runs Windows 10, 8, or 7, you have a few free methods to run a test for your hard drive speeds. These methods are easy to do and will not take more than a few minutes to do their job.
If you are curious how to use these methods to test hard drive speed Windows 10, the following shows how to use one of these methods on your Windows based computer. Let's check it out.
You are going to use a software called Parkdale to run a speed test for your hard drives on your PC.
Step 1. Open a new tab in your web browser and head over to the Parkdale website. Download and install the software on your computer.
Step 2. When the software is installed, launch it from your desktop. On the main screen of the software, you will see all your hard drives listed. Click on the one you want to run a test on, configure the options shown on your screen, and finally click on the Start button.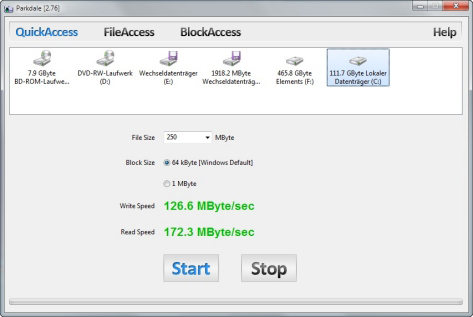 Step 3. On the following screen, you should be able to view the speeds of your Windows PC's hard drive.
So that is how to test hard drive speed efficiently on a computer that runs modern versions of Windows.
Part 2. How to Test Hard Drive Speed on Mac Free?
If you do not use a Windows computer but you have a Mac, you can also run hard drive speed tests as there are utilities available to help you do it. In fact, the tool that you are going to use in the following method to perform a hard drive speed check is much easier to use than the Windows one we mentioned above.
The tool that you are going to use is called Blackmagic Disk Speed Test and it is available on the official Mac App Store. You can grab the tool from there and then use it to check the speeds of your hard drives.
Even though it is easy to use the tool to check your hard drive speeds, we have given steps on how to do it make the task even more easier for you.
Let's see how to test hard drive speed Mac:
Step 1. Head over to the Mac App Store and download and install the Blackmagic Disk Speed Test tool on your Mac.
Step 2. When the tool is installed, launch it from the Launchpad of your Mac.
Step 3. When the tool launches, click on the button that says Start to start a speed test. The button is easy to find as it is located in the center of the tool interface.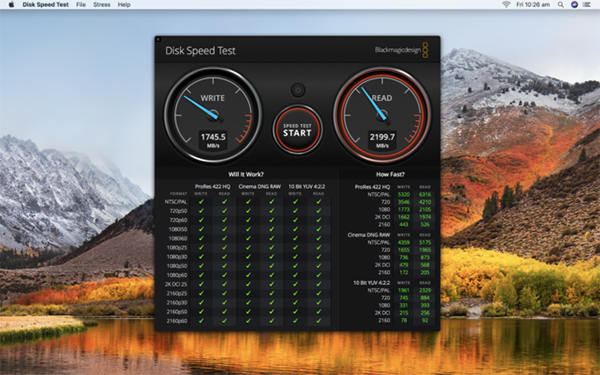 Soon the tool will display all the information you need regarding the speed of your Mac's hard drives.
Now that you have the speed data with you, you can think of any improvements you can make to your Mac.
Extra Tip: If You Lost Important Data on Hard Drive?
One of the issues people often run into is they end-up losing their data when they are just playing around with their hard drives. If you have lost your data in a similar scenario, there is tool that will help you get your lost data back on your computer.
The tool is called Tenorshare 4DDiG for Windows Data Recovery/Mac and it is available for both Windows and Mac computers. It is capable of restoring data from any data loss scenario. It helps recover hundreds of file formats and you can even preview your data before you recover it. You are highly recommended to use it to recover lost data on Windows and Mac machines.
If you want to test hard drive speed on your Windows PCs or Mac machines, our guide above should help you do it efficiently. It provides you with the easiest methods to do the task so you do not face any difficulties.
Recover Unlimited Mac Data for You
Recover data deleted, formatted or lost on Mac;
Restore files from hard drive and external storage devices;
Recover data from failed/crashed/dead MacBook;
Fully supported latest macOS 10.15 Catalina;