What is Apple T2 Chip and What Does It Do
by Sophie Green Updated on 2020-09-29 / Update for Mac OS
If you have ever looked up more information about how Apple keeps your data secure on your Apple devices, you have likely heard of this thing called an Apple T2 chip. If you are a curious soul who wants to find out exactly what this chip is and how it works, you may want to continue reading this guide to learn more about the Apple T2 security chip.
Part 1. What is Apple T2 Chip?
The Apple T2 chip is a silicon chip that Apple has included in its latest lineup of Apple devices. This chip is only found on Apple's Mac machines. Several internal functions of the earlier chips have been tweaked to come up with this new version of the chip.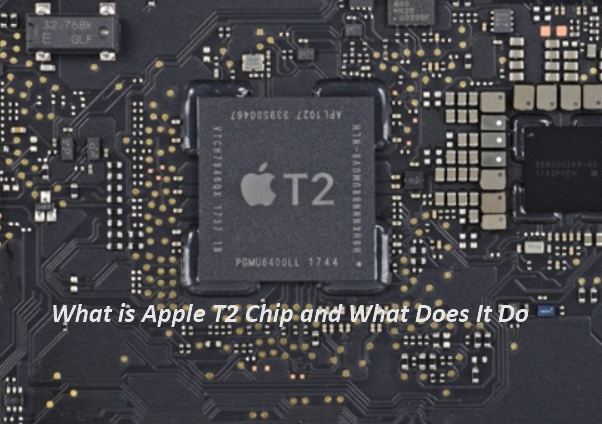 With this new chip on your latest Mac machine, you can expect more security than your Mac's predecessors. You should now know what is Apple T2 chip.
Part 2. What Does Apple T2 Chip Do?
Now that you know what an Apple T2 chip is and some basic information about it, you might want to learn further details about it. This includes what functions it performs and how exactly it helps keep your Macs more safer. This part of the guide explains what does Apple T2 chip do.
The main purpose of the T2 chip on your Macs is to provide you with a more safer environment. Apple's focus is on keeping your data secure and this new chip helps achieve that with stronger security features.
The Apple T2 chip has something called a secure enclave processor that secures your Touch ID data. This way, if someone tries to retrieve your Touch ID data using any methods, this chip will prevent them from doing so. That should answer your how does Apple T2 chip increase your security question.
Another feature that this Apple T2 chip brings with it is an enhanced image processor. This processor works in conjunction with your FaceTime HD camera to provide you with better quality images. This improves your camera visuals like tone mapping, better exposure controls, auto-exposure, and auto white balance.
As you can clearly see above, the Apple T2 chip brings with it stronger security measures than its predecessors and allows you to store your confidential data peacefully on your Macs. It helps enhance other parts of your machine as well using the latest technology that it is built with.
Part 3. How Does Apple T2 Chip Increase Your Security?
Now that you know what the T2 chip is and how it functions, you will want to know how secure is T2 chip.
The Apple T2 chip is the securest version of the chips that Apple has developed so far. Apple includes this chip in the latest Macs to ensure that your personally identifiable information like your fingerprints cannot be compromised.
The chip sits right there on your Mac protecting your Touch ID details. It will not allow any apps or any other objects to access that data without your prior consent. That is how it keeps your Mac more secure and increases your overall security.
Bonus Tip. How to Recover Data from iMac/MacBook pro/Mac Mini with T2 Chip
The Apple T2 chip on Mac makes data recovery on Mac more difficult and complicated. If you unfortunately lost or deleted files on T2-secured Mac, we recommended 4DDDiG for Mac Data Recovery that allows you to recover lost data from iMac/MacBook pro/Mac Mini with T2 Chip. You can use this tool to scan your drives for any lost files and restore them on your machine. The following shows how you can do that.
Download and launch the tool on your Mac machine. Select the drive where your data was located and click on Scan at the bottom.

You will see a list of files that can be recovered. Click on the files to preview them, and then click on Recover to recover them to your Mac.

Choose a folder to save your recovered files.
You should find your recovered files in your selected folder.
Summary
If you are someone who is always on the lookout for new tech, it is natural to wonder what is Apple T2 security chip. The above guide tells you what this chip is, how it functions, and what devices it comes built into. And if you are looking for data recovery solutions for iMac/MacBook pro/Mac Mini with T2 chip, 4DDDiG for Mac Data Recovery should be your best choice.
People Also Asked about Apple T2 Chip
Since this is a relatively new chip, users have many questions about this chip. The following answers some of your questions.
1. Is the t2 chip worth it?
The T2 chip is definitely worth it as it provides better security and processing power to your Mac machines. You can expect a huge improvement in the safety of your data and the overall performance of your Mac computer.
2. Does iPhone have t2 chip?
No, the iPhone does not have a T2 chip as it does not really need one. The T2 chip is only included in certain Apple products.
3. What Apple computers have t2 chip?
Apple's latest lineup of Macs have the T2 chip embedded in them. This includes Apple's MacBook Pro, MacBook Air, Mac mini, iMac, and iMac Pro.
4. How do I know if I have t2 chip?
You can click on Apple logo > About This Mac > System Report > Hardware > Controller to find out if your Mac has the T2 chip.