[Verified Answer and Tips] What are iOS Files on Mac?
by Sophie Green Updated on 2021-12-20 / Update for Mac OS
What are iOS files on Mac? Is it safe to delete iOS files from Mac?
In this guide, you are going to learn what are iOS files on Mac how to delete iOS files to free up space. More importantly, you can obtain a free recovery software to retrieve your lost data which are mistakenly deleted. Owning a Mac is a significant investment. It's not only the fastest and best performing system but is also packed with unlimited features and above all unlimited amount of storage space, which means you can keep a number of iOS files on your Mac. As a Mac user, unlimited storage is the biggest attraction; however, over time, the same unlimited storage can become full, and you might find yourself in the situation of running out of storage space. However, there are options to upgrade the system with new internal drives easily. But, this feature does not apply to all Macs.
Video Tutorial on How to Recover Deleted iOS Files on Mac [Emptied Trash]
Part 1: What are iOS Files on Mac?
If you've owned iOS devices for years, you would likely have backed up your iOS devices' data to your Mac. Or, you might have used iTunes to search and install iOS apps. It means that your Mac is using a lot of space to hold these backups, which are known as iOS files.
iOS files can be found on Mac > Storage > Manage.
The iOS files include all the backups and software update files of iOS devices that are synced with your Mac.
While it is easier to use iTunes to back up your iOS devices data but over time, all the old data backup could take up a significant chunk of storage space on your Mac. If the backups are no longer needed or you need to free up storage space, then the best options are to delete old backups or iOS files.
Read on to find the ways you can delete iOS files on Mac and how to free up storage space.
Part 2: Can I Delete iOS Files on Mac? How to Delete iOS Files on Mac?
Yes, iOS files can easily be deleted. People want to remove them for ios files on mac taking up space. If you come across the situation where you are prompted that storage is full or you are running low on storage, the first step is to delete iOS files on Mac.
To get how to delete iphone backup on Mac, Here is a step-by-step process on how you can easily delete iOS files on Mac.
Step 1: Locate iOS files on Mac. To do so, first, click the Apple button on the top left and click About this Mac. Next, click the Storage tab to view the various categories taking up storage space on your Mac.

Here you will see if iOS files are taking up a significant portion of your storage space. If so, you have backups that need to be moved or deleted to make more space.
Step 2: Click the Manage button and then iOS Files in the left column. To view the local iOS backup and files that have been stored on your Mac.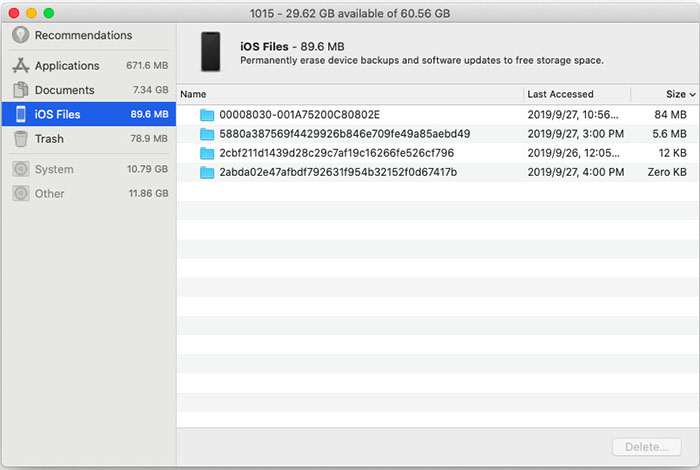 Step 3: If you no longer need any of the backups, select it and click the Delete button to move it to the Trash and then Empty Trash as well.
You can also move the backup to external storage. For that click Show in Finder button and drag them to external hard drive or storage location.
Part 3: Some Tips to Free Up Space on Mac
While deleting iOS files is one way of freeing up storage space on Mac. However, there are other ways to free up more space on your Mac or on how to manage storage on mac too.
Here are some easy tips on how you can easily free up more storage space on Mac without doing much, literally.
To free up space, the first step always is to find out how much storage space is available on your Mac and which files are taking up a major chunk of storage on your system.
To do that, click on the Apple Menu > About this Mac > Storage.

This will give an overview of storage space usage and show you how to find biggest files on mac. It will show how much free space is available on your Mac and which categories of files are taking up a significant portion of your storage space.
Then click the Manage button. It will open the Storage Management window.
This window provides a recommendation by carefully categorizing files. From here, you can see which large files are taking up more space, and you can easily delete those files.
1. Clean Up Downloads and Trash
The biggest difference in freeing up storage space can be seen just by cleaning up downloads and Trash. The download folder stores everything you have ever downloaded to your Mac. And if you've never cleaned it up before, it does take up a major portion of storage.
Here's how to clean up downloads and trash to free up space on Mac.
Step 1: Click Finder (it will be a smiley icon on your Dock).
Step 2: Go to Downloads in the left sidebar.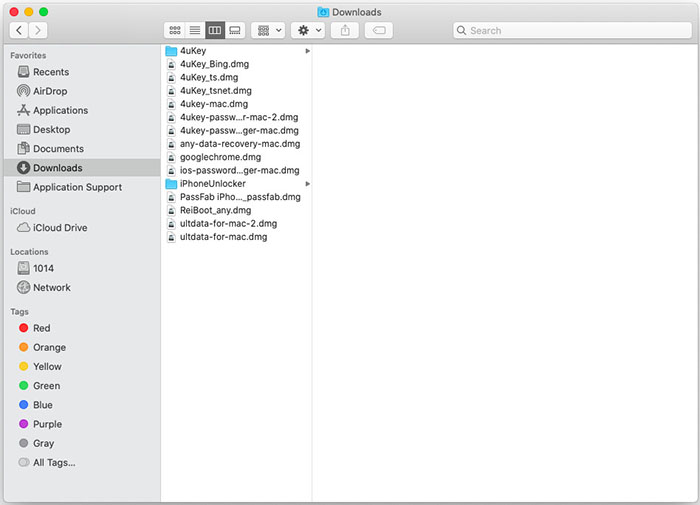 Step 3: Review the downloaded files and delete any files or data that are no longer needed.
Trash is another place that takes up storage space on Mac. It is often forgotten that uninstalled apps and files are still in the Trash, and also the files you just deleted from downloads also went to the trash. So, cleaning up trash is also essential if you want to free space on Mac.
2. Move Files to the Cloud
Using the Manage Storage window mentioned above, you can use the Recommendations to free up space on Mac. One of the recommendations is iCloud Drive. To free up space, you can easily store documents, pictures, or other files on iCloud instead of the Mac. However, you might need to buy the iCloud storage feature to use it.
If you use any other cloud syncing service like Dropbox, then open its setting and make sure you sync only those folders that you need. If you have large files, perhaps backups that you don't need regularly, you can de-select those folders in your Cloud Storage App so that they don't sync with your Mac. Thus, giving you free space on your computer while also being readily available on Dropbox.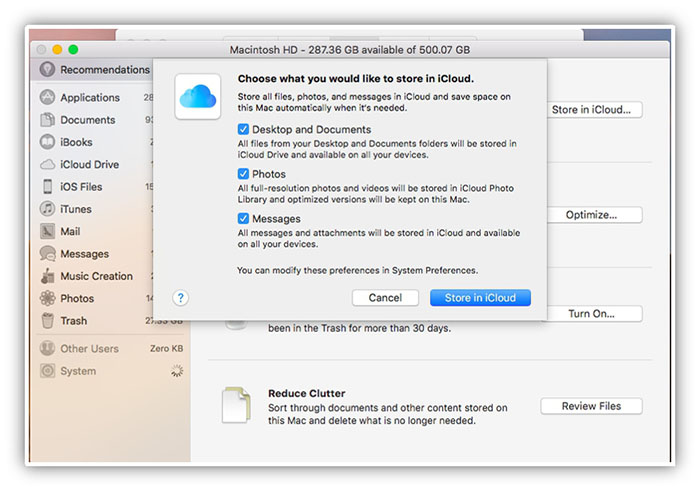 3. Clean up Movies, Pictures, and Music Folders
This is rather simple and straightforward. If you have watched movies, albums on your iTunes, you don't listen to or pictures that are not needed, you can clean those up to free space on your Mac.
Another category that takes up space on your system is the Email Downloads. If you have been using an email address for long, all the attachments and downloads are likely taking up storage space on your Mac.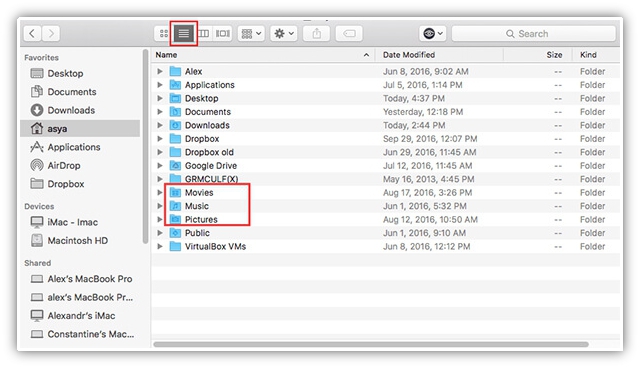 You will have to manually delete these attachments by clicking on the message and sorting file size by the largest file and then click remove.
4. Remove Caches and Temporary Files
Every computer stores temporary files on the drive that it can re-access in the future. Cleaning up caches and temporary files can also help free up space on Mac. While this trick of deleting cache is rather temporary compared to other tips mentioned above.
However, removing cache and temporary files can help free space when you are running very low on disk space. So, it is helpful to remove or clean cache and temporary files.
Every computer stores a collection of temporary files on the drive to re-access them in the future.
Part 4: What If I Lost Data While Clearing Files on Mac?
The biggest concern of any individual while clearing data could be losing data or files on Mac. Luckily, we have powerful file recovery software Tenorshare 4DDiG that can recover deleted, lost, or formatted data from Mac.
The Tenorshare 4DDiG software 100% secure and successful data recovery system for Mac and supports 550+ file types.
Key Features:
Complete recovery of deleted, lost or formatted data on Mac
Restores lost files from a hard drive or external storage devices
100% secure with the highest data recovery rate
Supports to macOS Catalina, macOS Mojave and previous versions too
Buy Tenorshare 4DDiG with coupon code: 4DART30OFF to enjoy 30% OFF now!
Steps to use Tenorshare 4DDiG
Using Tenorshare 4DDiG for Mac, data can be recovered in three easy steps. To begin, download and install the Tenorshare 4DDiG program on your Mac.
Step 1: Launch the program and choose the data recovery location (e.g., hard drive) to start data recovery. Click the Scan button to continue.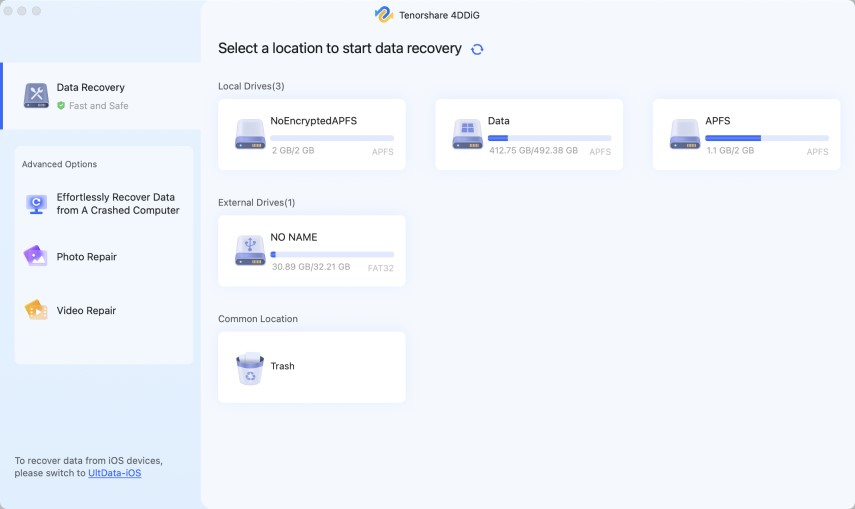 Step 2: The scan will take some time. After the scanning results appear, select and preview the files for more details.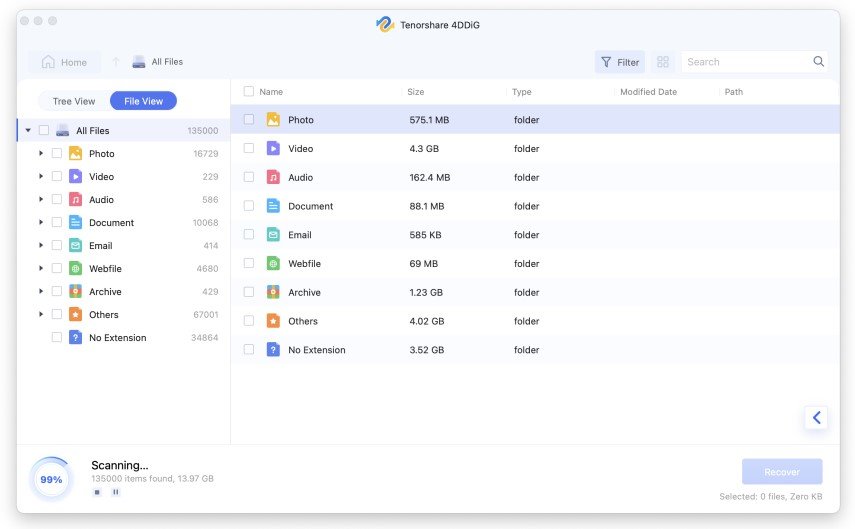 Step 3: Click the Recover button on the lower right and select a location to save the recovered files. It is, however, recommended to choose a different location for the recovered files from the location they were previously lost from.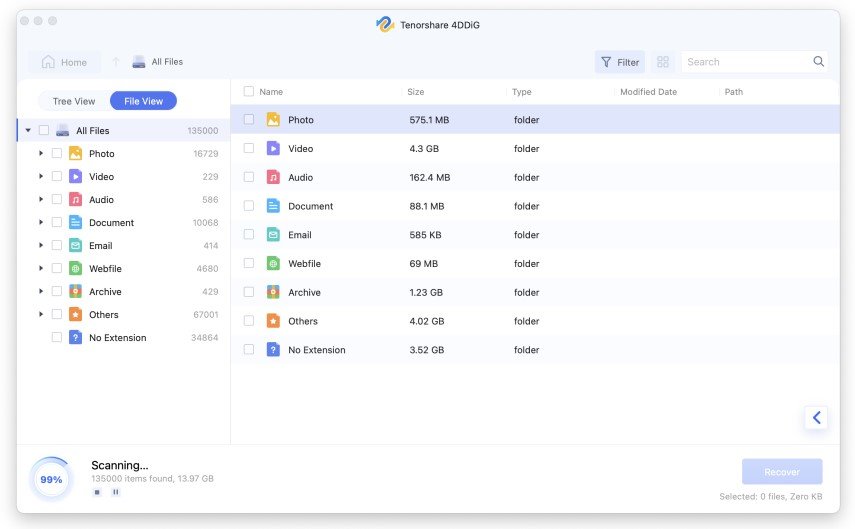 Recovering data using Tenorshare 4DDiG for Mac is the most reliable way. The security and ease with which you can recover lost data is unmatched to any other software available today.
FAQs
Where are iOS files stored on Mac?
You can find iOS files generated by iTunes (macOS 10.14 or earlier) or Finder (in macOS 10.15 or later) in ~/Library/Application Support/MobileSync. Here you'll find each backup is named with random letters which makes it difficult to know which folder corresponds with which device. But you can check the "Date Modified" column to view the most recent backup.
Is it safe to delete iOS files from Mac?
Since you've already known that the iOS files on Mac are backups of your iOS devices like iPhone/iPad. So if you have backed them up elsewhere, it is safe to delete iOS files from Mac as you want so as to free up Mac space.
Conclusion
Mac storage space clean-up can be safe and straightforward. In this article, we shared iOS files and some tips and tricks to free up more space on Mac. While there are many software available today that claim easy disk clean-up however not every software is reliable.
Manually cleaning up storage space not only gives you the satisfaction of doing it yourself, but you can also view and make decisions accordingly. In this article, we also share a powerful data recovery tool for Mac, the Tenorshare 4DDiG, to help you recover any lost data in the process of storage clean-up. Give it a try with its free trial and test how it works.