[Answered] What Does It Mean When iCloud is Locked?
by Sophie Green Updated on 2020-11-04 / Update for iCloud
What does iCloud locked mean? If a phone is for sale on eBay and says iCloud locked is it a stolen phone? And why couldn't find my iPhone work for me once my phone was stolen?"
If your iPhone shows a lock message, you will probably wonder what does it mean when iCloud is locked. There could be various reasons why you are seeing the locked message on your iOS device and there are various ways to resolve the issue and get your phone to function normally.
This guide covers the reasons what does it mean when an iPhone is iCloud locked and tells you how you can get rid of the lock from your iOS-based device. There are multiple methods to remove the lock and you will learn them all here in this guide.
Question 1. What Does It Mean When iCloud is Locked?
iCloud Lock, often called Activation Lock, is actually a feature that Apple provides you with your device so that unauthorized people cannot use your iPhone or iPad. If your device ever gets stolen, the person will need to enter your account details before they can use the device. If they cannot enter those details, your phone remains locked no matter what and it basically becomes useless for them.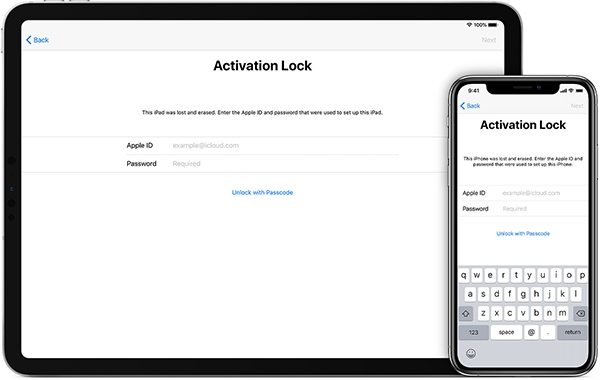 You did not sign out of iCloud before resetting your iPhone.
You did not disable Find My iPhone before resetting your device.
You forgot the password and locked out of iCloud account.
Someone has gained access to your iCloud account and they have changed the password.
The previous owner did not sign out of his/her iCloud account from the device If you're buying a used iPhone.
The previous owner of the iPhone may have locked the phone from their online iCloud account.
Question 2. Can an iCloud Lock be Removed and What to Do If iCloud is Locked?
After you have learned what does it mean when a phone is iCloud locked, the next obvious step is to find out if it is at all possible to remove the iCloud lock from your iPhone. There are methods to remove the lock from your device and you can use the one that is suitable for your situation.
1. The Easiest Way to Bypass iCloud Activation Lock
The easiest and safest way to bypass iCloud Activation Lock on iPhonis using Tenorshare 4MeKey. It offers the 100% working way to remove iCloud activation lock without password/Apple ID. After iCloud Activation Lock bypass, you are free to log in with a new Apple ID through App Store to download apps over Wi-Fi.
Run 4Mekey after installing. Connect your iOS device to computer and click "Start" from the main interface.

click "Start Jailbreak" to jailbreak your iPhone. Once the jailbreaking process finished, click "Next".

Click "Start Remove" to bypass iCloud activation lock on your iPhone.

Within a few minutes, the iCloud activation lock will be removed successfully. You set up iPhone as a new one.
Video Guide on How to Bypass iCloud Activation Lock
2. Ask the Previous Owner to Remove iCloud Lock
One of the easiest ways to remove the iCloud lock from an iPhone is to ask the owner of the phone to help you do it. When your phone gets locked, it basically asks for an Apple account username and password.
The previous owner should have the account details and they can unlock the phone for you. They can then also remove their account from the phone so it no longer asks their login details.
On the Activation Lock screen, ask the owner to enter their Apple account login details.

Once they are logged-in, launch the Settings app and tap on the name banner at the top.

Scroll down and tap on the Sign Out option. Log-out of the current Apple account.
That should remove the previous owner's account from the iPhone and you will then be able to add your own account to your phone.
3. Bypass iCloud Lock with DNS Method
This is another way to bypass the iCloud lock on your iPhone but this is not guaranteed to work. You may or may not be able to unlock your device with this method but there is no harm in giving it a try.
Proceed to set up your device and tap on the i icon next to your WiFi name when the WiFi screen appears.
Tap on the Forget This Network option on the following screen. Make sure to tap on Forget in the prompt that appears on your screen.
Tap on the Configure DNS option and select the Manual option.
Tap on Add Server and add one of the following DNS servers.

USA: 104.154.51.7
South America: 35.199.88.219
Europe: 104.155.28.90
Asia: 104.155.220.58
Australia and Oceania: 35.189.47.23
Other continents: 78.100.17.60

Then, go back and connect to your Wi-Fi network.
Go back to the Activate iPhone screen, and select "Activation Help".

Connect to your WiFi and tap on Next page. Follow the instructions to unlock your device.
4. Unlock iCloud Lock on iPhone Using iCloud Unlocking Service
There are certain websites on the Internet that offer iPhone unlock as a service. You can avail this service from one of the websites to get your device unlocked.
Official iPhone Unlock is one of these service providers and they help you remove the iCloud lock from your device. If you are new to it, the following is how you can use them.
Head over to the Official iPhone Unlock website.

Click on the button that says iCloud Unlock to remove the iCloud lock from your iPhone.

Enter your phone details and click on the Unlock now button.
Within 24 hours, the service will remove the iCloud lock from your device.
5. Ask Apple to Remove the Device from Previous Owner's Account
If the above methods did not work for you, you can try approaching Apple directly and seek help from them. If you could convince them that you are the new owner of the phone and that you have consent from the previous owner that you can remove their account from the phone, the staff at the Apple store will be able to help you out.
Summary
That is all it takes. We hope our guide above tells you what does it mean when your iCloud is locked and teaches you how you can remove iCloud lock from your iOS device without much efforts. Tenorshare 4MeKey is highly recommended if you want to bypass iCloud Activation lock.
FAQs on iCloud is Locked
1. What Does It Mean When iCloud is Locked?
iCloud Lock (Activation Lock) is a feature to prevent anyone else from using your iOS device if it's ever lost or stolen. Locked devices cannot be used or reactivated without entering the passcode or Apple ID password."
2. Can an iCloud Lock be Removed?
Yes, you can. The easiest way to remove iCloud lock is asking the previous owner to remove the device from his/her iCloud account. And you can also use the DNS method or online iCloud Unlocking service.
Best Tool to Turn OFF Find My iPhone/iPad/iPod touch without Password
Disable Find My iPhone/iPad/iPod touch without password;
100% working to sign out of iCloud without password quickly.;
Most efficiently remove Apple ID from iPhone/iPad/iPod touch without knowing the previous owner;
Support iOS devices from iPhone 6S to iPhone X (iOS 12.0-iOS 14.4)