Top 3 Ways to Unlock Apple ID Account with/without Password
by Jenefey Aaron Updated on 2020-06-12 / Update for Apple ID
My icloud id is blocked and i do not remember the password nor the answers to the security questions. Can anyone please help me?"

-- Apple Community
Whenever your Apple ID shows alerts saying that your Apple ID has been disabled, you need to do something about it to continue using the services offered by Apple devices like iTunes, iCloud, iMessage, among many others. You need to fix the error so that you can get back to using your device normally again. This scenario arises due to many issues which may be relating to the security of your device. Here are a few ways that you can tackle this problem and bypass Apple ID account without password.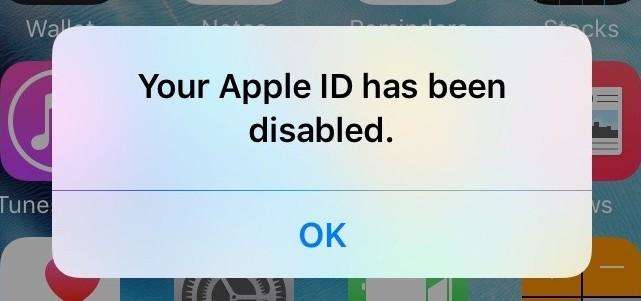 Part 1. How to Unlock Apple ID Account Without Password
There are several methods which you can use to access to your Apple ID but for most of these methods you would have to download iTunes or you would need to remember the password for your Apple ID. When you forget the password of your Apple ID or iTunes got some issues, the best option is to use the highly recommended tool Tenorshare 4uKey for this purpose. This is the perfect tool which can be used to remove all the passwords on your iPhone including your Apple ID. You can know how to unlock Apple ID account without password by using the steps below.
Step 1 Download Tenorshare 4ukey on your computer or Mac. Connect your device to the computer and once it gets detected, click on "Unlock Apple ID".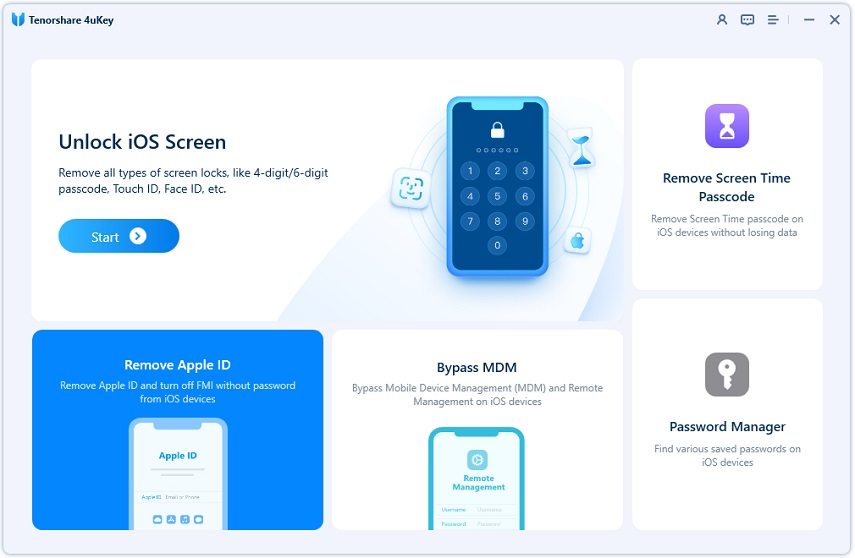 Step 2 The tool will then start unlocking your device's Apple ID and you can see the progress on the progress bar which would be displayed on the screen.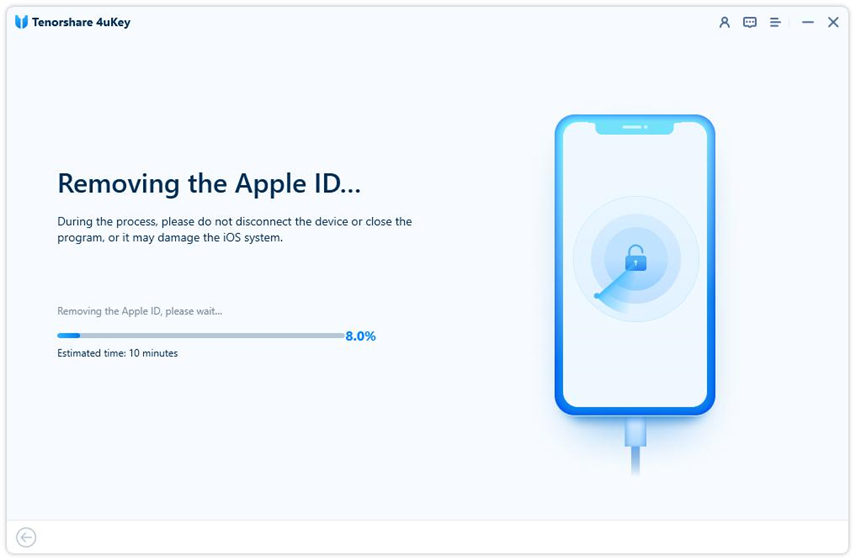 Step 3 Once the entire process gets over, you can click on "Done".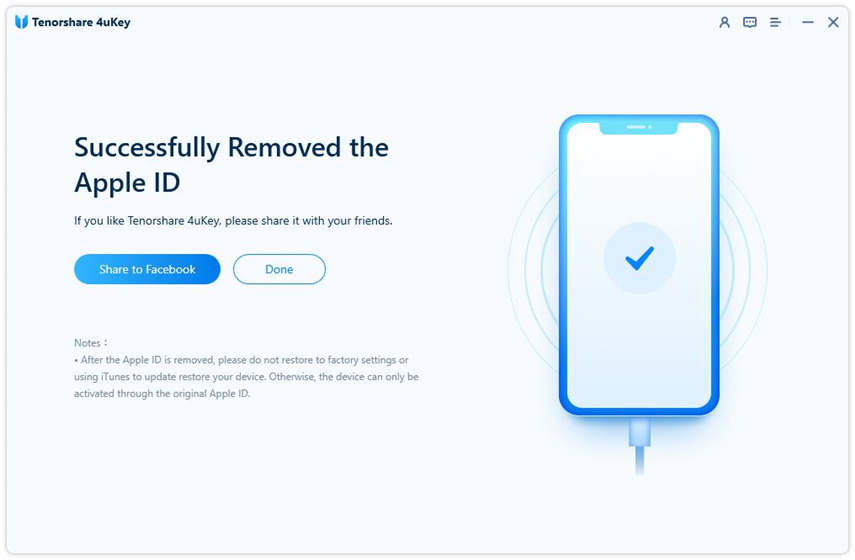 You can then move on to create a new Apple ID and password and use your Apple device normally again as your Apple ID account unlocked. This software is a great tool which can be easily seen by the several technical reviews. CNET rates this tool 5 star out of 5 due to its effectiveness in removing passwords on Apple devices.
Part 2: Way to Change Apple ID or Password If You Remember Your Apple ID Account
This is one of the conventional ways of fixing the issue of your Apple ID getting locked. For this, you must know or remember the password of your Apple ID otherwise this method is not available. You can use any computer and any web browser on it to unlock your Apple ID using this method. Follow the steps given below to unlock account Apple ID.
Step 1: Visit appleid.apple.com enter in the details including your first name, last name and email address, then click "Continue".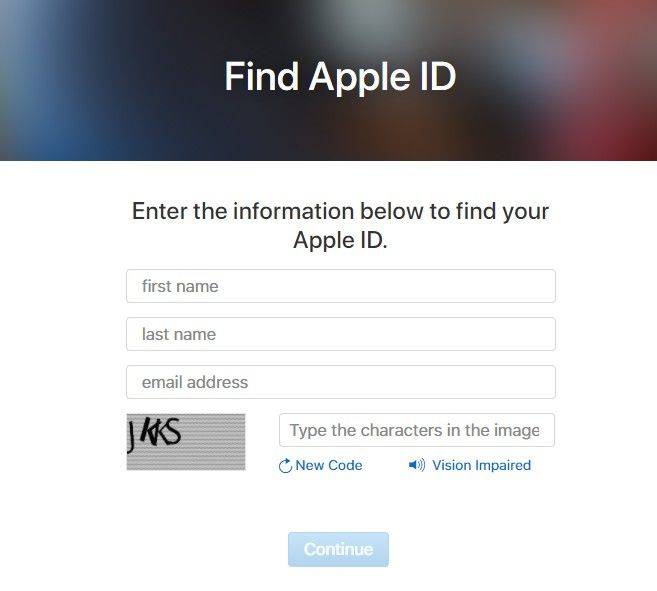 Step 2: On this page, you have two options to reset the password of your Apple ID, one is using your email address and the other is by answering the security questions.
Step 3: If you remember the answers to the security questions, you can go with the second options and if you do not, click on "Get an email".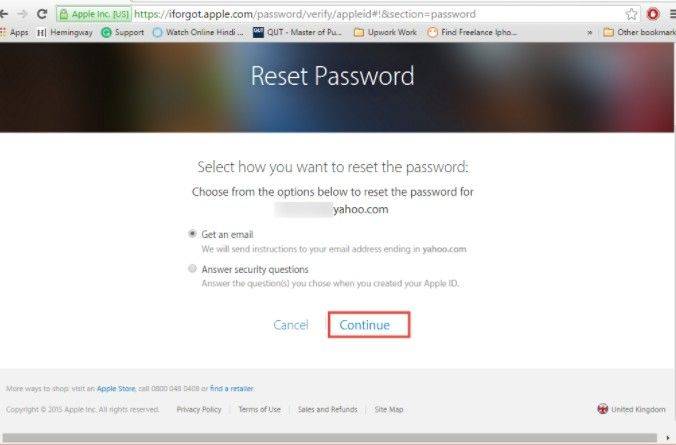 Step 4: You would then receive an email from Apple on your registered email ID, just click on the link "Reset Now" to move on to the next step.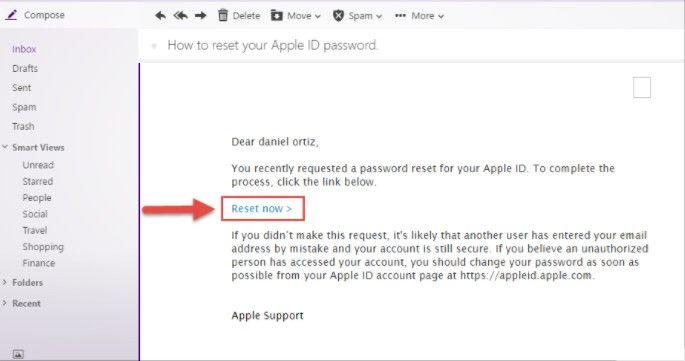 Step 5: Reset your password and use this password to login to your Apple ID.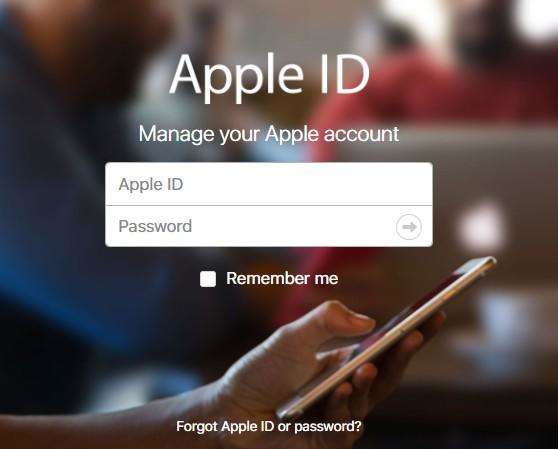 Then your Apple ID would have then been unlocked and you have set a new password. Please don't forget it again.
Part 3: Ask Apple Support for Help
In a highly unlikely case, if you still are not able to unlock your Apple ID and are finding ways to remove your Apple ID account, your only choice would be to turn to the Apple Support for resolving this issue. You can call them and give the details of your problem and they would be able to assist you with the further steps to encrypt your Apple ID. If you want to talk to a customer care executive, visit support.apple.com and select your Apple ID to proceed further. Once this is done you can set up a call or chat session with the executive regarding your problem.
Generally, this happens when you enter in wrong password for your Apple ID too many times, when you have not been using your Apple ID for many days or when you keep changing the Apple ID and password on a regular basis.
Conclusion
It becomes very annoying when you are not able to use any of the Apple services due to your Apple ID being locked. The best way to get out of this problem is to use the highly-recommended tool-Tenorshare 4uKey. It can unlock Apple ID account no matter you remember the password. Highly convenience and perfect performance.