iSalvor Reivew: Does It Work In 2023
by Anna Sherry Updated on 2022-12-16 / Update for iCloud Tips
Having a locked iPhone/iPad is as useless as a damaged product. However, there are many tools available that can help you in unlocking your apple device. Among those wootechy isalvor iCloud unlocking hold a firm place. Here we are going to provide an honest and unbiased iSalvor review since many users search for wootechy isalvor review reddit. So, keep reading.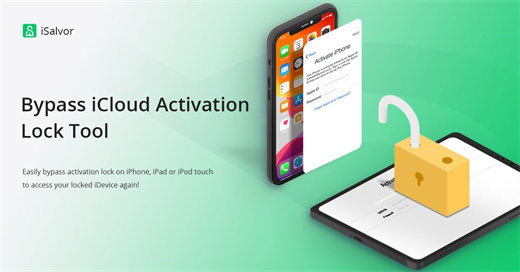 Part 1: What Is iSalvor
Wootechy iSalvor is one of the top software which is considered efficient and reliable in terms of its functionality. This software helps you to unlock a locked device by removing the screen lock and remove the iCloud activation lock. Apart from that, it is also useful to turn off Find My iPhone. You can easily download this software from the official website of Wootechy iSalvor. 
Part 2: Main Features of iSalvor
In this wootechy iSalvor review, we will explain the main three features of iSalvor and the pros and cons explanation for each. Mainly, it has three different unlocking features which are discussed below.
1. Remove iCloud Activation Lock
If you are looking for a tool to remove iCloud activation lock, you can count on iSalvor. Here are some of its pros and cons.
Pros:
Can remove activation lock efficiently and quickly.
Easy to use and doesn't require any tech knowledge.
Very easy activation lock removal process which is easy to follow.
Cons:
Bypassing requires jailbreaking of your device.
Once the process is completed, you won't be able to factory reset your device.
After unlocking, you will be able to access limited Apple ID features.
2. Turn Off Find My [device] Without Password
This tool is also efficient in turning off your Find My iPhone without a password. Here are some of its pros and cons.
Pros:
No need for a prior password to turn off Find My [device].
You can easily take help from its three different modes.
Customer service is available 24/7 for help in case you are stuck in the middle of nowhere.
Cons:
It comes with a bit high price tag.
In some countries and states, it is illegal to use tools like this. 
It only supports iOS 14.8 and below. There is no support for iOS 15 available in this software yet.
You risk bricking your device while jailbreaking.
3. Remove iPhone SIM Lock 
The third feature of isalvor bypass tool review is the ease of removing iPhone SIM lock. You can easily take help from this tool to get the job done.
Pros:
Effortless removal of iPhone SIM lock.
No need of entering a previous password.
Get the job done in a few minutes.
Cons:
You can use some of the iPhone functions after bypassing it like using iCloud, cellular data, or making phone calls.
Only support iPhone 5s to iPhone X series.
Part 3: Is Salvor for Free
No! iSalvor is not available to use for free eand it is a bit pricy than other tools available in the market. It costs $39.95 for one month, $49.95 for one year plan, and a lifetime subscription is available for $69.95 for 5 iOS devices. However, to use it for unlimited iOS devices, the cost may reach a maximum of $399.95.

Part 4: iSalvor Alternative Free Download
Wootechy iSalvor is a very capable software especially when it comes to using it for the three modes which are discussed above. However, it might not be everyone's favourite due to its high price and availability to use legally in some regions. However, we have a good iSalvor alternative which is Tenorshare 4MeKey. 
It is a professional, versatile and efficient activation lock bypassing tool. It also allows you to lock the activation lock and turn off Find My iPhone. The good news is that you can download it for free. Coming from a trusted source, 4MeKey has a high-efficiency rate with many users worldwide. You just need to download and install it. Here is what next you need to do.
Download and launch 4MeKey on your computer and select "Remove iCloud activation lock". Connect your device to the computer using a USB cable.

The next step is jailbreaking your device. This step is a bit different for Windows and Mac. Follow the guide on 4MeKey to jailbreak your device and continue.

In the last step, you need to confirm the details of your device and start removing the iCloud activation lock.

It will be completed in a few minutes. After that, you can login a new Apple ID on the app store.
Final Words
This article provided you with an honest wootechy iSalvor review and explained everything which you need to know. It is surely an efficient tool but for people who are on a budget, this can be a bit pricey. We also mentioned a better alternative, Tenorshare 4MeKey which can also serve you with less effort and money.