[iPadOS 16] Best 5 Methods To Remove iPad Locked To Owner
by Sophie Green Updated on 2023-03-14 / Update for iCloud
The lock feature in Apple devices is very useful especially when it comes to protecting your privacy and data. In the latest iOS update, a new function of "iPad Locked To Owner" was introduced. Many users may confuse about it and don't know how to remove it. Don't be panic, here is what you need to know for iPad locked to owner bypass.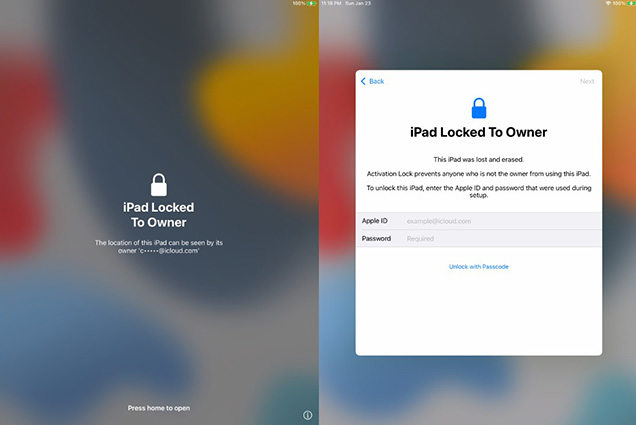 What Is iPad Locked To Owner
All apple devices on which Find My is turned on have an activation lock that provides extra protection to your data from unauthorized access when it's lost or get displaced. If you purchased a second-hand iPad locked to its previous owner, this can become problematic. So, how to remove Find My iPad activation lock without previous owner? Here are a few methods that can help you in this journey. 
Way 1: Remove iPad Locked To Owner on the Device [Screen Lock Passcode Required]
In order to remove the iPad activation lock on your device or perform a ipad locked to owner reset, you will need the following details. Bypassing the activation lock on the iPad will require you to have the original owner's screen lock passcode. You can also bypass the activation lock using the passcode of the user.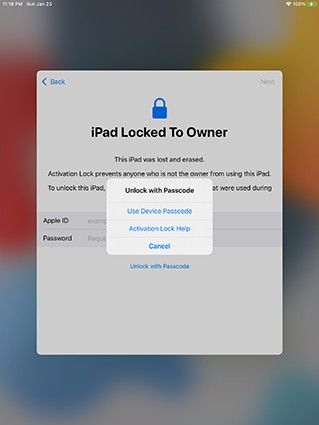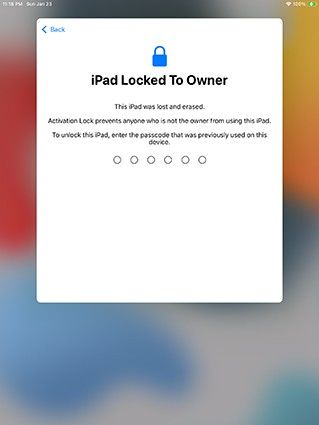 Way 2: Remove iPad Locked To Owner via iCloud [Apple ID Required]
If the previous owner is not close to you physically or does not agree on providing login credentials, then It's still possible to bypass the activation lock of the iPad via iCloud. You will still need to have the owner's Apple ID and password on their side, he can remove the activation lock from his side. Here is what he needs to do:
Visit iCloud.com.

Tap on the Find My iPhone.

Select the iPad needed to be unlocked.

Click the delete button in the list.

Choose the "Remove from account" option.
Way 3: Remove iPad Locked To Owner via DNS Bypass
Bypassing activation lock via DNS method is also a good method for older versions of iOS. It's more like a manual process and you will need to do everything yourself. However, it's a little difficult for non-technical clients to operate as it needs technical knowledge. 
Open WiFi settings and connect Wifi. 

Select "Configure DNS" and manually set it according to your region. Enter one of the following DNS values to get your iPad unlocked.

Then repeatedly click "Next" and "Back" until your device is connected to the iCloud DNS Bypass server.
Way 4: Remove iPad Locked To Owner with 4MeKey [100% Works]
So, if you are looking for a reliable, and effective solution of "how do I remove previous owner's apple id from an iPad." The Tenorshare 4MeKey will be your best choice. It has an easy-to-use interface with no technical knowledge required and you can complete the process in a few simple steps. 4MeKey(Mac) enables you to remove the "iPad Locked to Owner" without any need for Apple ID and password on the iPad in the latest iPadOS version. 
Download and install Tenorshare 4MeKey on your PC. Launch it and click "Start to Remove."

Follow the instruction to jailbreak your iPad to get ready for the removing process.

Start to remove iPad Locked to owner on 4MeKey.
Here is how to remove activation lock without previous owner ipad, click the download button to give it a try.
Way 5: Start A Support Request to Remove iPad Locked To Owner
In your search of how to bypass activation lock on iPad without previous owner, when nothing works out, you can try this method. However, this method is a little bit difficult as the decision to remove the activation lock entirely depends on the discretion of Apple. To get Apple assistance, you need to provide proof of purchase (original receipt, purchase time, date, and serial number) and ownership (any documents stating you are the actual owner) in order to confirm that you are the actual owner of the iPad. 
Tap the link and go to the bottom of Apple Support Page, and click "Contact Us."

Choose "Forget Apple Id password."

Select a method used to be contacted by Apple Support.

Now you can reset the password followed by the instruction given by Apple Support.
Conclusion
Bypassing iPad locked to the owner is something that requires careful consideration of every method before its execution. Getting stuck with the wrong move can lead to more problems, so we recommend you must try Tenorshare 4MeKey as it will not disappoint you and it ensures 100% efficiency in its working.