Best Guide Of Xgrinda iCloud Bypass You Must Try:Free/Paid
by Jenefey Aaron Updated on 2023-01-04 / Update for iCloud Tips
If you buy a second-hand Apple device and the previous owner does not remove their Apple ID from it, you will need to remove the iCloud Activation lock. In any other scenario, the device will remain locked and useless. But don't worry, Xgrinda iCloud Bypass lets you remove your iCloud Activation Lock without entering the password.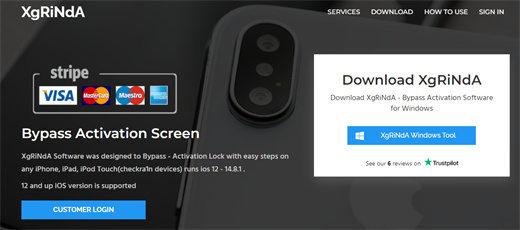 Introduction of Xgrinda iCloud Bypass
Xgrinda iCloud Bypass is a simple tool used for bypassing an iCloud activation lock from an iOS device. Many customers who resell their iPhone or iPad don't log out their Apple ID from their device. Whoever receives this gadget should get the previous owner to log out of the device before setting up the device.
If that doesn't work out, use Xgrinda Bypass to unlock the iCloud and bypass the Activation lock. It supports all iPhone models from iPhone 6 to iPhone 11 pro and all Windows platforms from Windows 7 to Windows 10. 
Does Xgrinda iCloud Bypass Work In 2023
Xgrinda iCloud Bypass works in 2023. Its latest version is called Xgrinda AIO. This new and improved version will work on any computer in 2023 with its upgrades and enhanced features. It supports passcode, Disable iPhone, and provides a free untethered iCloud Bypass. If you delete your iCloud with Xgrinda AIO and restart your iPhone, the iCloud won't relock itself again. 
Where To Download Xgrinda iCloud Bypass
Xgrinda iCloud Bypass is the perfect tool for a successful iCloud Bypass. It has a success rate of 100% by dozens of happy customers. Join the team by downloading the application on your device. Click the link to get Xgrinda AIO download.
How To Use Xgrinda iCloud Bypass
All Xgrinda customers can confirm its efficiency rate. You can operate it with ease without guidance from a tech expert. All the features offered by the application are usable once you bypass the GSM. It is fully untethered and presents you with lifetime service. You can use it with or without signal depending upon your version of the application. Go to Xgrinda official and scroll down to learn the guide to using this tool.
Xgrinda iCloud Bypass Safe Alternative 100% Works
Xgrinda iCloud Bypass is software designed to bypass an iCloud Activation lock without knowledge of your Apple passwords. It is an effective tool that never disappoints its customers. But it charges for times, which means if you need to pay the bill each time when you try to use it.
However, it is safe to look for a substantial t alternative that has been designed for the same purpose. Therefore, Tenorshare 4MeKey is a software used to bypass Activation Lock on iOS devices. It can remove the Apple ID that is already logged in on iOS devices. It has flawless execution, fewer steps, and saves a lot of your time. It supports iOS 12-14.8. The steps to use 4MeKey after you launch it on your device are listed below:
Click the free download button and install Tenorshare 4MeKey on your Win/Mac. Launch it and then click on Start to Remove.

With a USB cable, you need to connect iPhone to PC.

Follow the guide to jailbreak your iDevices.

Check the info of your device and then click Start.

Finally, you bypass iCloud successfully.
The Bottom Line
A common mistake amongst many Apple users is that they lose or forget their iCloud account information. Due to this, if they lose their iPhone and their iCloud gets locked- they can't delete the iCloud lock. Xgrinda iCloud Bypass specializes in dealing with this issue.