Arduino Bypass iCloud: A How-To Guide (Latest Updates)
by Jenefey Aaron Updated on 2022-12-16 / Update for iCloud Tips
If you have ever wondered how to bypass iCloud lock on your device, then you would have thought about Arduino bypass iCloud tool. The tool is pretty useful for techies in bypassing the iCloud lock and users have found it helpful for quite a while. Let us learn more about this tool and if there are any alternatives to make it easier.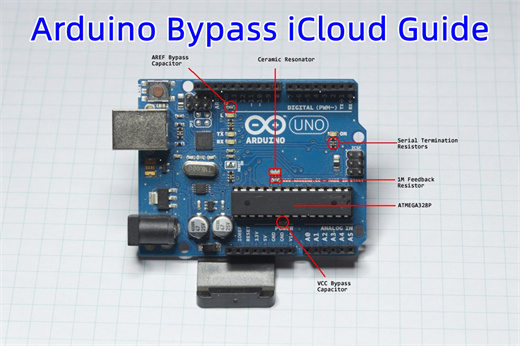 What Is Arduino Bypass iCloud  
Arduino is an online tool that lets users perform Arduino iPhone bypass. This means that if your phone has been locked and is inaccessible due to passcode or iCloud activation, you can easily access your device anyway using Arduino. The problem usually occurs if you've bought a new second-hand device, or have forgotten your own set of iCloud credentials. 
How Does Arduino Bypass iCloud Work  
In all honesty, Arduino bypass iCloud isn't very easy to operate. The working mechanism of the tool is difficult and not everyone can learn. Only tech-savvies and people with keen information in technology can use the tool to bypass iCloud lock. 
The tool bypasses iCloud lock using basic coding and programming and by downloading the tool on your pc and then connecting with a USB. It may or may not be 100% safe, as it requires downloading and can bring viruses and malware to your pc. 
Steps of Using Arduino Bypass iCloud  
As we have read before, performing Arduino bypass iCloud is not a piece of cake. Additionally, there is no official guide or article released by the Arduino iCloud bypass windows app. Therefore, it is pretty difficult to decode the proper usage guide of Arduino bypass iCloud. However, we have a basic guide that might be helpful for you to complete Arduino iCloud bypass. 
Download and run the tool.
Search for a reliable video guide with a good rating online.
Follow the steps given.
iCloud bypass will be done.
The methodology available isn't very reliable. Firstly, there is no official guide or video uploaded by the tool. Secondly, the tool is not exactly usable or operable by the common man. Having said this, we mean that the amount of technical and programming knowledge required to use this tool is pretty high. Not everyone knows what is needed to do Arduino bypass iCloud. 
The Disadvantage of Arduino Bypass iCloud  
Everything has its advantages and disadvantages. The same is the case for Arduino bypass iCloud. Let us take you through the various disadvantages and limitations to Arduino bypass iPhone that users have faced in the long run. 
Not very easy to use.
Time-consuming.
Could be dangerous.
Uses much storage on your device.
But Arduino not working is not the end to your story. Don't be disheartened yet, there is an impeccable alternative to the tool that you can use to safely bypass activation and iCloud lock. The alternative is like the saviour of our locked iPhone and is trusted by thousands of users. 
Arduino Bypass iCloud Free Alternative [Safe/Easy]  
If you're looking for a great alternative to Arduino bypass iCloud that should be both free of cost, easy to use, and safe, you're at the right place. Let us introduce you to Tenorshare 4MeKey.
That's right! Tenorshare 4MeKey is the best tool that can help you bypass iCloud lock from iOS 12.0-14.8 and also forego the apple ID lock that most iOS devices come with. 
Now, let us take you through the basic structure of how to use the tool, Tenorshare 4MeKey on your pc to do iPhone, iPod, or iPad mini 1 bypass without Arduino app. 
Download and launch Tenorshare 4MeKey on your PC. Click on Start to Remove.

Connect your device with a USB to your PC.

Follow the process to jailbreak your device.

Check the info of your device and then click Start.

Done! Now you bypass iCloud successfully.
This is the easiest method to use and bypass iCloud lock on your iOS device. You can set up your device just as a new one as soon as you complete removing the iCloud lock on your device. However, since this is nearly a prohibited action, there are consequences to using this method to bypass activation or iCloud lock on your iOS device. 
Therefore, you should read the terms and conditions and potential risks window when displayed very carefully. You should first read and understand the conditions before you proceed to use this method to bypass your activation lock on your iOS device. 
Conclusion
Arduino bypass iCloud was a great tool to bypass iCloud lock on your iOS device. However, lately due to heavy competition and lack of genuine resources and guides, the popularity and reliability are decreasing considerably. plus, it is not entirely safe. Therefore, using Tenorshare 4MeKey as an alternative is a bright idea. The tool can easily bypass activation and iCloud lock on your device and make entering the device easy.