[Proved]iPad Activation Lock: The Best Way To Bypass It
by Jenefey Aaron Updated on 2023-07-28 / Update for iPad
What is iPad activation lock? How to remove find my ipad activation lock without previous owner? Don't worry. In this article, we will guide you on how to remove the iCloud Activation Lock and what is iPad Activation Lock.
You can also simply watch the video about how to bypass iPad activation lock to save your precious time.
Part 1: Basic Learning about iPad Activation Lock
Activation Lock iPad is a function that stops others from using your iPhone and iPad. It works with Find My [device] and keeps your device secure.
Besides, if you have deleted your data, this function will ensure that no other user can reactivate it. However, to use this process, you have to remember your Apple ID and password. In case you don't remember your credentials, you can easily bypass the iPad Activation lock by using a few simple steps that we will explain in this article.
Part 2: How to Check My iPad Activation Lock Is Enabled or Not
If you want to know about turning off Find My iPhone, there is a simple way that you can use it. That is checking your IMEI number from the settings and verifying it from this website. This site allows you to check to Find My iPhone status and makes sure that you can also check your activation status and much more.
But for that, you have to get your IMEI number, and you can get them easily by following the steps below. Don't worry, the way to check iPhone's IMEI number is the same as iPad. Click the link to find more ways to get your IMEI number.
Now, go to Settings and select the "General" option.
After that, click the "About" option.
In the about section, look for serial and model numbers.
Using the serial number, you can easily check the status of your device.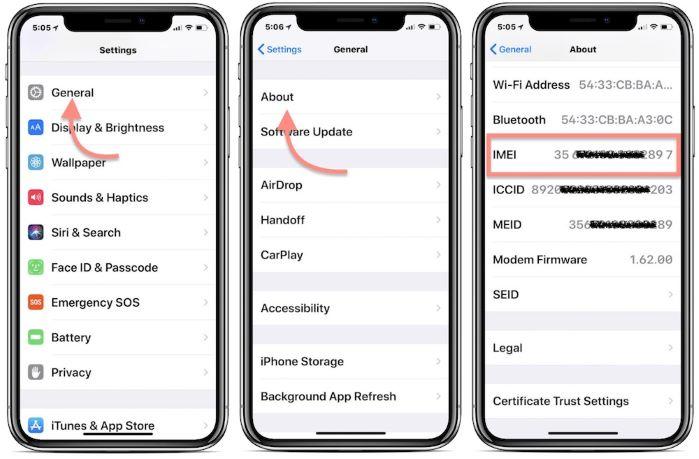 Part 3: 3 Methods to Bypass/Remove iPad Activation Lock
How to bypass activation lock on ipad? You can bypass iPad Activation lock using different methods, such as bypassing DNS and Jailbreak. But that's not true; although these methods sometimes work, they don't provide proper solutions.
Many users say that they are a total scam and don't work for them. Below we have mentioned some details about these methods, so you can understand more about them.
Method 1: Using DNS Bypass
This method requires a SIM card and asks you to change your DNS settings. However, this method does work for some users, but it can be complicated for non-technical users. In addition, it asks you to change the DNS settings, which can cause issues for your other settings.
Method 2: Jailbreak Your Device
There is a list of sites that ask you to jailbreak the iPhone or iPad, but most of them are fake. Besides, these sites also ask you to fill the surveys and request your personal information that could be an issue for you.
So, how to bypass iPad Activation Lock? There are many reliable apps available in the market, but we would recommend you try 4MeKey. It's an amazing application and works 100% without causing any issues for you. In fact, it will make your iPad activation lock removal easier so that you can stay safe from all scams.
We have mentioned all the Tenorshare 4MeKey details below, so you can get more ideas about this application.
Method 3: The Best Way to Bypass iPad Activation Lock
If you have forgotten your password or don't have an Apple ID, don't worry because Tenorshare 4MeKey will help you to bypass the iCloud activation lock of iPad mini/2/3/4. In fact, this software is easy to use and doesn't require much expertise. You can effortlessly bypass the iCloud iPad and use your device in no time. It is compatible with all the latest iPad and iPhone devices. In addition, it also helps you to turn off Find My iPhone function.
Below is the complete guide that will help you to bypass the iPad using 4MeKey.
Download 4MeKey Program

To unlock the iPad activation lock, you first have to download Tenorshare 4MeKey. If you are using a PC, you can download the Windows version from the official website. Once you are done with installing, a screen will appear to click it and select the "Remove iCloud Activation Lock" option.

Read all the Instructions

Before you proceed and unlock the device, make sure to read all the instructions on the screen. You will see a popup message showing the instructions; read them all and click the "Next" option.

Connect your Device

Now, connect your iPad with Mac using a data cable. Make sure that your device is connected fine; otherwise, you won't be able to complete the process.

Jailbreak your Device

Now, it's time to jailbreak your device, and for that, you have to follow the instructions below. Keep in mind that the jailbreak process is different for Mac and Windows. We will explain both the methods, so you don't have to worry about anything.

Jailbreak Using Mac

After the program is downloaded, click the "Start Jailbreak" option. It will jailbreak your device. Don't forget to follow the steps mentioned on the screen.

Jailbreak using Windows

The first few steps will be the same which you followed in Jailbreak using Mac. Now, you will be asked to burn jailbreak using a USB flash drive. And for that, you can follow the instructions on the screen. Once you are done with the burning process, click the "Start" option.

Remove iPad Activation Lock

Once you are done with the jailbreak, you can now remove the iPad activation lock. But for that, you have to confirm your device details and click the "Start Remove" option.

Within a few minutes, it will remove your iCloud activation lock. Don't turn off the device until the process is completed.

Successfully Bypassed the Device

You have successfully bypassed the iPad, and now, you can adjust your settings and use it as a new one. But make sure not to factory set your device; otherwise, you have to complete the whole process again.
Conclusion
If you want to unlock the iPad Activation Lock, you can use Tenorshare 4MeKey, which is a user-friendly application develped for ipad activation lock bypass. Hence, if you want to bypass your device without entering your Apple ID and password, we would recommend using it.