Top 2 Ways To Bypass Activation Lock Apple Watch Without Previous Owner
by Sophie Green Updated on 2022-12-16 / Update for Apple Watch
I got a used Apple Watch and I can't reach the previous owner. is there any way to remove Apple watch activation lock without previous owner Apple ID & password?"
If you are like the above user and you have bought an Apple Watch with the Activation Lock enabled on it, and you cannot reach out to the previous owner, you might be interested in how do I get rid of Apple Watch Activation Lock without previous owner.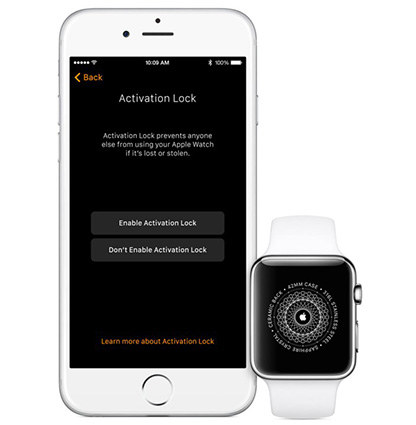 This article explains to you what the Activation Lock is, how you can check if your Apple Watch has this lock, and then the guide offers some ways for Apple Watch Activation Lock bypassing.
Part 1. What Is Activation Lock Apple Watch
The activation lock Apple Watch works just like how it does on an iOS device. If you or someone else had enabled Find My Apple Watch on the Watch, and you reset the Watch, it will have the Activation Lock enabled on it.
During this time, you cannot use the Watch as it will not let you use any of its features. You must first get rid of Apple Watch activation lock without previous owner to then be able to use it. But how to bypass Activation Lock on Apple Watch?
Part 2. How to Check If Activation Lock is Enabled on Apple Watch
It is a good idea to confirm if the lock on your Apple Watch is indeed the activation lock. You can check this from the iPhone that this Apple Watch was paired with.
Launch the Apple Watch app on the iPhone.
Select the My Watch tab and choose your Apple Watch from the list.
Tap the info icon next to your Watch to view the Watch information.

If you see Find My Apple Watch as one of the options, your Apple Watch indeed has activation lock enabled on it.
You will now need to find a way to unlock your Watch.
Method 1: Bypass Activation Lock Apple Watch without Password
If you know the password for the iCloud account used on the Apple Watch, you can unlock the Watch by entering the password. However, if you are not sure about the password, the following method will help you Apple Watch iCloud lock bypass.
This method uses a web-based service to help you bypass Apple Watch activation lock without previous owner. Keep in mind you will need to pay a fee to avail the service and the service is not free.
Find the serial number of your Apple Watch. The serial number should be printed on the case of your Watch. Once you find it, note it down as you will use it in below steps.
Open a new tab in your web browser and go to the Apple iPhone Unlock website.

Enter the serial number of your Apple Watch in the first field, select your Watch model from the dropdown menu, and finally click on Remove Activation Lock.

Go through the online unlock procedure, make a payment, and your order will be completed.
You will receive an email from the site when your Apple Watch is unlocked. You will also get the instructions on how to remove Activation Lock on Apple Watch. However, we need to know that this IMEI way seems to be don't work in the most of time. Just be careful with the advertise.
Method 2:Bypass Activation Lock Apple Watch Remotely with Previous Owner
If you are lucky enough to contact with the previous owner, then congratulations! There is only one step to remove activation lock apple watch successfully. iCloud is known to us a very useful tool that can be used to find any device that used the same Apple ID. You can ask the original owner to use iCloud to wipe the linked Apple ID on Apple Watch device.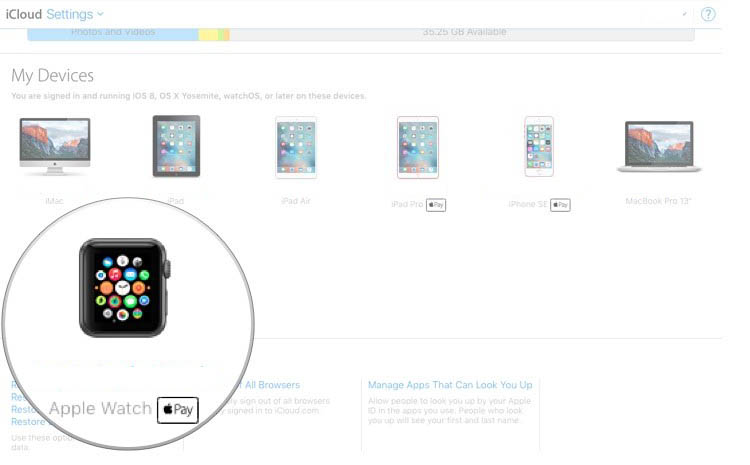 After that, you can easily log in to your new account of Apple watch.
Bonus Tip: The Easiest Way to Remove Activation Lock on iPhone
Removing the activation lock from an iPhone is comparatively easier than removing the lock from an Apple Watch. That is because you have a dedicated tool available to let you get rid of the lock from your iOS-based device.
Enter Tenorshare 4MeKey, a software that enables you to remove the activation lock from your iPhone and iPad without requiring you to enter your original Apple ID logins. All you need to do is click on a few options in the program and it will get the job done for you.
If you are not sure how to go about using this tool to remove the lock from your iPhone, the following steps will help you out.
A Video Tutorial: How to Remove iCloud Activation Lock iPhone/iPad with 4MeKey
Download and open the software on your computer. Click on Start to begin the activation lock removal process.

Plug-in your iPhone to your computer via a USB cable.

Jailbreak your iPhone using the on-screen instructions. Click on Start Remove when your iPhone is jailbroken to start removing the activation lock.

Be patient while the software removes the lock from your iPhone. When the lock is successfully removed, you will see the following on your screen.
Your iOS device should no longer be locked.
That is it. Your iPhone should now be unlocked, and you can add your own iCloud account to it.
Summary
Many people end-up buying locked Apple Watches and then they struggle to unlock them. With the above guide, though, you will be able to easily unlock Apple Watch Activation Lock without previous owner. In case it is your iPhone that is also locked, Tenorshare 4MeKey will help you get rid of the lock from your iPhone without any efforts.