Lockedtoowner Com In-Depth Review in 2023
by Anna Sherry Updated on 2023-07-28 / Update for iCloud Tips
Locked to owner message on iPhone/iPad/Apple watch can be frustrating especially when you desperately want to unlock your device. This message refers to the iCloud activation lock which prevents users to access their device without entering the login credentials of the device's owner.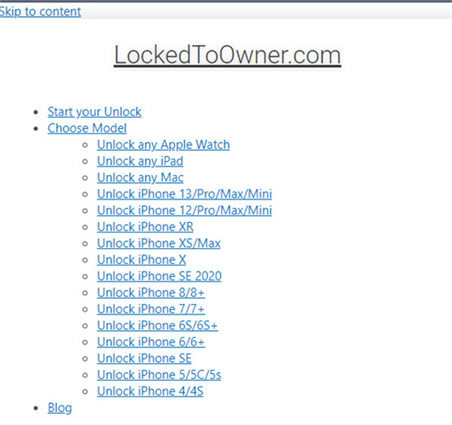 There are many services available online which assist you in unlocking your locked device. Among those one is lockedtoowner com. Read this article to know more about this service type and its use.
What Is Lockedtoowner.Com
Lockedtoowner.com is a web-based service that helps iDevice users to remove "the Locked to Owner" message. With this service, you don't need to enter the Apple ID or the passcode of the previous owner.
Moreover, they claim to do it for free and offer a permanent solution to unlock your locked iPhone, iPad, and Apple Watch. This service enables you to repair your device without installing any software on your device. Over a stable internet connection, you can remove the iCloud lock.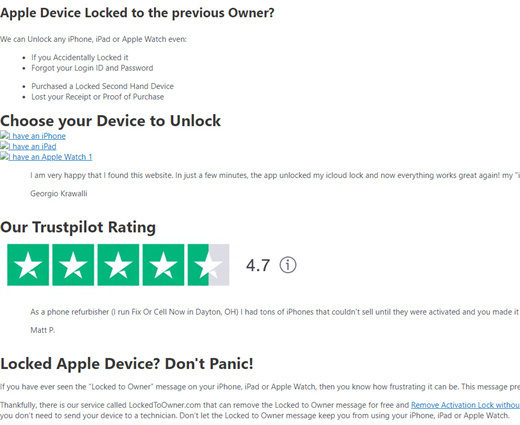 Is Lockedtoowner Com Legit
Lockedtoowner com legit concern is very important to talk about. Since the identity of the actual owner of this website is hidden, it is very hard to state this site as a legit solution. Moreover, its trust score is very low (14.8/100) which makes this website suspicious and a scam. 
The domain name is very young as it was registered a few months ago and you can see a lot of positive lockedtoowner com reviews. It is hard for a brand-new website to advertise, and get a lot of customers in such a short time. These all points together make it more like a scam website. 
Does Lockedtoowner Com Actually Work
After stating the background of this online service, the next most important question is does it work, and how? According to a lot of positive reviews, many users seem to be happy with the results they get. However, the results are not guaranteed. Here is how it works:
Go to the official website and select the device you want to unlock.
Next enter your personal information (name, email, and device model)).
Enter the IMEI/serial number of your device.
Get the new login details (email id and iCloud activation password). By entering those details, you can unlock your device. 
Lockedtoowner Com Free Alternative-4MeKey [100% Works]
Since the lockedtoowner.com website is not legit, you may not succeed in unlocking your device. Moreover, it requires you to enter your details as well which this site can use for other purposes. So, you must be careful while opting for such online unlocking services. 
Presenting you a legit, safe and reliable solution, Tenorshare 4MeKey is a professional software to bypass activation lock. It can also remove the previous Apple id on your locked device. With this, you are in safe hands since it respects your privacy and time. Within a few clicks, you will have your iDevice unlocked and usable.
Here is how you can remove the iCloud activation lock.
Download and Launch 4MeKey on your computer and proceed with "remove activation lock" Connect your device with the computer via USB data cable.

Once the connection is successful, the jailbreak tool will immediately start to download. Within or less than a minute, it will be downloaded and you can start the process of jailbreaking your device. To complete this process, follow the on-screen instructions. 

Once you have jailbroken your device, next confirm your device information. Then click on "start remove" to initiate the activation lock removal process. 

Within a few minutes, you will have an unlocked device and you can set it as a new one.
Related Question: Can You Bypass Carrier Lock
Yes, you can. Since we use the jailbreak method to remove the activation lock. The same method can be applied to your concern of "can you bypass carrier lock". Jailbreaking the device is considered one of the most common solutions to deal with the issues of iOS devices. With this method, you can use any other mobile network without any need of using a sim card of the carrier.
Wrap Up
Lockedtoowner com online unlocking service aims to help iDevice owners to solve their iCloud lock problems without visiting any store. However, it's hard to recommend this site as it's not legit and doesn't show any information about the company/owner. We suggest you try Tenorshare 4MeKey to bypass the activation lock since it provides guaranteed results without any compromise.