How to Get IMEI Number on iPhone If Locked with Top 8 Ways
by Jenefey Aaron Updated on 2021-04-28 / Update for iPhone Tips
"Hey, I am locked from my iPhone, and I want to get my IMEI number. Is there any way to get it? I have searched my iPhone box as well, but I can't find it. I need advice from the experts."
Are you facing the exact same problem? Don't you know how to get the IMEI number on iPhone if it's Locked? Well, if you are locked out of your iPhone and don't have the IMEI number, you are in big trouble. Either you can look for the iPhone box or try some tricks. But don't panic because we have got you covered. In this article, we will help you to get your IMEI number even if you don't have access to your device.
Part 1. What is the IMEI Number on iPhone?
IMEI number represents a unique code which is also known as Identifier code. All the devices have different codes, so the phones can be identified easily. Plus, this code also helps to maintain a blacklist when your device is stolen. There are many ways to get the IMEI number, and some of them are mentioned below.
Part 2: How to Get IMEI Number on iPhone If Locked? (Screen Locked)
How to get the IMEI on a Locked iPhone? If you are new and don't have any idea how to get the IMEI number on a locked iPhone, we have searched for some simple methods for you. Also, keep in mind that all these ways work for screen locked iPhone. Without wasting any time, let's discuss them one by one.
Way 1. How to Find IMEI on Locked iPhone from the Original Box
This method is simple and works 100 %. If you have the original box, then it's easier to find the IMEI number. See the backside of the box and search for the barcode. You can now easily find the IMEI number on the backside.

Way 2. How to Get IMEI Number on iPhone 12/11/X If Locked from SIM Card
The second method is getting the IMEI number from the SIM card. You might think that it's difficult, but it's not. Many latest iPhone models have IMEI numbers on the SIM tray. So, all you have to do is remove the SIM tray using a tool and see the number mentioned on it. You can also find the serial number.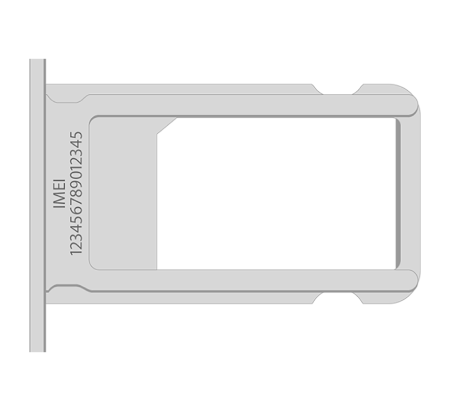 Way 3. Get IMEI Number from Device's Back (for iPhone 8 and below)
The good news is that iPhone 8 and below users can easily get the IMEI number from the back. Yes, you don't have to try difficult methods; just check the mobile's back, and you will see the number on it. However, this method only works for iPhone 8, 7, 6, 6S, and below.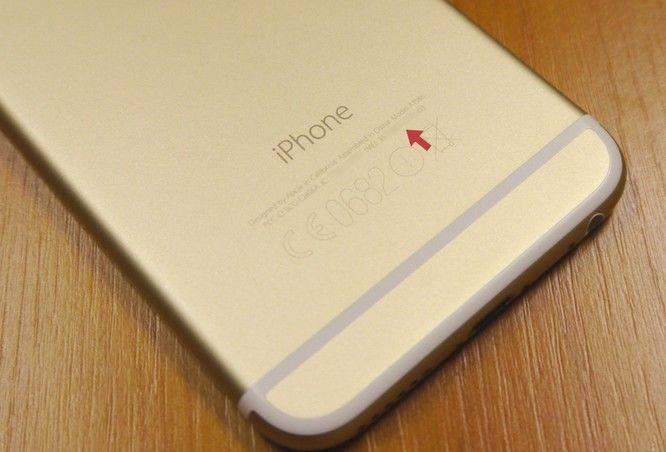 Way 4. Contact with Apple Support to Get IMEI Number
If you are confused about how to get the IMEI from a locked iPhone, the best option is to contact Apple Support. They will definitely help you to get your IMEI number. But you have to confirm the ownership; otherwise, you won't get the information. If you don't want to try this process, you can try method 5.
Way 5. Restore Your iPhone and Tap "i" Icon on the Activation Screen
In case you have recently restored your device and haven't activated it. You can easily get the number by clicking the "i" icon on the Activation screen. You will see a message, which will contain the IMEI number along with the UDID number. Just copy the IMEI number, and you are good to go.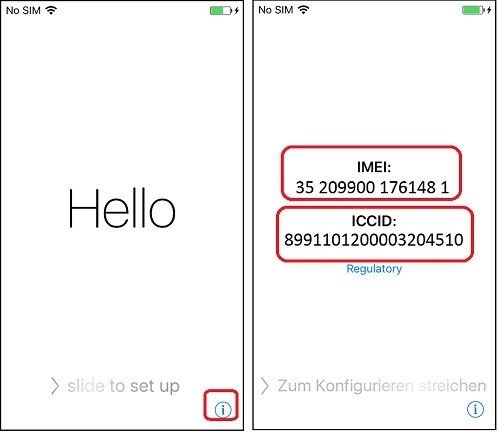 Part 3: How to Get IMEI Number on iPhone If Locked? (Carrier Locked)
Since you have learned all the ways of getting IMEI from screen locked iPhone, now let's try two ways that will help you to get IMEI if your device is carrier-locked.
Way 1. Find IMEI Number from Settings
To follow this procedure, all you have to do is open your Settings and click the general option. From there, select the "About" option and scroll down a bit. You will easily see the IMEI and Serial number. Don't forget to check our iTunes method.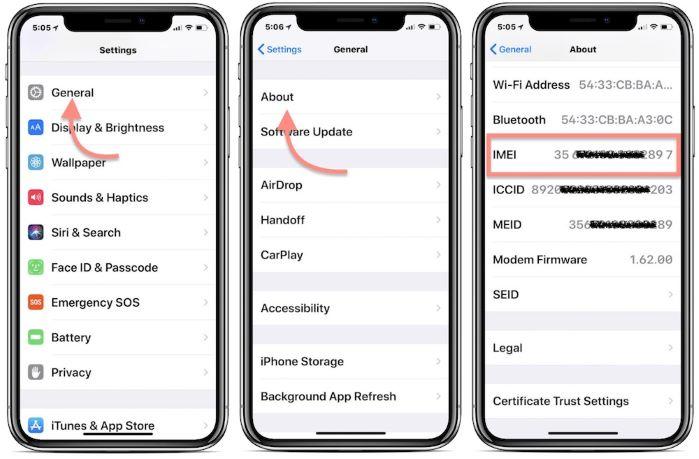 Way 2. Get IMEI Number Using iTunes
How to get an iPhone IMEI number if the phone is locked? There are two different cases of getting the number via iTunes. Let's discuss them one by one.
Your iPhone is connected to iTunes:
Note: For this one, you have to open iTunes 7.6- iTunes 8.1.
Connect iPhone to your device.
Select your device.
Now click "Summary" and select "Phone Number."
You will get the IMEI number.
Your iPhone is not connected to iTunes:
For this method, you need iTunes 8.1 - iTunes 10.
Open device preferences, and choose Edit if you are a Windows user.
Now click Preferences and tab Device.
Hover the mouse on iPhone backup to see the IMEI number
Way 3. Dial *#06# to Get IMEI Number
In case you didn't want to try the above methods, you can simply dial *#06# and get the IMEI number within a few seconds. Below we have a bonus tip for you as well, which will help you to unlock the Activation lock without an IMEI number.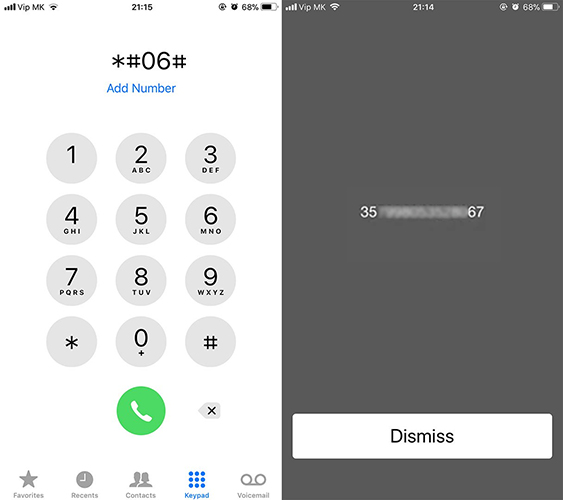 Bonus: How to Unlock Activation Lock without IMEI Number?
We know how hard it is to free iCloud unlock IMEI. But you don't have to worry anymore because we have just found the right tool for you. Tenorshare 4MeKey is an effective choice for iPhone users. It's a light utility and works best with Mac and Windows. Let's discuss how you can unlock the Activation lock using 4MeKey.
Video Guide: How to Remove iCloud Activation Lock iPhone/iPad with 4MeKey
The first step is to download the application.

Once you have installed it, click the Remove iCloud Activation option.

Click the Start option and read all the important precautions. You will most probably get a warning message after clicking Start.

Now, the app will ask for jailbreak permission, but to continue the process, you have to connect your iPhone with a PC via USB.

In the next step, you have to select the medium from where you have to jailbreak the device; Windows or Mac. Once the jailbreak process is done, move to the next step.

Now, remove the iCloud activation lock by confirming your device information. Once you have checked your device details, click the Start option.

The Activation Lock will be removed within a few minutes, don't disconnect your device.
So, if you don't have any leads on how to get IMEI on a locked iPhone, you can definitely try the ways mentioned above.
Conclusion
We hoped you liked our techniques on how to see IMEI on a locked iPhone. You can also use Tenorshare 4MeKey if you want to unlock the Activation lock. Don't forget to share which method worked for you in the comment section below.