iTunes Activation Lock Bypass? How Can I Do That?
by Jenefey Aaron Updated on 2021-04-19 / Update for iPhone Tips
Hello folks! I'm having a bit of trouble. Does 'Find my iPhone' work if the sim card is removed? Also, I would love to know if someone can brief me about the iTunes activation lock feature. I have recently bought a new iPhone, and I cannot access it due to this weird lock? How do I unlock it?
If you have bought an iPhone from a friend or stranger, then there might be a chance that your iPhone gets locked due to iTunes activation lock. This feature is a beautiful security feature by Apple that helps close the stolen iPhones and even helps the owner discover their lost phones.
Read below to know about iTunes activation lock, how to bypass it, and related tips and tricks.
Part 1: Why Would iTunes Activation Lock Appear?
There are multiple reasons why the iTunes activation lock appears.
The first reason is that you've bought an iPhone from a friend. The issue is that the iPhone you purchased is still synced with your friend's iCloud account. The iPhone would not accept a new owner, and hence it will lock.
Another scenario is if you've intentionally or unintentionally got access to a stolen iPhone. The original owner would trace their phone through Find my Phone, and iTunes activation lock will restrict access to anyone except the actual user.
Part 2: Is It Possible for iTunes Activation Lock Bypass?
It is nearly impossible to access a locked iPhone, especially if you have no contact with the person you bought the device from.
In that case, some apps could assist you in bypassing the locked barrier. So, yes, with the help of unlocking tools, a DNS method, and asking from the original owner – you can open a locked iPhone and bypass the iTunes activation lock.
Part 3: How to Bypass iTunes Activation Lock? (Best Way Included)
How to bypass the activation lock on iTunes ? Please choose the best method that suits you and go for it.
Way 1. 100% Working to Bypass iTunes Activation Lock with 4MeKey
Here's the easiest way to bypass the iTunes activation lock. Through this method, you'd know how to bypass activation lock iTunes iPhone 7. Tenorshare 4MeKey, is the less-known but a very useful tool which remove iCloud activation lock without any password. Currently, this tool supports iPhone from 5S to X with iOS 12.0-14.4.
Video Guide: How to Remove iCloud Activation Lock iPhone/iPad with 4MeKey
Firstly, download and then launch Tenorshare 4MeKey. Select "Remove iCloud Activation Lock." The iCloud Activation Lock removal screen will display with its necessary precautions.

Another risk tip message would display. Agree with it. The setup will also Jailbreak your device.

Connect the iPhone/iPod/iPad with the Mac or PC through USB.

Proceed to jailbreak your iPhone. The process will be different on Mac and PC. Just follow the steps on the prompted screen. Click on Start Jailbreak to finalize the process. It will take some time too. Read the jailbreak instructions carefully.

After Jailbreak, confirm your iPhone device info. Also, note that you won't be able to access phone calls and iCloud of your new Apple ID.

Click on "Start Remove." The activation lock removal will begin.

Your iCloud activation lock would be removed successfully within minutes. This method can quickly help bypass iPhone 5s activation lock with iTunes. Even it can help iPhone 6 iTunes activation lock bypass.  
Way 2. Temporary Way to Bypass iTunes Activation Lock with DNS
There's a quick way by DNS method where you can bypass the iTunes lock. It happens when you change the DNS server manually. However, it's less likely that this approach would work on iOS newer versions. The fake server will trick iOS, and it will unlock the device in return, but you might be unable to use some of its features. Internet traffic can also be put at risk.
Here's how to do it.
Insert a SIM card.
Turn the iPhone on.
Select region and language.
Click on the 'i' symbol displayed after the Wi-Fi network name.

Navigate the DNS sections and tap on 'Configure DNS.'

Select 'Manual.' Then enter the iCloud Bypass DNS server IP address. (region-dependent – you can check the internet about your local server IP)
Remove the previous DNS server from the modem.
Return to the Wi-Fi selection screen, select 'wireless networks and connect to it.
The screen will show that iOS is trying to connect Apple's activation servers.
Tap on the backlink at the upper-left.
iclouddnsbypass.com will open.
You get access to limited apps, media, messages, and calls through this method.
Results: Your phone wouldn't unlock properly. It will merely allow you some features to be used.
Way 3. Not Gonna Happen If You Contact with the Previous Owner
If the previous owner is a friend, ask him to:
Open the web browser.
Sign in to iCloud with the original Apple ID.
Click on "All Devices" at the top.
Select the sold iPhone.
Click "Erase *device*" on it.
Click Remove from the account. Done!
If you got it from a stranger, then activation lock bypass iTunes wouldn't be possible.
FAQs about iPhone Activation
1. How to Bypass Activation Lock with iTunes?
If you stuck on Activation Lock screen, actually, you cannot bypass Activation Lock using iTunes when without the Apple ID and password. The only possible way of removing Activation lock is that you get in touch with previous owner or use Tenorshare 4MeKey.
2. How to Activate iPhone with iTunes?
Download the latest iTunes version. Then connect your iPhone with a computer and iTunes through USB. Use recovery mode or Set up as New for iPhone.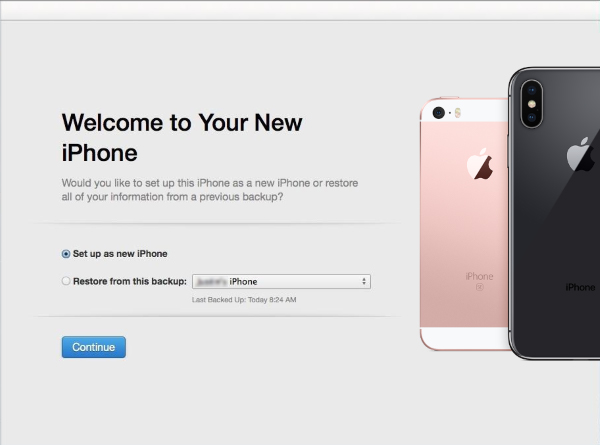 3. How to Activate iPhone without SIM Card?
Generally speaking, you can activate iPhone without SIM card using iTunes as long as your iPhone is unlocked. Connect your iPhone to iTunes and there will be messages saying "Welcome to your new iPhone". Just choose "set up as new" or "Restore from the backup".
Summary
When you read this, you might probably have fixed your issue. So, are these methods workable for you? Don't forget that Tenorshare 4MeKey is the most suitable tool if you ever want to bypass the iTunes activation lock. It's fast as well as secure.