[NEW] Tenorshare 4MeKey Crack V4.0.9 Laest Update
by Jenefey Aaron Updated on 2022-12-16 / Update for iCloud Tips
Are you experiencing troubles in unlocking your iPhone/iPad? Looking for a reliable way to bypass the iCloud activation lock without a password? Tenorshare 4MeKey is a professional activation unlocker that can reset these security capabilities.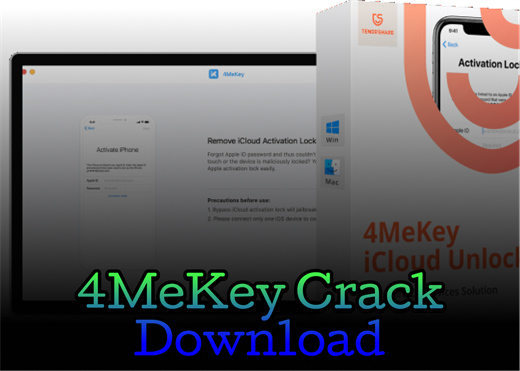 However, as it's a paid software and some users cannot afford it. But don't worry, we will have 4MeKey crack for you. So, stay tuned to know 4me key crack!
Part 1: Before We Start: Is 4Mekey Crack Safe
Tenorshare 4MeKey crack is a safe process to use. Cracking any software does not give you complete and legit access to the features of that software. However, some people like students on low budgets can't afford the paid version then they try to crack 4Mekey to get benefit from it to the maximum extent possible for free. 
Many sources on the Internet offer a 4Mekey crack download facility. You can use some legit email and 4MeKey serial keys after installed Tenorshare 4 me key crack for windows 10. In such a case, results are not guaranteed as in the paid full version. You can use these 4mekey email and registration code to crack 4 me key.
Part 2: 4Mekey Crack For Windows/Mac Download Link
Click the button to download the tenorshare 4MeKey crack full version. This download link is totally safe. Just Click the free download button to get 4MeKey crack and install it, no more 4mekey torrent link, etc. And then you are able to use it.
Part 3: Main Feature Of Tenorshare 4MeKey Crack
Tenorshare 4MeKey is most widely used to remove the iCloud activation lock while the other features of turning off-camera sound and removing apple id without a passcode are also in the first line. Let's see all the features in a little detail to find out which 4MeKey iCloud unlocker crack feature suits your needs. 
1. Remove iCloud Activation Lock
With 4MeKey, you can remove the iCloud activation lock in a hassle-free way. You don't need any help from a tech guru to complete the process as its user interface is very easy to operate by an inexperienced user. Here is what you need to do mainly.
Download and launch 4MeKey on your PC. Choose "Remove iCloud Activation lock" from the main interface and proceed. After this, connect your Apple device with your PC correctly.

Read all the jailbreak conditions on-screen and accept them. Allow the 4MeKey tool to download the jailbreak tool on your PC. Wait until the process is completed and then proceed to jailbreak your device. 

After you have jailbroken your device, confirm the device information and click on the "Start" option to begin the iCloud activation lock removal process.

Your device activation lock will be removed within a few minutes and after that, you can set a new Apple ID. 
2. Turn off Camera Sound without Muting
Tenorshare 4MeKey also comes into play when you are in desperate need to turn off your camera sound without muting. This is a problem many users face and here is how to get out of trouble using this software.
Launch 4MeKey on your PC and select "Turn Off Camera Sound" from the main interface. Connect your Apple device to your PC using a USB flash drive.

After connecting the device, the jailbreak tool will be downloaded to your PC. Connect the USB drive to burn the jailbreak environment in it. When the jailbreak environment is burned to the USB drive, follow the on-screen steps to complete the process.

Confirm the device information in the next step and click on the "Start" option.

Within 1-2 minutes, this process will be completed and you can check the device if the sound has been disabled successfully.
3. Remove Apple ID on App Store
If you bought a second-hand device that has an apple id of the previous owner logged in the app store, then you should replace it with a new Apple id. But this feature only supports iOS 11.4 and below.
Part 4: Question: Is 4MeKey Crack Legal
A very straightforward answer to this question is No. Cracking any software including 4MeKey is not legal. When you do that you put yourself into legal problems. Moreover, it's unethical to use the crack version of 4MeKey since the original full version is paid. It's risky to download crack 4MeKey as it increases security threats. Last but not the least, using a crack version gives no guarantee on the quality of results you will get. 
The End
The Tenorshare 4MeKey crack version is suitable for those who cannot afford paid version and need it urgently. However, to enjoy all the features securely and safely, you should go for the full paid version.