iPhone Se iCloud Bypass: Best 3 Methods Are Here
by Jenefey Aaron Updated on 2022-03-25 / Update for iCloud Tips
As we all know, Apple devices have the highest security systems. And one such aspect of this robust system is the iCloud. Whenever you buy an iPhone or iPad, as you set up the device. This iCloud ID has its activation lock. If, by mistake, you get locked out of your account, bypassing it becomes a hard task.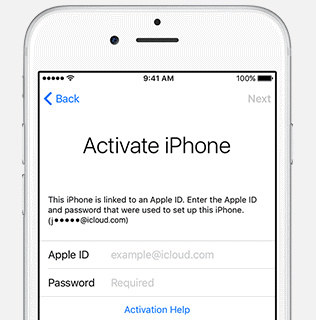 To complete iPhone se iCloud bypass, you need to verify the most credible method among the millions available online. However, you do not need to dig more tutorials. You can bypass iPhone se lock to access your device without any technical skills with the right application once forever. Follow the guide and get your problem solved! 
Pre-read Question: Can I Get My iPhone Se iCloud Bypass  
Yes! You can get your iPhone se iCloud bypass easily if you get the trick. Lucky for you, we have explored it all and summarized the best software out there which can help with your iPhone se 2020 icloud bypass within seconds! 
Method 1 of iPhone SE iCloud Bypass: Using 4MeKey  
Speaking of applications that help with iPhone se bypass, Tenorshare 4MeKey tops the list. With its easy to use interface and high-level security, it not only helps with bypassing the iCloud activation but also with iPhone se icloud unlock that already exists on your device. Just follow these easy steps and you have it all.
Download Tenorshare 4mekey and launch on your pc. Choose Remove iCloud Activation Lock by clicking Start ro Remove.

Connect your iPhone se 2020 to PC via a USb cable.

Start jailbreaking your device.

Click on Start get iCloud Bypass.

Get iPhone SE iCloud Bypass successfully.

Congratulations! You have completed iPhone se bypass. Now you can set up the device and enjoy it!
Method 2 of iPhone SE iCloud Bypass: Using DNS Bypass  
DNS stands for domain name system and is also a helpful way to bypass iPhone SE activation lock. It manipulates the DNS server and diverts the authentication path of your device. This in turn helps you to complete iphone se icloud bypass. Follow these steps:
Go to connections setting. Connect a Wifi>Go to Configure IP>Choose Manual>Add Server.

Click on the I and enter the DNS server IP address as per your location.

a. USA: 104.154.51.7

b. South America: 35.199.88.219

c. Europe: 104.155.28.90

d. Asia: 104.155.220.58

e. Australia and Oceania: 35.189.47.23

f. Other continents: 78.100.17.60

Tap on Back and turn the WIFI back on.
Click on Next Page and then go to Back to bypass the activation lock.
Set up the device as per your choice.
The drawback with this method is that it is temporary. When you reboot your iOS device, the activation lock comes up again and you'll have to do the process all over again. This can get annoying and inefficient after a while. 
Method 3 of iPhone SE iCloud Bypass: Using Third-Party Service 
Many tools online give the option of iPhone SE iCloud bypass. There are both free and paid options that you can choose from. Mind that all might have some limitations to them. Checking and reviewing fully is the best option to not have any surprises later. 

These are the general steps that allow for bypassing iCloud on iOS devices.
Go to any website that provides services like iCloud bypassing.
Enter your information.
Follow the steps as directed on the web and get your iCloud bypassed.
Note that not all third party services are legit. Most online services are fraudulent and do not reply after you complete payment. Most others are filled with viruses and bugs. To keep your device safe from all these problems, make sure to first thoroughly learn about the software you're considering. Even the safer ones have limitations and disadvantages. It is best to fully educate one before trying this. 
Method 4 of iPhone SE iCloud Bypass: Contact Apple Support 
If you have all details and invoices of the iOS device, contacting the Apple service centre is also a good idea. Contacting them for iCloud removal is the most legit way. However, Apple services sometimes do not reach back with a quick response and your problem will remain unsolved if you don't have all details and answers they need. 

The Bottom Line  
Get iPhone SE iCloud Bypass isn't difficult but can be confusing and time taking for people. We have summarized the three most common methods of completing iPhone se icloud bypass. You can use the DNS method or third-party services for efficient removal. However, Tenorshare 4MeKey is so far the simplest third party service you can rely on.