[SAFE] Tenorshare 4MeKey Free Download: Latest Update
by Jenefey Aaron Updated on 2022-12-16 / Update for iCloud Tips
Buying a second-hand device can leave you in many troubles and unlocking your device without a passcode is one of them. It becomes difficult to unlock a device that is already locked to the previous owner and you have no access to them.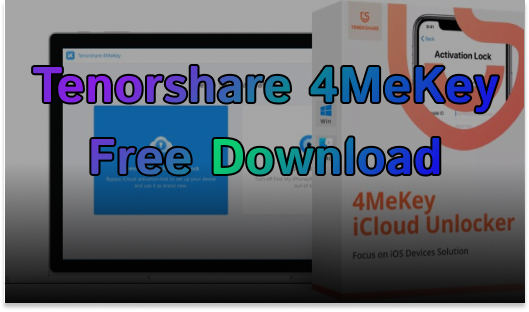 However, Tensorhare 4MeKey can help you unlock your device by removing the activation lock in no time. Here we will see what is a safe procedure for tenorshare 4mekey free download and how to use its main features.
Tenorshare 4MeKey Free Download: Is It True
Yes! Tenorshare 4MeKey is totally free to download. It removes the Activation lock and Apple ID from your device. You can get rid of iCloud activation lock and log in to your own Apple ID. 
Moreover, it offers the best iCloud unlock services so you can easily turn off the activation lock without any need for a password. With 4MeKey free download, you can get easy access to all these features. 
Tenorshare 4MeKey Free Download: The Safe Way Is Here
There are other ways for 4MeKey crack download for which you need to enter a fake email and fake serial key. However, you can download 4Mekey for free with no need for 4MeKey keygen or any other condition. If you are wondering what is the safe way for 4MeKey software free download, just click the download button below.
The Main Feature of Tenorshare 4MeKey
The main and the most widely used features of Tenorshare 4MeKey include the removal of the iCloud activation lock, free login to the app store, and turning off-camera sound without muting. Let's see each of them in a bit more detail. 
1. Remove iCloud Activation Lock
As it's said earlier that 4MeKey offers a safe way to remove the activation lock with zero effort. Here is a very simple way how you can remove the iCloud activation lock using 4MeKey software in a few minutes. 
Download and launch Tenorshare 4MeKey. Choose "Remove iCloud Activation Lock" from the interface before proceeding. 

Connect your Apple device using a USB cable. Make sure you have a backup of your data before starting the jailbreak process.

Now start jailbreaking your device. The jailbreak process is different for Mac and Windows.

Next comes the last step of removing the iCloud activation lock. Firstly, confirm your device information and click on "Start Remove". After this activation lock will be removed within a few minutes. 
2. Free To Log in App Store
Once your activation lock is removed, you can set your device as a new one. You can use a new Apple id to log in to the app store and download apps as you wish.
Go to Settings and set a new Apple ID.
Log in to the app store with the new apple id and enjoy downloading apps over Wi-Fi.
3. Turn off Camera Sound without Muting
Holding an iPhone device that is unable to disable camera sound is sometimes much annoying and irritating at the same time. This issue is more common in Japanese and Korean iOS devices. Well, you don't need to worry anymore since you can mute camera sound using 4MeKey. Here is how to do it.
Launch Tenorshare 4MeKey software on your pc and select "Turn Off Camera Sound" from the right corner.

Connect your device to the computer using a USB flash drive. Add your computer to the trusted devices of your iPhone by tapping on "Trust". Wait until the program recognizes it.

Now comes the process of jailbreaking your device. Once the device is connected, the jailbreak tool will be downloaded to your PC.

Once your device is jailbroken, you will see detailed information about the device on the screen. Please confirm the device details and click on the "Start" option.

This process will take less than 2 minutes to complete. Once it's completed, your device camera sound will be disabled. You can open the camera app to confirm if the sound has been disabled successfully.
Conclusion
With the free download availability of 4MeKey software, you don't need to frustrate over the forgotten apple id or already locked Apple device. We hope this Tenorshare 4MeKey free download guide showed you an easy way out of your trouble. If it did, then what are you waiting for, just get started with it.