F3arra1n Bypass Review: Does It Work In 2023
by Jenefey Aaron Updated on 2023-07-28 / Update for iCloud Tips
Having a locked iOS device can throw you a bundle of problems to unlock it. We can forget our login credentials and that's a human thing. To assist you in unlocking your locked device, a lot of tools are available in the market which claim to resolve the issue in the best way possible.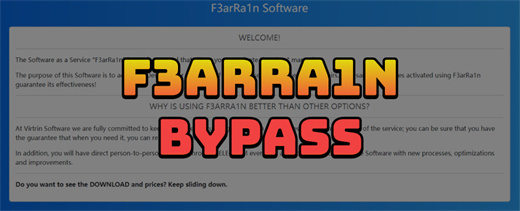 Among those unlocking/bypassing tools, one is f3arra1n bypass. In this guide, we are going to gently review its bypass process and how it works. So, slide down to dig into the details.
What Is F3arra1n Bypass
F3arra1n is a bypass software that helps you to bypass your locked iOS device and use it without any need for a passcode. This software is mainly designed for personal use, development, and repair purposes. Since the appearance of this software, many users have used it to bypass their devices and witness its effectiveness in the unlocking process.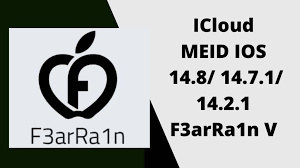 Is F3arra1n Bypass Free
No! Frarra1n is not free at all. You need to pay for each device you use it for. Firstly, you need to check the compatibility of this tool with your device. In case it supports your device model, then you can buy credits to complete the bypass process. You can't use f3arra1n free on your device. Its price varies depending upon your device activation purpose.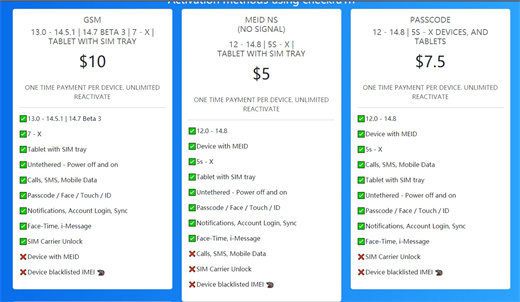 How to Use F3arra1n Bypass
Due to stringent privacy rules, you can't play with iOS yourself. In case you do something wrong, your device may get disabled permanently. Using this software is a bit tricky however, once you have understood the process you can do it yourself. Here is what you need to do after the f3arra1n download.
Start with jailbreaking your iOS device using checkra1n on the platform of your preference.
Now connect your jailbroken device with your PC using a USB cable.
Upon successful connection, launch FEarRa1n software on your computer and follow the on-screen instructions.
Do follow the instruction which appears after clicking the "connect device" button.
Now click on the "check compatibility" button to check the compatibility of your connected device with the process. 
If it's compatible, you can proceed with buying credits by following the link this software will generate.
After payment, click on the "activator" button to start the activation of your locked device.
Wait for 2-3 minutes until you get a message stating that unlock is complete.
Now enjoy your unlocked device.
Does F3arra1n Bypass Work in 2023
Yes! F3arra1n works in 2023 for iOS devices. Moreover, the f3arra1n windows version is also available for windows 7, 8, 8.1, and 10. F3arra1n setup tool can be used on iOS 12, 12.1, 12.2, 12.3, 12.4, 12.5.5, 13, 14, 14.7.1, 14.8, and 14.8.1.
F3arra1n Bypass Free Alternative [Super Easy Steps]
Nothing can be worse than getting locked out of your device just because you have forgotten account details. The only solution to enter your device is to remove the activation lock. After having explained f3arra1n bypass method, you must be looking for an easier and free solution to tackle this problem. 
Tenorshare 4MeKey is a reliable activation unlocker that is the best fit for you if you want a reliable and free solution. With this, you don't need to master complex tech-based steps since it's very straightforward in its functionality. Due to this reason, you can bypass the activation lock and remove Apple ID that is already logged in on your device. 
Here is how to remove the iCloud activation lock using 4MeKey:
Download and Launch 4MeKey on your computer and proceed with the "remove activation lock" option. Now connect your device to the computer using a USB.

The next step is jailbreaking your device. It will take less than a few minutes to complete the download process. 

Next, you can simply start jailbreak and follow the on-screen instructions to jailbreak your device. 

Once you have jailbroken your device, lastly, confirm your device information and click on "start remove" to bypass the activation lock.

It will be removed within a few minutes. Once it's completed, you can set your device as a new one.
The End
We know it's a nightmare for every iDevice user to face iCloud-locked problems. F3arra1n bypass software can pave the way to get back to your device. However, its process is a little complicated and hectic, especially for newbies. 
If you are confident enough to bypass the activation lock yourself then you can always try. We recommend you to go with the 4MeKey activation unlocker since it's not much demanding and helps you to get through all the steps conveniently.