[Fixed!] Unable to Install Update iOS 16 in 2023 (iOS 16.6/16.5 Included)
by Anna Sherry Updated on 2023-07-27 / Update for iOS 16
Every June, Apple announces and shows off the next iPhone operating system, but the upgrade won't be available until the following autumn (usually around September). Apple unveiled iOS 16 this year at WWDC, jam-packed with intriguing new features, including customizable lock screen. But what in case you want to use the new features and do not want to wait that long? Installing the beta is a must! Here, we will discuss how to solve the "unable to install update an error occurred installing iOS 16" issue, which also supports 16.6/16.5/16.4.1.
Part 1: Why Does iPhone Say Unable to Install Update iOS 16/16.6/16.5
One of these issues may prevent you from updating your iPhone, iPad, or iPod touch wirelessly or over the air.
Not enough space on your device for storing
It takes a while to download the update.
Cannot connect to the update server
The update is not finished.
Part 2: 3 Methods to Fix Unable to Install Update iOS 16 Wirelessly
Below are three methods to fix iPhone's unable to install updates.
Way 1. Delete Unneeded Apps and Data
If there's not enough space to update, you can delete some apps and files to free up storage. A little amount of free storage space is needed for the iOS upgrade. Insufficient RAM is another factor that causes the " iOS 16 unable to install update " warning to appear. You may check the storage space to see whether there is enough to finish the update. Make sure there is at least 5 GB of storage space available.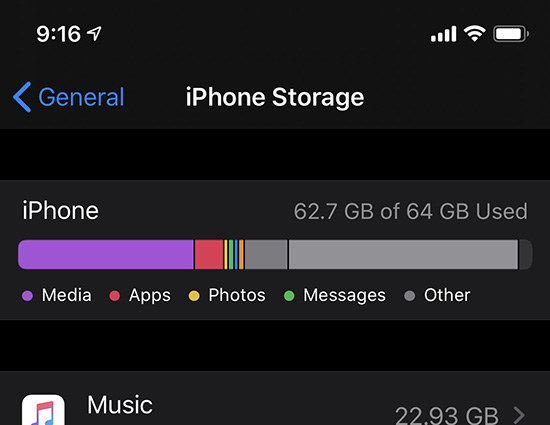 To examine and remove unnecessary files, go to Settings > General > iPhone Storage. You may also erase outdated pictures, messages, music, or seldom-used applications to make additional room.
Way 2. Using Another Network
Try the following workaround if you are still unable to install update iOS 16; an error occurred on your iPhone. Unstable and inadequate network connections may be the root of the iOS 16 upgrade problem. Examine your network connection, then try joining a more reliable network.
Try turning the Wi-Fi off and then back on. To reset the network for individuals who use mobile data, consider toggling on and off the Airplane mode. Try resetting the network settings if this is ineffective. Here is how to go about it to fix the "unable to install update an error occurred installing iOSs 16" issue.
Go to General in the Settings app after opening it.

Click Reset >> Reset Network Settings to proceed.

Return now and attempt the update installation once again. The problem will be resolved.
Way 3. Restart Your iPhone
Some users saw an issue message when downloading the latest iOS 16 version Update cannot be installed. Installing iOS 16 was unsuccessful ". Restarting your device is the first and simplest thing you can do to see if it helps. Follow the below-mentioned steps to the "unable to install update iOS 16 Beta" issue.
iPhone X or later restart:
Hold the Volume Up/Down and Side buttons while waiting for the slider to display.
To turn off the iPhone, slide the switch.
Press and hold the Side button once more until the Apple logo shows after the iPhone has shut down.
iPhone 8 or iPhone SE:
Press and hold Top (or Side) button until the slide appears.
To turn off the iPhone, slide the switch.

Press and hold Top (or Side) button once more until Apple logo appears after the iPhone has shut down.
Part 3: Still Unable to Install Update iOS 16? Using Comptuer to Update
If you still fail to install iOS 16 using the above methods, then you can try to update iOS through computer. The good news is that Tenorshare ReiBoot, which can be used to update your iOS system and fix all types of iOS 16 beta bugs on your iPhone or iPad or roll back to previous iOS version.
Standard Repair and Deep Repair are the two operating modes of the program. The data on your iPhone/iPad will be erased if you choose the second option. But you can update your iPhone via Standard Repair easily.
Use a USB cord to connect your iPhone or iPad to the PC afterward. Click "Start" after the device has been located.

Press "Standard Repair." Before continuing, remember the instructions shown on the screen. Once you are ready, choose "Standard Repair."

Click the "Download" button to get the most recent firmware file once your device has been recognized. Please be patient as the download takes a while since the file is almost 5GB.

Click the "Start Standard Repair" button after downloading the firmware package to your computer.

After the repair is done, your iOS device will automatically reboot and all your data will not be deleted.
Conclusion
This article addressed the issue "unable to install update an error occurred installing iOS 16" in depth. You should be able to install iOS 16/16.6/16.5 on your iPhone using the previously mentioned fixes or Tenorshare ReiBoot. Please let us know if you continue having problems or questions in the comments area. We'll do our best to assist you.