How to Fix iOS 17 Beta Stuck on Install Now
by Anna Sherry Updated on 2023-06-06 / Update for iOS 16
During the installation process, there might be problems. Just like, iPhone iOS software stuck on Install Now is a common problem. This is especially faced by new device users. You should keep in mind that iOS 17 is still in its beta version so there's a high chance that it may cause problems while installing. It is well-known that unstable iOS versions can likely result in crashes while downloading or installing.
I. How Long Does iOS 17 Beta Take to Install
Normally, iOS takes up to around 20-40 minutes to install. The average size of an iOS file is about 5 GB that is needed to be downloaded and then installed. The downloading speed mainly relies on your internet speed so it could take some time to download. Moreover, ensure that you have enough free space on your device to download those files.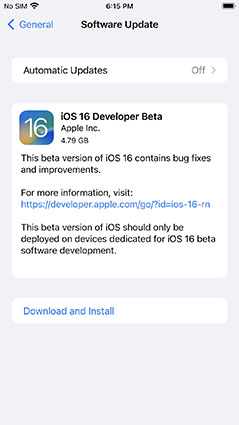 II. 3 Methods to Fix Software Update Stuck on Install Now
The iOS 16/17 stuck on Install Now issue could occur because of different reasons. It could be a busy server, low storage space, poor internet connection, or software bugs itself. In addition to these causes, a low battery can also create this issue as the installation might get interrupted. It is recommended to keep your iPhone's battery above 50% before installing the iOS 16 software.
If you are facing it for the first time, there's no need to worry. We'll share the effective solutions to solve this issue.
Method 1. Force Restart iPhone
When dealing with iOS 16 stuck on the Install Now issue, the first thing you try is to force restart your iPhone. It could possibly resolve the issue.
Quickly press the "Volume Up" button along with the "Volume Down" button.

Now, press and hold the side power button until your iPhone's screen goes off.

After that, the Apple logo will appear on your screen.
Method 2. Fix iPhone Stuck on Install Now without Data Loss
This method comes in handy when other methods fail. You can fix the iPhone stuck on the Install Now issue without any data loss using PC-based software Tenorshare ReiBoot. This software will help you in fixing iOS issues without data loss and with a lot higher success rate. There is also a video tutorial for the whole process above.
Download, install and run ReiBoot on your computer. Connect your iPhone to your PC. Once the device is recognized and set for use, click the 'Start' button on ReiBoot to use the iOS System Recovery tool. It is recommended to use Apple's original lightning USB cable for connection in this step.

You can choose between Standard Repair and Deep Repair. In this case,.select the Standard Repair mode.

You now need to download the firmware package according to your iOS software version. In this case, download the relevant firmware of iOS 16. Tenorshare Reiboot will also download it for you automatically.

Click the 'Start Standard Repair' button. It will automatically start fixing the stuck on Install Now issue regarding your iOS 16.
Please note that your device will get restarted when the process is done. Tenorshare Reiboot is preferred as it is easy and there is no risk of losing any kind of data during the process.
Method 3. Restore iPhone via iTunes (Data Loss)
iOS 16 stuck on Install Now issue can also be solved via iTunes. However, this method is quite complex comparatively and it may be subjected to data loss. Here's how you can do it using iTunes.
First, you need to have a computer with iTunes installed on it.
Now, you need to connect your iPhone to your computer. For this, use a USB cable.
Now launch the iTunes app on your computer and search for the "Device" button. You will see it at the top left of the app. Click on it.

Now, choose the "Summary" option. Once done, click on the "Restore" button and follow the further instructions.
As aforementioned, this method can solve the issue but it has its own drawbacks. The main one is the risk of losing the data. Also, you must need a computer to carry out this method. Just you know, when you have more easy methods on the list why bother yourself with the tedious procedures.
Conclusion
iOS 16/17 stuck on Install Now is a common problem that most iPhone users face. It can be annoying as users are unable to use the latest iOS available. This guide introduced some of the common causes and solutions to fix the issue without any hassle. However, the simplest way to solve this problem is to force restart your iPhone. If the issue persists, it is recommended to try Tenorshare ReiBoot. If you still have any other questions about your iPhone or your iOS problems, leave a comment in the comment section below!