iOS 16/17 Live Wallpaper Not Working: Everything You Need to Know
by Anna Sherry Updated on 2023-07-13 / Update for iOS 16
Users have many questions about the whole iOS 16/17 live wallpaper situation. On one hand, many of the original dynamic wallpapers are gone. But at the same time, Apple has added many other animated wallpapers, too. If you've been wondering about the wallpaper fiasco, this article has got you covered. All the questions related to iOS 16/17 live wallpapers will be answered. So let's dive right in!
The Original Dynamic Wallpapers Are Gone
The wallpaper that came with your iPhone model, as well as the ones that came with iOS 14 and 15 updates, are gone.
That means the red and yellow abstract wallpaper that was released alongside iOS 15 isn't accessible anymore. Furthermore, the wallpapers that came with iOS 14 are also gone.
Alongside that, the dynamic animated wallpapers that come with your iPhone model are also gone. For example, The neon lights wallpapers that came with the iPhone 13 Pro are gone.
All in all, the wallpapers that used to animate when you press and hold on the lock screen are all gone.
Are Dynamic Wallpapers Completely Dead? Not Really!
While Apple has removed the live wallpapers that animate when you tap and hold on the lock screen, it has added another kind of live wallpapers.
Now, Apple has added wallpapers that move with different actions. For example, when you wake up your iPhone, the wallpaper animates. When you unlock your phone, it animates again. When you pull down your notification center, the animation runs again.
Some of the new animated wallpapers are found in the Astronomy, Weather, and Collections menu in iOS 16.
Simply put, the live wallpapers in iOS 16/17 are much more dynamic than the ones found in iOS 15 and earlier.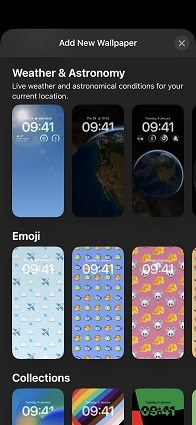 How to Use the New Wallpaper Features
While the old live wallpaper is deleted, you can use the new ones right away, provided you have updated to iOS 16/17.
Furthermore, the new live wallpapers are much easier to access. Here's how to use them.
Wake up your iPhone.
Tap and hold on to the lock screen.
You will see the customization menu, tap the + button on the bottom right corner.
Find a wallpaper that you like. Some of the popular ones are the astronomy ones and the weather one.
Hit Apply and your new wallpaper will be set right away.
Related read How to customize iOS 16/17 lock screen.
Using More Than One Wallpaper at A Time
With iOS 16/17, you can set up more than one wallpaper at a time. Then you can change them quickly with a tap and swipe.
If you have used an Apple Watch before, the wallpaper customization in iOS 16/17 is just like the watch faces on Apple Watch.
After you have added a new wallpaper by using the method in the previous section, you can switch back to your previous wallpaper easily. You can also add as many live photos as you want. To do that, follow the steps below.
Wake up your iPhone.
Tap and hold on the lock screen.
Swipe left or right to scroll through the applied wallpapers.
When you find a wallpaper you would like to use right now, just tap on it.
Bonus Tip: One-Stop Solution to Fix iOS 16/17 Wallpaper Blur Not Working
iOS 16 also comes with a feature to blur out your wallpaper. It's a nice feature as it allows you to hide out the complexities in your wallpaper and focus on the home screen icons.
However, some users say this feature is not working for them. If you are also facing problems using this feature, let us help you out. With Tenorshare ReiBoot, you can completely redo your iOS system installation, which usually removes all the bugs and issues that come with a new update(iOS 16/17 wallpaper blur not working issue is included). See what ReiBoot can do:
Fix more than 150 iPhone/iPad issues without losing device data
One click to enter/exit iPhone recovery mode for free
Downgrade from iOS 16/17 to the older version
Here's how you can use it to fix your iOS 16/17 wallpaper blurry feature not working issue:
Download and install ReiBoot on your computer. It's free to download. Connect your iPhone to the computer and select "Trust This Computer". Click "Start".

On the next page, select "Standard Repair".

You will be prompted to download the latest firmware, hit "Download".

When the download is completed, click "Start Standard Repair".

Wait for the process to complete, and your iOS is now refreshed. All the bugs and issues should now be gone.
The bottom line
Apple has removed the previous iOS 16/17 live wallpapers with this update, however, it has also added some new ones.
If you ask us, the new style of live wallpapers is much better than the old one. Now, the wallpapers move as you use your phone as usual, not only if you tap and hold on the lock screen, which nobody does. Remember, if you have "iOS 16 wallpaper blur not working" issue, Tenorshare ReiBoot will help you solve it.