Free Download Data Recovery Software Full Version
by Anna Sherry Updated on 2020-07-29 / Update for Data Recovery
Data loss is an unfortunate thing that happens to almost all digital device users at least once in your life. What basically happens is that you end-up losing all data you have stored on your devices. Unfortunately, not all devices offer you the option to recover data and therefore you have some free download data recovery software from third-party vendors in the market.
The main purpose of these data recovery software is to help you scan your drives and recover all possible data from them. They use special techniques to try to get all lost data back on your devices. If you have never used such a software before in your life, you are going to find out more about data recovery software free download in the following guide.
Let's check out how you can get data recovery software for PC free download full version:
Part 1. The Best Data Recovery Software Free Download
When it comes to data recovery software, the first thing you will want from any software is the higher chance of being able to recover your lost data. If a software cannot fulfill this expectation, it is out of the best data recovery software list straightaway. Fortunately, there is a software that fulfills this very aim of any data recovery software.
Meet Tenorshare UltData - Windows, a data recovery software that allows you to recover the data that you have lost on your Mac machine. It lets you get your lost files back regardless of how you lost them on your machine.
Recover pictures, videos, audio, emails, documents and up to 500 file types.
Recover files permanently deleted from Recycle Bin, files originally deleted using Shift + Delete keys bypassing Recycle Bin and files deleted from DOS prompt.
Recover data from Windows PC, laptops, hard drives.
Retrieve files from formatted, lost, hidden or corrupted partitions.
Restore files from raw, damaged or crashed hard disk.
Supports data recovery from external storage device like memory card, flash drive, digital camera and camcorders.
Works well with Windows 10/8/7/XP/Vista, macOS 10.14, Mac OS 10.13, macOS 10.12 and below.
100% guarantees your data recovery and data security.
Part 2. How to Recover Data with Tenorshare UltData - Windows
If you think UltData - Windows is the data recovery software you have been looking for all this time, you must be interested in learning how you can use it to recover the lost files on your computer. Fortunately, it is a cakewalk to use the software to get your lost files back and the following should teach you how to do exactly that.
Step 1: The first thing you will want to do is download and install the software on your computer. Then, launch the software and choose a drive where your data was stored before it got lost. You may select an external drive as well. Once you have selected a drive, click on the Scan button to start scanning the drive to find recoverable files.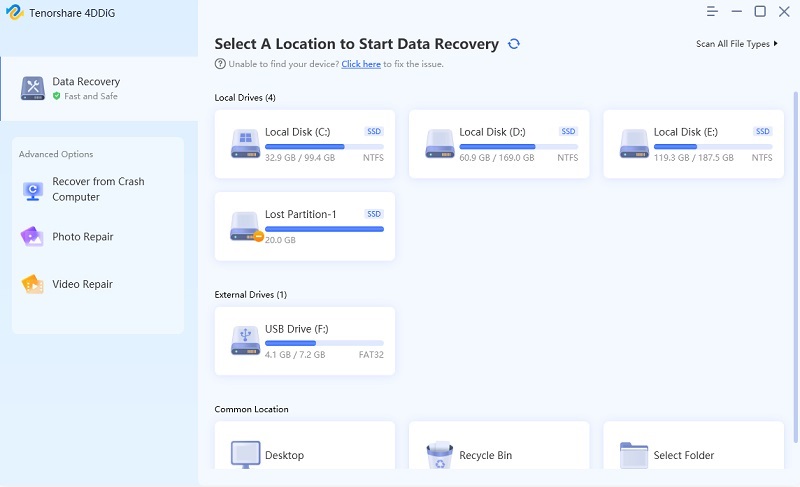 Step 2: When the software has scanned your drives, it will show the files it can recover for you. Choose the ones you want to recover and click on the Recover button.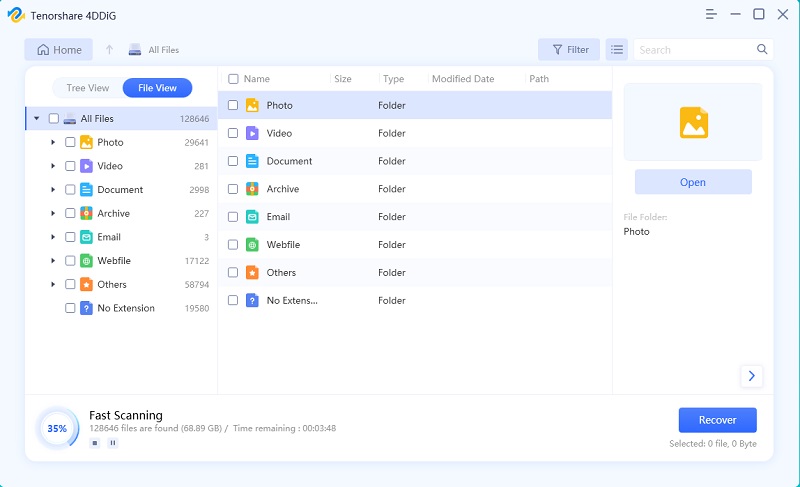 Step 3: Choose a path where you would like to save the recovered files and click on the OK button.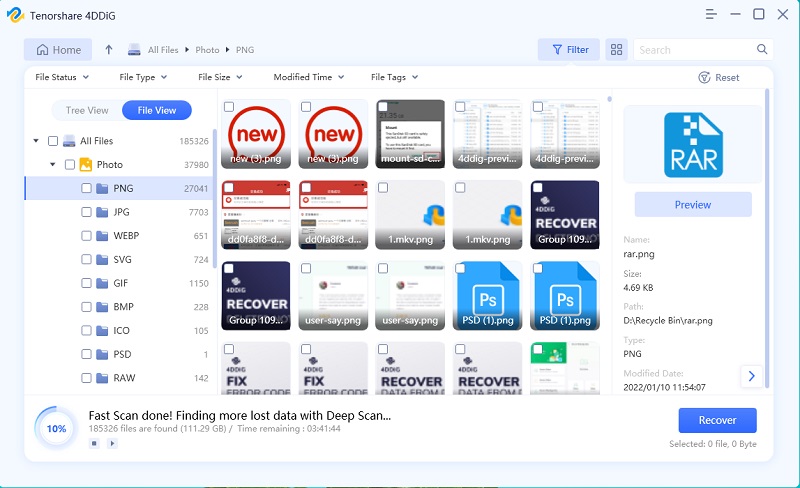 There you go. The software will recover and save the files at your chosen destination. That is how you access recovery software free download.
Part 3. Useful Tips to Avoid Further Data Loss
There are a few suggestions that should help you avoid data loss in future.
Do not store your files at the location where they were saved, and you lost them. It will drastically reduce the chances of you losing the same files again in the future.
There are many infected software's in the market that delete your data without your consent. Avoid installing them and always make sure to download your software from trusted sources.
Keep a backup of your important files so you can restore them when things go south, and your data get deleted as a result.
Get a UPS to ensure power supply to your computer even when the actual supply has gone off. It will provide you with an opportunity to save your data before you shut down your machine.
We hope the above guide helps you find a data recovery software free download full version and it helps you recover all lost files on your computer.
A Fabulous Video Repair Tool
A wide range of repair video file formats up to 17+, MP4, MOV, AVI, MKV, F4V, and a lot more;
Corrupted video repair for phones, cameras, GoPro, drones, etc.;
Perfectly featured with 4K, 8K, 360° & VR video repair;
Compatible with Windows 10 & macOS Catalina for freshman or expert;
Updated on 2020-07-29 / Update for Data Recovery
Join the discussion and share your voice here