Complete Guide on How to Fix Corrupted Word File Easily
by Anna Sherry Updated on 2019-12-19 / Update for Data Recovery
Sometimes when you are opening a Word file, it'll give you an error that the file can't be read as it's corrupted or as there's some other problem with the word document. Word documents could be corrupted in different ways, but frequently it is just an issue with the headers in the word file and the data could be retrieved in most cases.
If MS word document crashes when you are typing, you'll lose what you are doing since the last time you've saved the document, but the saved document will still work. If the program freezes or crashes when you are saving file, it could corrupt the document by leaving it incompletely written. Corruption could also happen in the files that are downloaded from Internet if the connection is lost or you close the browser even when saving a file.
You could run CHKDSK command on cmd to test out if the corrupted document is caused by software problem or open the corrupted file from another PC to verify if it is damaged or not.
Part 1. Top 7 Ways to Fix Corrupted Word File with In-Built Microsoft Word Repair Tool
Out of all the ways in which you can repair corrupted word file, these are the best ways to fix word corrupted file.
1. Select "Open And Repair" Feature to Repair Word Document
Microsoft Word has open and repair tool that is inbuilt since the release of 207 version of MS Word that you could use to repair the Word documents and files. As it was built by the manufacturer of the software, it's the best and the safest method of recovering a corrupt word file:
Open MS Word and then click on File option.
After that Click on Open and choose the .DOCX document with the issue.
Click on drop drown icon and click Open and repair option.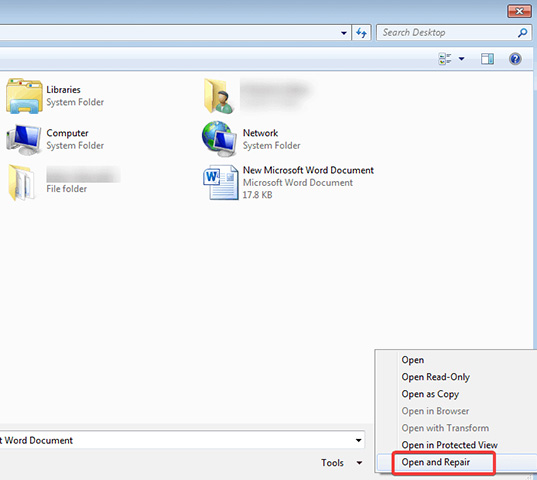 2. Choose "Recover Text from Any File" Option to Repair Word File
If you're unable to get back Word file that is corrupted, MS Word offers you the facility to recover content from any document. This will allow you to recover important text and then rebuild it in a new Word document. Here is how you can do it.
Click on File menu and then click on Open.
locate the .docx file that you want to fix.
Now click on the drop down and locate Recover text from any file option.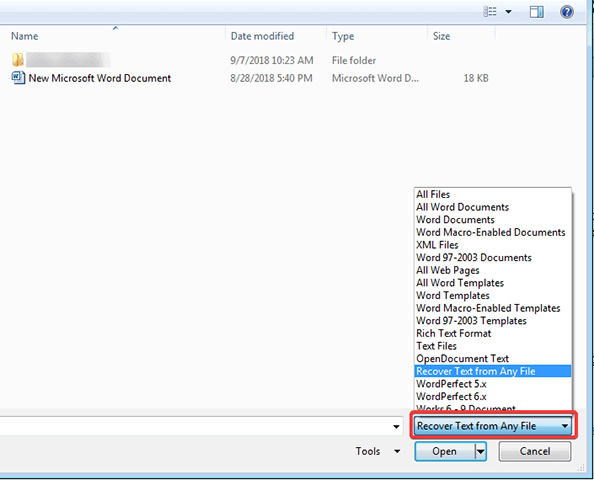 The will attempt to get all the data from your word document. If this solution doesn't work, move on to the next one.
3. Enable the Draft Font
Another solution to fix corrupted word file is to open the word file in the Draft mode. Follow the below mentioned steps to do this:
Click the File option and move to Options.
Now select Advanced option on the side panel and scroll the cursor to the Show document content section.
Click 'Use draft font in Draft and Outline views' and 'Show picture placeholders' checkboxes.
Now move back to Word and click on View tab and after that click on Draft option under view section.
5.Now try opening the corrupted word document
4. Export to Different Formats
You can fix the word documents by changing the format of the word document and then converting back to .docx format.
Open word file
Click File menu, and after that click on Save As
Choose the location and name the file
In Save As dialog box, search for dropdown menu that is labeled Save As Type
Select a new file format from the list of options and click on save option
You can change it back to .docx format by following the above mentioned steps.
5. Use Previous Versions If Use Windows 7
There is system restore option in Windows 7 and higher versions which will restore the files that have been backed up automatically. If system restore option is manually turned off then this won't work.
To know that if there're any backed-up versions of the files:
Right click on file
Select Properties and then click on Previous Versions option
The previously versions will be displayed in the list box. If there is no tab of Previous versions then it means that System Restore option isn't turned on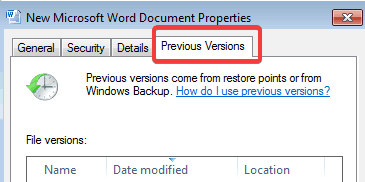 6. Open the Corrupted Word File with Notepad
You can open corrupted word file in notepad by following the below mentioned steps:
Right click on corrupted word file and click Open with
Now click on Choose default program
On Other Programs section click on dropdown menu to disclose more programs and then choose Notepad
Copy and then paste all the text from notepad to a new word document and then format it.
7. Update Microsoft Office and Windows
Click on Start > Settings > Update and security.

Now click Advanced options.

3. Below Choose how updates are installed, select the option that you like to, including checking Give me updates for other Microsoft products when I update Windows box so you could get all the Office updates.
The Best Word File Repair Tool to Fix Corrupted Word File
To recover corrupt word document you must be patience, as you have to download word file repair tool. Word documents on Windows, whether they are corrupted or deleted could be repaired using Tenorshare 4DDiG for Windows Data Recovery tool. It's available to recover data from Windows7/8/10.
The software provides full control over corrupted, lost or formatted data on Windows OS, and it supports 500+ file formats.

It can recover recently corrupted or lost data on Windows hard drive as well as on other external storage devices that are connected to your PC.

Whether you have to recover or repair a Word file because of software malfunction or virus attack, Tenorshare 4DDiG for Windows Data Recovery software can retrieve all the files and documents.

Besides Word files, the tool can also retrieve your lost images, audios, videos, web documents, emails etc.
Steps to Use UltData Windows Data Recovery Tool
Select the location where your corrupted or lost files were saved on the interface of the tool. If don't remember that where you have saved your file then select Whole compute option and the scan will be started.

Click on Scan option and the scan will be started. When the scan is finished it will display the list of all corrupted, lost and deleted documents.

You can click "window" logo on the bottom-right from your PC display to go to Preview Mode. There will be an icon for each recovered file on the right side. You can go through them to notice if you'll need this data.

Select the required word files and then click on "Recover" button at the bottom right corner to save the retrieved file. Don't save the document to the same partition where you have lost them in case of permanent data loss or overwritten disk.
Summing It up
You no longer have to be worried to recover corrupted word file. You can just use the above mentioned 7 ways to get out of such a situation and save yourself from any trouble. To prevent corrupted word document issues in future, enable autosave option in MS Word to recover all the files. If your document needs to be fixed, download Tenorshare 4DDiG for Windows Data Recovery software.