Easily Recover Files Lost in Cut and Paste
by Anna Sherry Updated on 2021-09-15 / Update for Data Recovery
"I have cut 2 documents (files) from 'My Documents' to paste into another folder. Somewhere along the line, I have 'lost' these 2 files. Is there any way to recover lost files in an interrupted cut and paste?"
Well, in case, you underwent such a scary situation. We understand what you might be going through. You have cut some important files on your computer, but while trying to paste them you can't paste them over the target folder. Unlike a document, you won't be able undo the changes. So, what solutions do you have at hand for recovering the cut files.
Part 1: The Best Recycle Bin Recovery Software Free Download
Before understanding how to recover files lost in cut and paste. It is essential to find out, where they went at the first place. We would like to inform you that, all the pictures, text files, videos, files or folders which you cut or copied from the source folder are within the clipboard. The clipboard stores them all as long as you haven't pasted the files to the target folder or location.
Part 2: 4DDiG(Windows) - The Best Cut & Paste File Recovery Software
Now that, you are acquainted about where the cut files go missing before pasting them. You must be wondering, how to recover copy and paste history? Well, we have got the right solution for you Tenorshare 4DDiG for Windows Data Recovery to you. This awesome program can easily recover files lost in cut and paste from your computer, external drives, memory cards with high data recovery rate.
Here are the prominent features of this file recovery software:
Recover lost files in cut, copy and paste transfer
Recover cut files lost due to unexpected shutdown, improper removal of storage drives, improper system termination, hardware failure, etc .
Recover photos, videos, music, documents and up to 500 types of files without quality loss.
Recover any data and file types with high success rate
Work well on Windows 10/8/7/XP/Vista.
Part 3: Step-by-step Guide to Recover Files Lost in the Cut and Paste
As we have already explained the amazing benefits that Tenorshare 4DDiG for Windows Data Recovery has to offer. We would show you the detailed guide to recover cut and paste files. Here comes the quick guide:
Step 1: Select the file location
Download and install the software on your computer. There are multiple options showing you the possible location, where you have lost your data. Select the location where you lost files.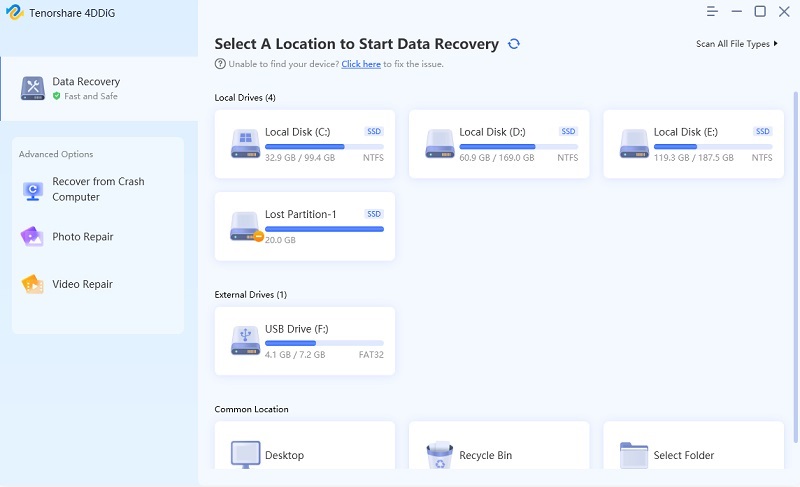 Note: For files lost during Cut and Paste, you shouldn't paste any data to the source folder. It might overwrite the lost data and make you lose it forever.
Step 2: Preview the scanned files
As the scan result is right on your computer screen for recently deleted data. You can preview the files here. You can find the found items' thumbnails over the right panel of the software window. Verify whether you need the data displayed over there. Hit the 'Preview' button to check the information in detail. If you remember the file name, you can find it by typing its name in the search box.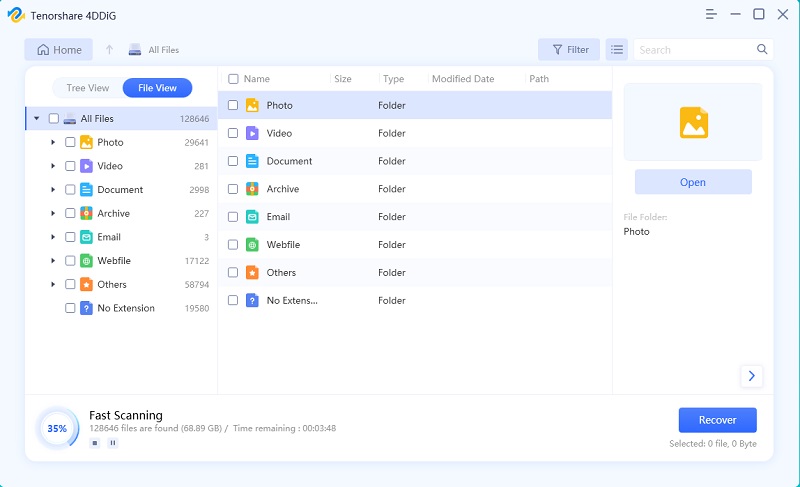 Step 3: Recovering the cut files
Now that everything is on track and you have verified the data, it's time for recovering the cut files. Press the 'Recover' button and the files get saved on your computer. Make sure that the files are not saved on their source folder (where you have lost them). It would overwrite them make you lose the data permanently.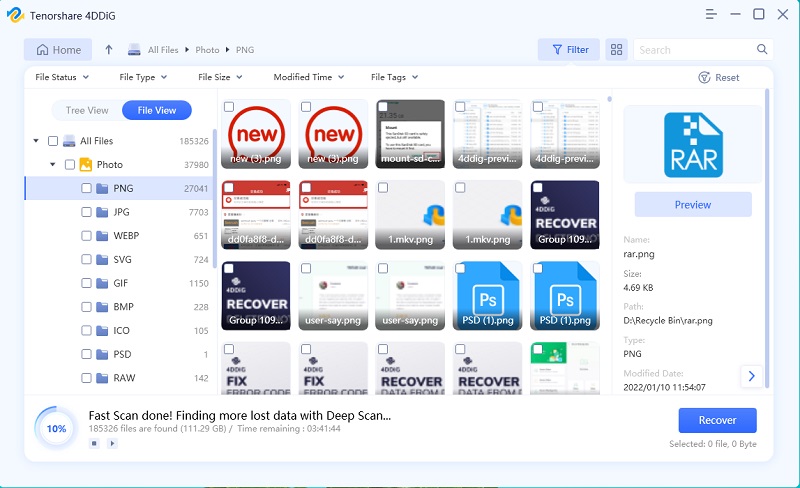 Final Verdict
Well, from this article we are confident that, you have learnt how to recover cut files. We would recommend you to always recover your cut and paste files that you lost after cutting them using Tenorshare 4DDiG for Windows Data Recovery. Because, other tools might not be safe enough to recover data without any glitch. And who know, while restoring the data, you might have welcomes unwanted virus and malware to your computer, which is not at all sweet for you.
A Fabulous Video Repair Tool
A wide range of repair video file formats up to 17+, MP4, MOV, AVI, MKV, F4V, and a lot more;
Corrupted video repair for phones, cameras, GoPro, drones, etc.;
Perfectly featured with 4K, 8K, 360° & VR video repair;
Compatible with Windows 10 & macOS Catalina for freshman or expert;
Updated on 2021-09-15 / Update for Data Recovery
Join the discussion and share your voice here