How to Recover Unsaved or Deleted PowerPoint Easily?
by Anna Sherry Updated on 2021-09-13 / Update for Data Recovery
It is indeed a big headache when you lose your PowerPoint presentation after working on it for hours. All the thoughts you had for your presentation have gone in vain as the file has just been deleted from your machine. However, if you know a little bit of data recovery, you can perform a PowerPoint recovery and recover your deleted or unsaved PowerPoint presentation.
In fact, there are multiple methods available to recover PowerPoint file on your computers. While some of these methods are provided by PowerPoint software itself, the others are provided by either your system or a third-party data recovery company. So, if you have got yourself in a situation where you need to recover unsaved PowerPoint on your computer, the following is what you need to do.
How to Recover Unsaved PowerPoint Presentations on Windows 11/10/8/7?
Method 1. Recover Unsaved PowerPoint Using Recover Unsaved Presentations
While you are working on a presentation in PowerPoint, the software automatically saves the drafts of your presentations. These unsaved presentations can easily be recovered, and the following is how you do it with PowerPoint on your computer.
Step 1. Launch PowerPoint using your preferred way on your computer.
Step 2. When PowerPoint launches, click on the File tab and choose Open followed by Recent.
Step 3. On the following screen, click on the button that says Recover Unsaved Presentations at the bottom of the screen.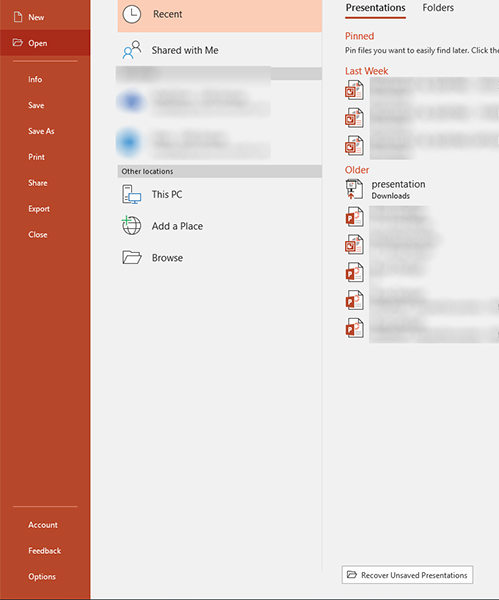 Step 4. You should be able to select your unsaved files and recover them on your computer.
As you can see, it is easy to recover PowerPoint file not saved on a computer using the above method.
Method 2. Recover Unsaved PowerPoint Using AutoRecover Feature
If you could not find or recover your file using the above method, you may try another recovery option called AutoRecover. The feature is built right into the software and it saves a copy of your presentations at a prespecified folder on your computer.
You can access the folder to see if a copy of your unsaved or deleted PowerPoint presentation is available. If it is, you can open it with the software and save it in any other folder you want. The following is how you find the folder where the AutoRecover files are located.
Step 1. Launch PowerPoint on your computer.
Step 2. Click on the File tab and choose the option that says Options. It will let you view settings of PowerPoint.
Step 3. When the options menu appears, click on the Save option in the left sidebar. On the right sidebar, you will see a path next to the box that says AutoRecover file location. Copy the path to your clipboard.

You may now paste the path in File Explorer and it will launch the folder where your presentations are auto-recovered. Find your file in the folder and double-click on it to open it with the PowerPoint software. That is how to recover unsaved PowerPoint using a built-in PowerPoint feature.
Method 3. Recover Deleted PowerPoint File from Recycle Bin
When a file gets deleted from your computer and you wish to restore the file, the first place you will want to look at is Recycle Bin. That is where all the deleted files go, and your PowerPoint file may still be there for you to restore it.
Step 1. Launch Recycle Bin on your computer
Step 2. Find your PowerPoint file and right-click on it and select Restore.
The selected file will be restored on your machine. That is how you use Recycle Bin to recover a PowerPoint presentation on your computer.
Method 4. Recover Unsaved or Deleted PowerPoint File with PowerPoint Recovery
If you have still not been able to recover your PowerPoint file, it would be worth using a data recovery software to recover your valuable presentation. Enter Tenorshare 4DDiG for Windows Data Recovery , a software that allows you to recover PowerPoint as well as many other types of deleted files on your computer. It uses complex algorithms to help you find and restore all the lost files on a computer. It is easy to use the software and it gets the whole job done in a few minutes.
Step 1 Download and launch the software on your computer. On the first screen, select the drive where your file was located and click on Scan.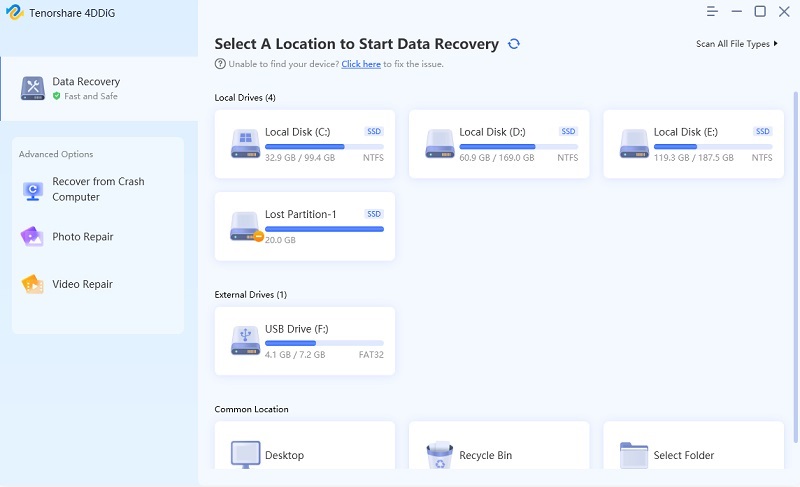 Step 2 On the following screen, you can see all the files that can be recovered using the software. Click on your presentation and select Recover to recover it.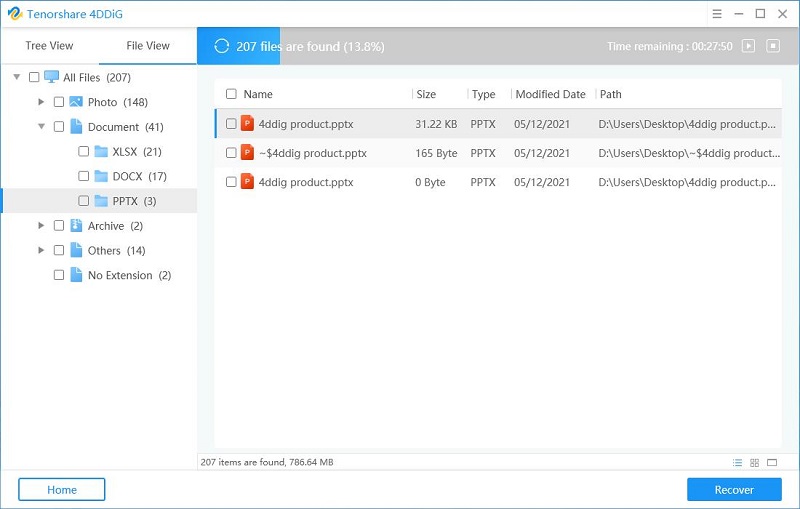 Step 3 The software will ask you to select a folder to save your file in. Do so and it will let you continue.
You are all set. Your chosen PowerPoint file will be recovered to your chosen destination on your computer.
You may also be interested in how to recover unsaved PowerPoint Mac, How to Recover Unsaved Word Documents. or How to Recover Unsaved Excel Documents.
Extra Tip: How to Recover Unsaved Corrupted PowerPoint Document?
Sometimes your PowerPoint files can become corrupted and it is a headache to work with such files. If that's the case with you, you may want to use a third-party software to fix your corrupted files.
There are several tools on the Internet such as Stellar Repair for PowerPoint Software that will help you repair your corrupted PowerPoint files on your computer. Try as many of those software as you can until you find the one that fixes your file.
Final Verdict
If you are having trouble restoring an unsaved or deleted PowerPoint file, the above guide will help you perform PowerPoint recovery to recover your lost PowerPoint 2019/2016/2013/2010 files on your computer. We really hope it helps you get your valuable presentations restored on your machines.