EaseUS Data Recovery Review
by Anna Sherry Updated on 2021-09-07 / Update for Data Recovery
When it comes to data recovery, one search can provide you more than enough results. However, choosing which data recovery tool is authentic and reliable is the hardest decision you have to make. And no matter which tool you pick, you will always be doubtful whether the software is safe or not. But don't worry; here we are going to make it easier for you to narrow down the decision. In this article, we are giving an EaseUS data recovery software review. Go through the post and you'll know if it is safe to use this tool.
Part 1. What is EaseUS Data Recovery?
While speaking of utility software, EaseUS is the name is common and very popular amongst the users. The data recovery tool designed by the same team is known as EaseUS Data Recovery. Our main intention here is to provide you an overview of this tool so that you will know for sure if you can rely on it or not.
Basically, one question always stays in the mind of users while trying to recover their lost or deleted data files, is EaseUS data recovery wizard legit and safe for use?
There is one thing which can be said without any second opinion is the fact that this data recovery tool is by far the most trusted name in the market. Not only the software has powerful features, but it also has many features which are loved by users.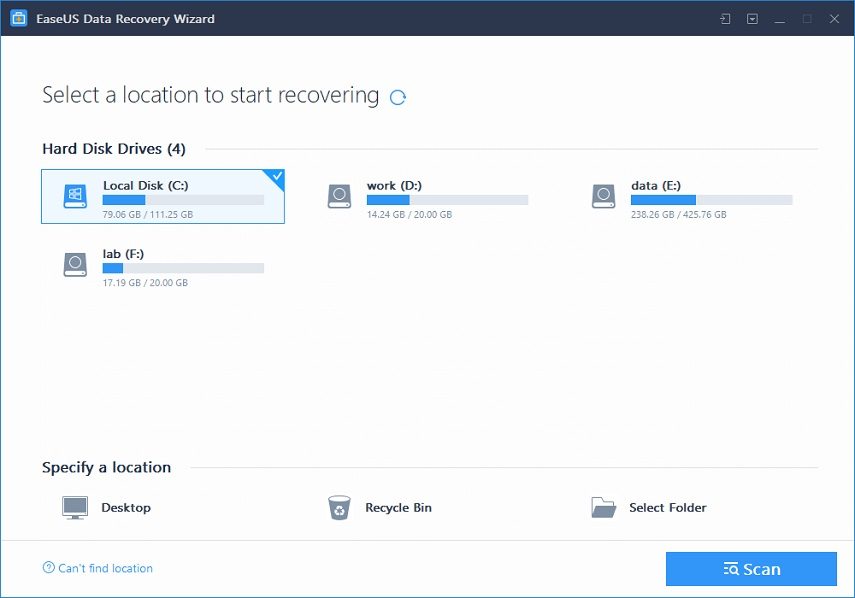 Going through the EaseUS data recovery review, it is important that we also highlight the key features of this tool.
EaseUS Data Recovery Wizard Features
Recover all types of files including images, videos, audios, documents, archives, emails, etc.
Offer two powerful data scanning modes, Quick Mode and Deep Scan mode to get better results.
Over 1000+ formats are supported by the software for all different types of files.
Available for both Mac and Windows Operating System.
Allow users to filter the results and have selective recovery options.
Recover files from a variety of storage devices such as hard drives, flash drives, digital cameras, memory cards, SD cards, etc.
Get your lost or deleted files back regardless of deletion, formatting, empty recycle bin, system crash, lost partition, and others.
Part 2. Is EaseUS Data Recovery free?
Along with finding out if EaseUS data recovery is safe; people often ask if it is free or not. Technically, there is a trial version of the software which can be downloaded for free. But the free version only allows you to recover 2 GB of data. So, once you have exhausted the data limit, you will have to purchase a valid license for the software and you will be able to retrieve unlimited data with it.
Part 3. Is EaseUS Data Recovery Safe?
Talking about safety, users are also concerned about their security while using a data recovery tool. There are many scammers and frauds who often try to lure the customers in wrong deals. Luckily the answer to is EaseUS data recovery wizard safe is a big yes.
Even though EaseUS is not that much forthcoming towards their security policies, but it is considered safe. They use 256-bit SSL standard which is a common data encryption technique nowadays. While you are using this wizard, all the data is encrypted automatically. So, you can sit back and relax while trying to retrieve your important files with the help of EaseUS.
Part 4. EaseUS Data Recovery Real User Review
We have gathered some random EaseUS recovery review to support the statements. Take a look at them and see for yourself.
1: Excellent product! I am a school teacher and thought that I had lost over 10 years worth of school work on my external hard disk until I bought this product. Worth every penny. Thank you so much.- Mid Wales
2: This saved my butt during finals. I had accidentally deleted my ISYE335 final from my USB and it was nowhere to be found. I found this software, tried it and I got my files back. AWESOME!!! I highly recommend it. - Rick Briones
3: I just bought your software after Best Buy Geek Squad said they couldn't recover my data off my flash drive. Your recovery software worked great and saved me several weeks of work. Your software is terrific. You saved me.-Mark Maack
Part 5. Is there EaseUS Data Recovery Wizard Alternatives?
The best EaseUS data recovery wizard professional alternative is 4DDiG for Windows Data Recovery. If someone asks us, we would say that this Windows Data Recovery (Mac Data Recovery is also available) is everything EaseUS is and it's more. Along with the common features, there are lots of things that Any Data Recovery offers. It is a very powerful program that can recover all kinds of data from PC, hard disks, flash drives, and other storage devices.
Advantages of Using Any Data Recovery over EaseUS Data Recovery Tool:
The best advantage of Any Data Recovery is the price. EaseUS is very expensive whereas Any Data Recovery is an affordable tool.
Only 20 MB of free space is required to run the program efficiently.
Any Data Recovery provides free lifetime upgrade to its users.
Here is a simple guide on how you can use Any Data Recovery as a free alternative to EaseUS data recovery. Just follow the steps below:
Step 1 Start by downloading the software on your computer and installing it. Run the program and specify the location from where you lost the files. Press the Scan button to initiate the scanning process for lost and deleted files.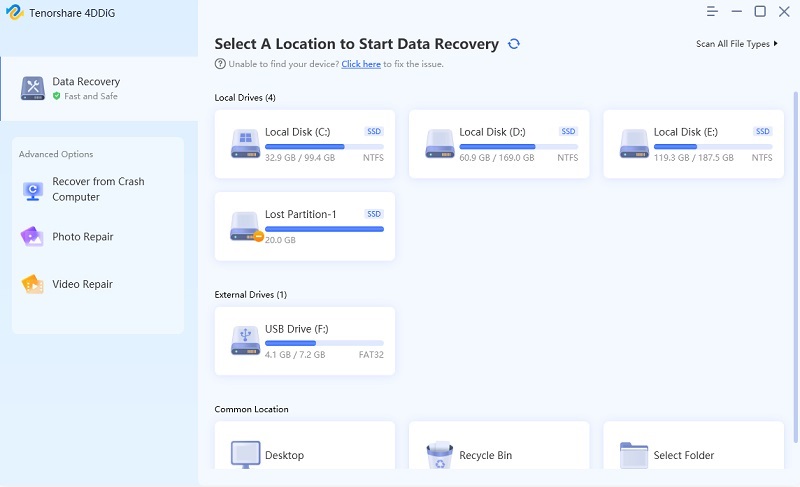 Step 2 As the scanning finishes, results will be displayed on the screen. You can see the results in the tree view or file view as you see fit. The software further allows you to filter the results according to their formats and file types.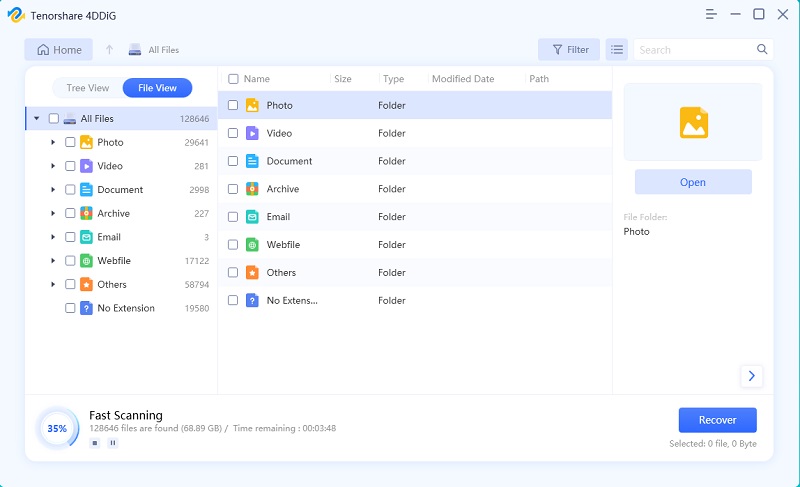 Step 3 Select the files that you want to recover and have a preview of them. As you can perform selective recovery, select as many files as you want and hit the Recover button.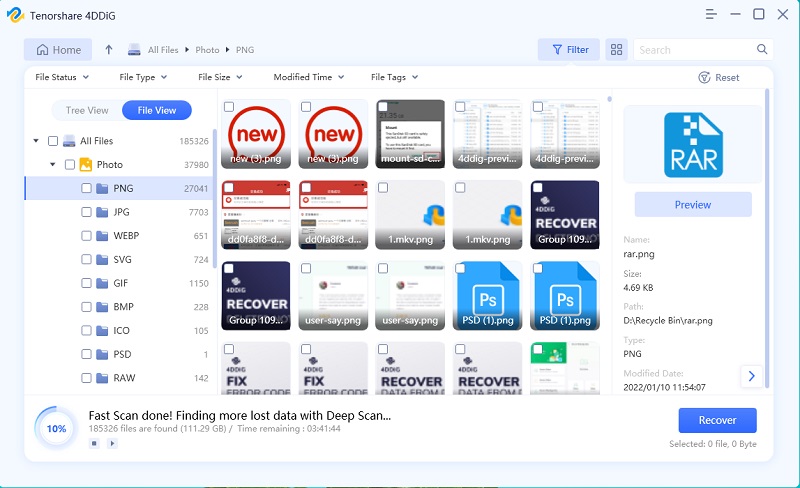 Another remarkable feature of Any Data Recovery is that you can Pause and continue the process at any time. You can choose where you would like to save those files. But never save them in their previous location as it can cause overwrite and data will be lost permanently.
Conclusion
In this article, we read whether EaseUS data recovery is legit or not. Along with this, we went through the EaseUS data recovery wizard for Mac review and Windows review. It can be concluded that EaseUS is a reliable tool for recovery. But now, there is a better tool in the market which offers plenty of features at affordable pricing. So, from now on, when someone asks you which software would be best for data recovery, you know that 4DDiG Data Recovery is the unmatched solution for data loss.