How to Undo Delete File by Accident?
by Anna Sherry Updated on 2023-01-04 / Update for Data Recovery
"Is there any way I can undo delete files? I accidentally deleted an entire folder of file on my Surface Pro 3 using Windows 10."
Losing data by accident is very painful, no matter what data you have and since how long you have saved that on your Mac or Windows computer. Once the data is gone, you are stressed about what have you lost and how important it was. The next step is to do the damage control by undoing accidental deletion of files. So, do you have any idea how to undo delete files from recycle bin? Well, if you don't, then there is no need to get all stressed up. We have the apt solutions for you to go along.
Here, we have covered all solutions on how to undo on a PC and Mac as well. Keep reading to explore more!
Video Tutorial on How do you undo deleted files on Windows and Mac.
Way 1: Use 'Undo Delete' Function to Undo Deleted File on Windows 10
If you want to undo deleted files on a Windows computer, then using 'Ctrl + Z' or 'Undo Delete' function is one of the most popular options. Let's explore the guide to figure out undo move windows 10.
Note: The 'Undo delete/ Ctrl + Z' functions only work when you haven't made any other changes recently after deleting a file.
Step 1: Get into the folder from where you've deleted a file.
Step 2: Right-click over the same folder and then hit 'Undo delete'. Alternatively, you can also hit on the 'Ctrl' + 'Z' key altogether to serve the purpose.
Step 3: Now, your accidentally lost files will be restored.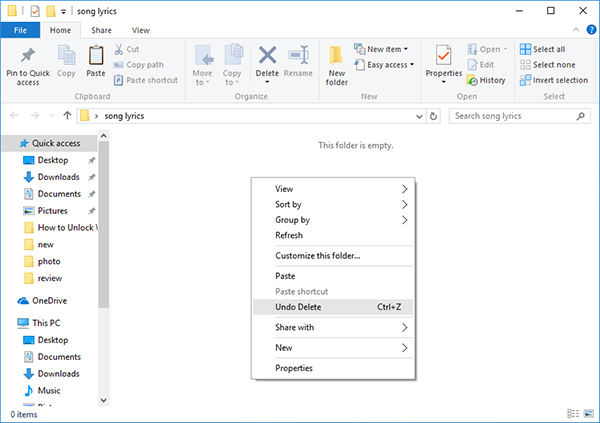 Way 2: Undo Deleted File on Windows 10 by Restoring from Recycle Bin
To undo accidentaly deleted Recycle Bin, you can follow the under explained guide.
Step 1: Browse 'Recycle Bin' and then right-tap > 'Open' or you can double-tap 'Recycle Bin' to open it.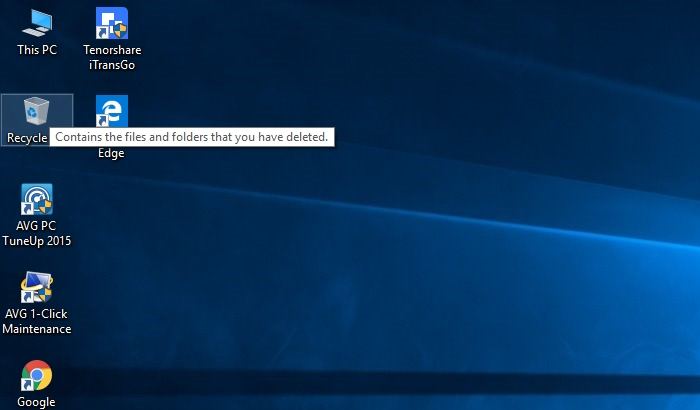 Step 2: Among the recently deleted files, look for the ones you want to restore.
Step 3: Right-click on the desired file or folder and tap 'Restore' option. The file will be saved to its source folder. If you are unsure of the origin of the file, first right-tap > 'Properties' > view the location > right-click file > 'Restore'to undo on Windows.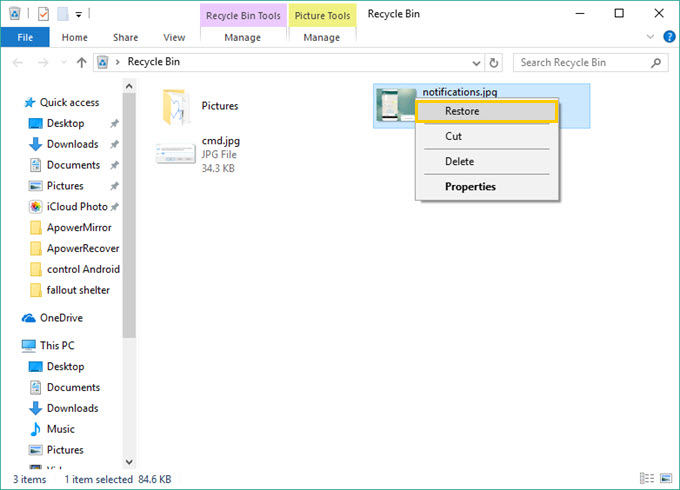 Way 3: Use 'Previous Version' to get back Deleted Files on Windows 10
Another option to undo something you deleted is to recover an older version of the deleted or lost file with the free backup and restore feature built into Windows.To undo in file explorer windows 10, follow the steps below:
Step 1: Open Control Panel.
Step 2: Go to "File History" > "Restore personal files".
Step 3: Click the green "Restore" button to get the deleted files back.
Way 4: Recover Deleted Files on Windows 10 with Backup
Windows system is also equipped with Backup and Restore utility which enables you to undo deleted files.
Step 1: Go to Console Panel to find Backup and Restore (Windows 7)
Step 2: Click the "Select another backup to restore files from" option and choose your backup.
Step 3: Click "Next" and follow the instructions to complete the recovery process.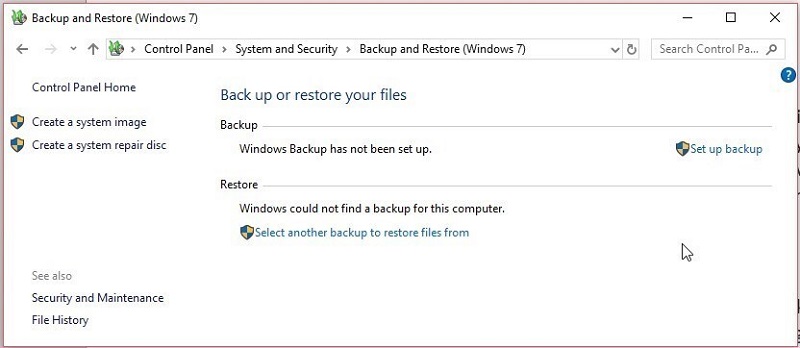 Way 5: Use Undo or Command-Z Feature to Undo Deleted File on Mac
If you have a Mac computer and file loss has been noticed recently. Then, what option you have to restore the deleted files? As Apple doesn't have an 'Undelete' tool, there are alternatives to take care of that. Well, you can use 'Command' + 'Z' or 'Undo' feature for undoing accidentally deleted files.
Go to 'Edit' > 'Undo Move' ('Command' + 'Z'). Now, the deleted files will be back to your Mac on the same folder they were.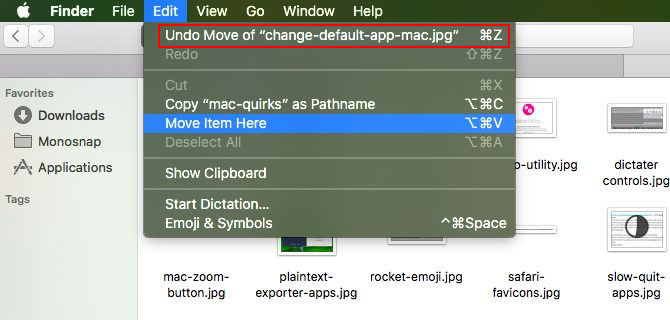 Way 6: Undo Deleted File by Restoring from Trash Trash
Now that you are done with Windows 'Recycle Bin' deleted file restoring. Let's see how to undo accidental deleted files from 'Trash' in Mac system. This is effective when someone has deleted the files on their Mac by dragging and dropping them on 'Trash' bin.
Step 1: Go to the 'Trash Bin' on your Mac.
Step 2: Find the file/files you have accidentally deleted.
Step 3: Right-click on the file and hit 'Put Back'.
Step 4: This command will get the files or folders back to their source folder or directories instantly.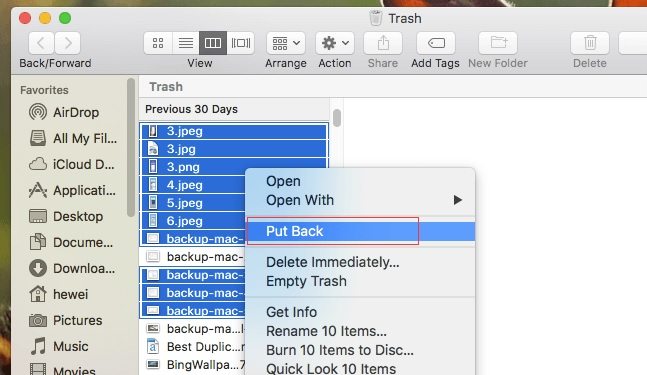 Way 7: Undo Accidental Deleted File with Professional Data Recovery Software (Windows & Mac Supported)
The last and the best method for undoing accidental deletion of files is Tenorshare 4DDiG Data Recovery. It doesn't matter how you have parted ways with your precious data. Be it accidental deletion by someone or the data has been lost due to formatting, or it got corrupted, 4DDig can work wonders to restore it. It is a 100% secure method for data recovery in both Mac and Win. Photos, documents, audio, video, emails, archives etc. can be recovered along with 1000 other file types. Moreover, it can recover data from external hard drives, SD, SSD etc. as well.
Here is the quick guide for 4DDiG Data Recovery to undo accidental deletion of files on Windows. For Mac users, simply download the Mac version and follow the on-screen wizard to get your lost files back.
Support to undo deleted files on Windows and Mac.
Restore deleted files of Pictures/Videos/Word/Excel/PowerPoint/Bookmark and more.
One of the most reliable data recovery software.
Fast in deleted file recovery.
Step 1 Download and install Tenorshare 4DDiG for Windows Data Recovery on your computer. Now, launch the software. Select Recycle Bin under Common Location and click on Scan.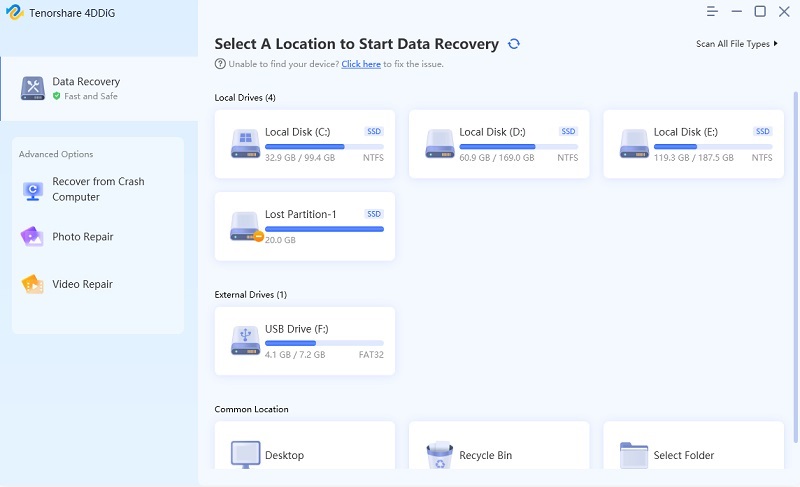 Step 2 Once the data on your Recycle bin has been scanned, you got to preview it closely and locate the desired files from there. Select the checkboxes against them from the left panel and tap it for detailed preview.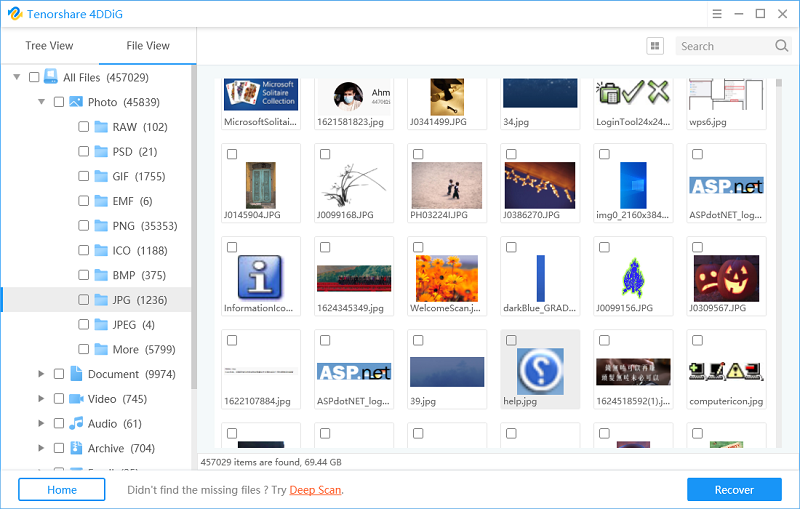 Step 3 Mark the checkboxes against the desired lost files and then hit 'Recover' button. Now, hit 'Open' after selecting the preferred location to store the deleted file/folders. Make sure to avoid the place from where the file/folder has been dragged to the 'Trash' bin. It might lead to permanently losing the files.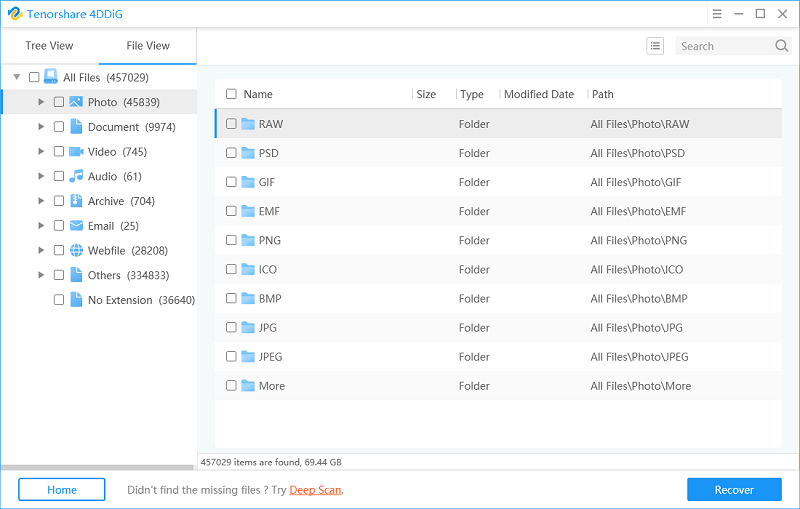 recover deleted files
People Also Ask
Are deleted files ever really gone?
When you delete files from your desktop or even empty the Recycle Bin or Trash, it doesn't mean that they permanently disappear. The file still exists on the hard drive but becomes virtually invisible. With recovery software, they could easily be located and retrieved.
How to permanently erase files?
If you want to permanently erase files, overwriting is the only way can help you. Files that have no pointers in the directory tree structure can be overwritten if it remains in the hard drive for enough long time.
Final Verdict
From this article, we conclude that, to undo in Windows and Mac computer, Tenorshare 4DDiG is the perfect bet. This wonderful software can not only recover deleted files by accident, but also corrupted and formatted files. The process is very intuitive and you can recover more than 550 files from your computer with this tool.