The Best Way to Fix Samsung Phone/Tablet Won't Charge
by Anna Sherry Updated on 2019-07-25 / Update for Samsung
"S8 won't charge with cable, after Android Pie update. I upgraded to Android Pie yesterday. Today I tried to charge my phone (around 20%). I plug the original charger, it started to charge but a little after my phone stopped charging its battery. I tried wireless charger yet phone wouldn't charge its battery."
Your Samsung phone is about to die and you plug it to the power source but it doesn't get charged all. Making the problem a very troublesome one since a lot of your work would be left pending. The problem of Samsung phone and tablet not charging has been reported by several Samsung device users. The issue such as the above has become more common with the increase in use of devices such as Samsung S8 and other popular Samsung device models. Are you one of those Android device users who are facing this problem, you can read on and find out ways to resolve this problem of Samsung not charging.
Part 1: Why My Samsung Phone/Tablet Won't Charge?
If there is a temporary software crash on your Android device, the problem of your Samsung tablet won't charge can occur. When a corrupted cache is present in your Samsung device, even that maybe causing the problem. There is a high possibility that the charging cable, the adaptor or the power source may also be faulty in function. Even that can cause the problem of your Samsung device not getting charged.
The reason behind the error of your Samsung phone not charging can be many. Determining which exact problem is causing this issue is difficult but solving that needn't be that difficult. You can do that easily by following the methods given below.
Part 2: One Click to Fix Samsung Phone/Tablet Won't Charge
When you have any kind of technical issue on your Android device, may it be major or minor, Tenorshare ReiBoot can help you out. It is a highly recommended software which can be used for fixing all kinds of technical glitches on an Android system easily. Follow the steps given below one by one to fix the problem of Samsung slow charging by using Tenorshare ReiBoot.
Step 1: Download the software Tenorshare ReiBoot on your PC, launch it and connect your Android device to it with the help of a USB cable. You would see a few options on the main interface, select "Repair Android System".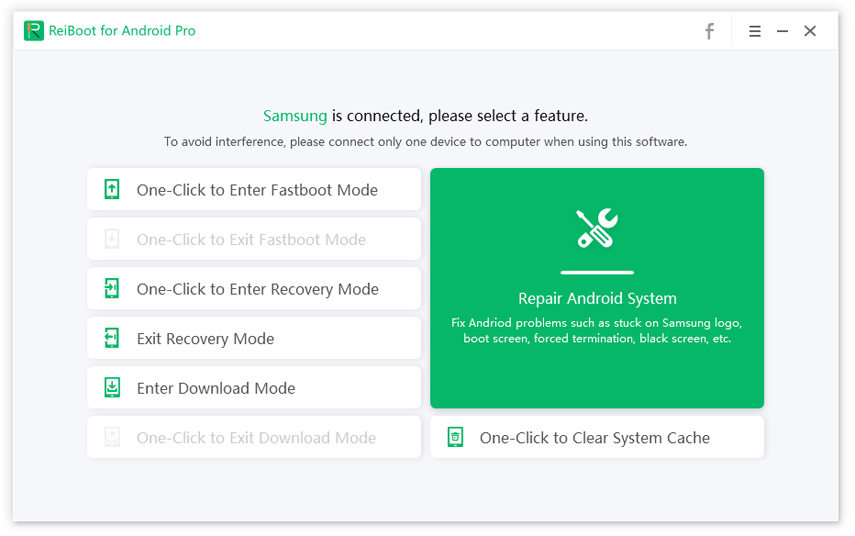 Step 2: To proceed further, click on "Repair Now". After checking the information of your Samsung device, click on "Next".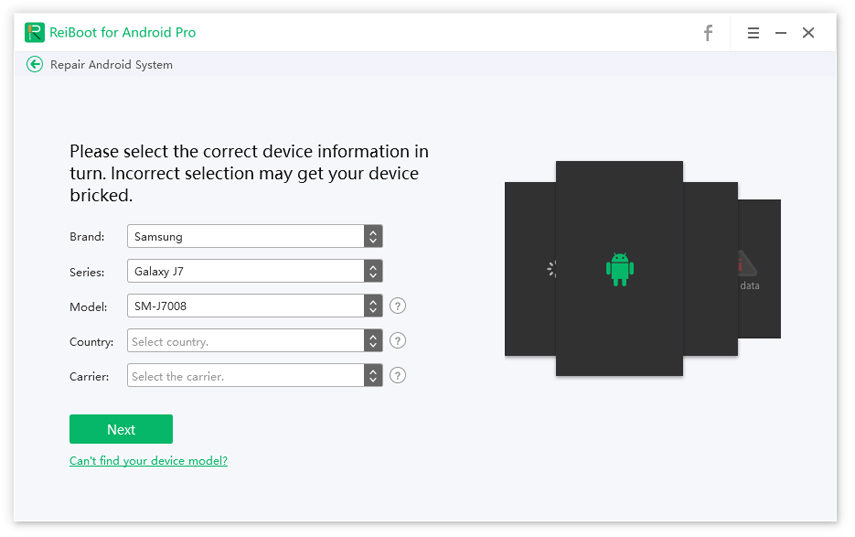 Step 3: Proceed further by downloading the latest firmware.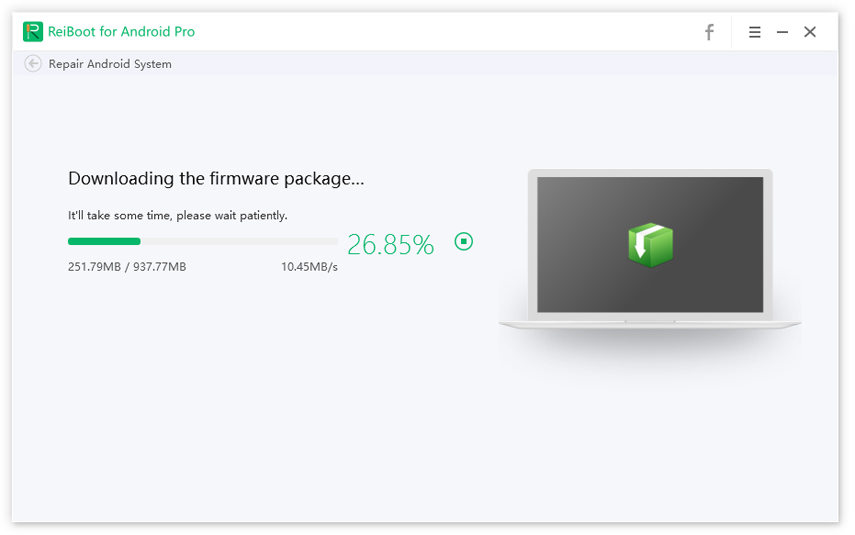 Step 4: Next, click on "Repair Now" and follow all the instructions and click on "Continue". Follow all the steps given on the screen carefully.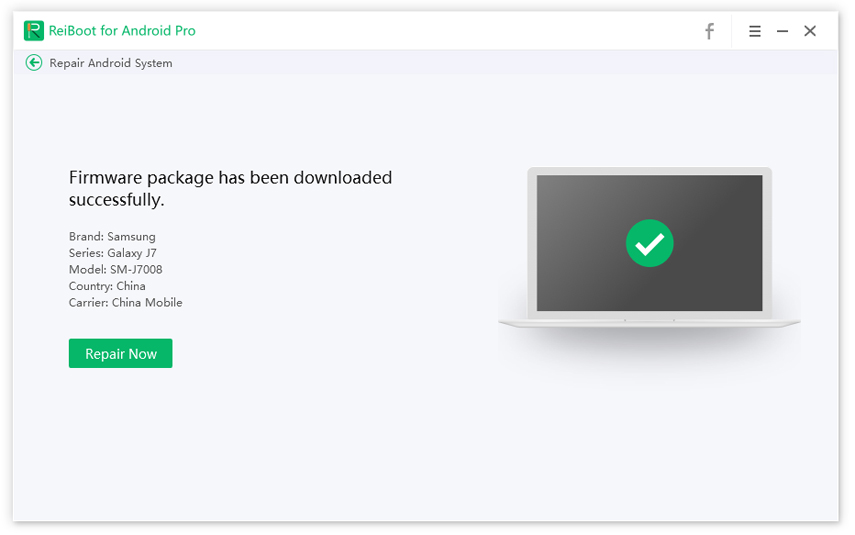 Step 5: The progress of the repair process would be shown on the screen. As soon as the repair process is over, you will be notified.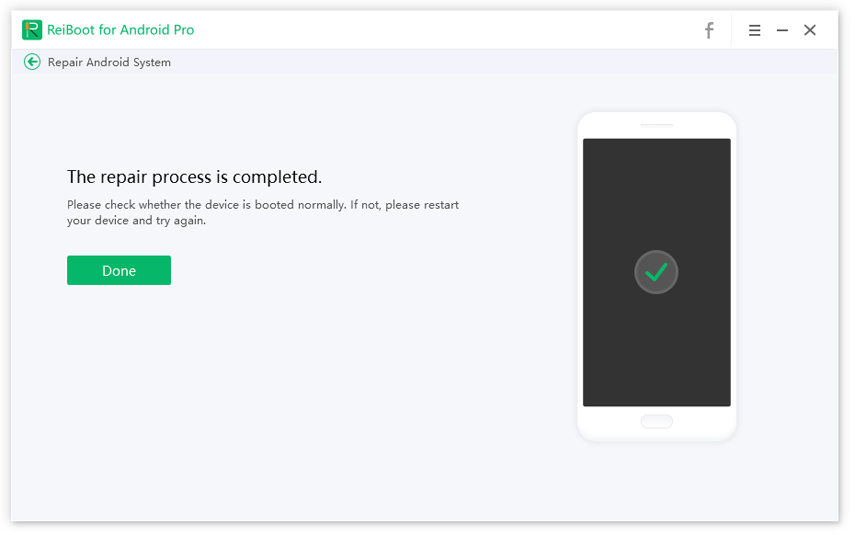 This way, using Tenorshare ReiBoot you can fix the issue of your Samsung phone won't charge.
Part 3: Other Common Ways to Fix Samsung not/Slow Charging
If you want you can try these other common methods of solving the problem of your Samsung phone not charging before trying out the above method.
1. Try a Different Power source
It may be possible that the power source to which you are connecting the charger of your Samsung device may not be functioning. To eliminate the possibility of this, plug the charger of your Samsung device to another power source and try again. If this works then go ahead and use your phone/tablet normally. If it does not then move on to the next step!
2. Check or Change the Charging Cable
If the power source is not the problem, it can be possible that the charging cable may be having some problem. Check the cable for any physical damages and then if you find any damage change the charging cable and charge your phone.
3. Check and Clean the USB Socket
The Samsung charger comes in two parts, one the adaptor and the USB cable. The USB cable is connected to the adaptor of the charger through a port. Check this USB port for any dirt of grime. Clean it carefully without harming the components inside and plug in the USB cable and try charging your Samsung device again.
4. Close all Background Apps
Any open and working background app may also be causing this error of Samsung Galaxy S7 not charging. You can resolve this by closing all the apps open in the background. You can do this by following the steps given below.
Step 1: Tap the "Recent Apps" option and click on "X" of each app in the background to close it.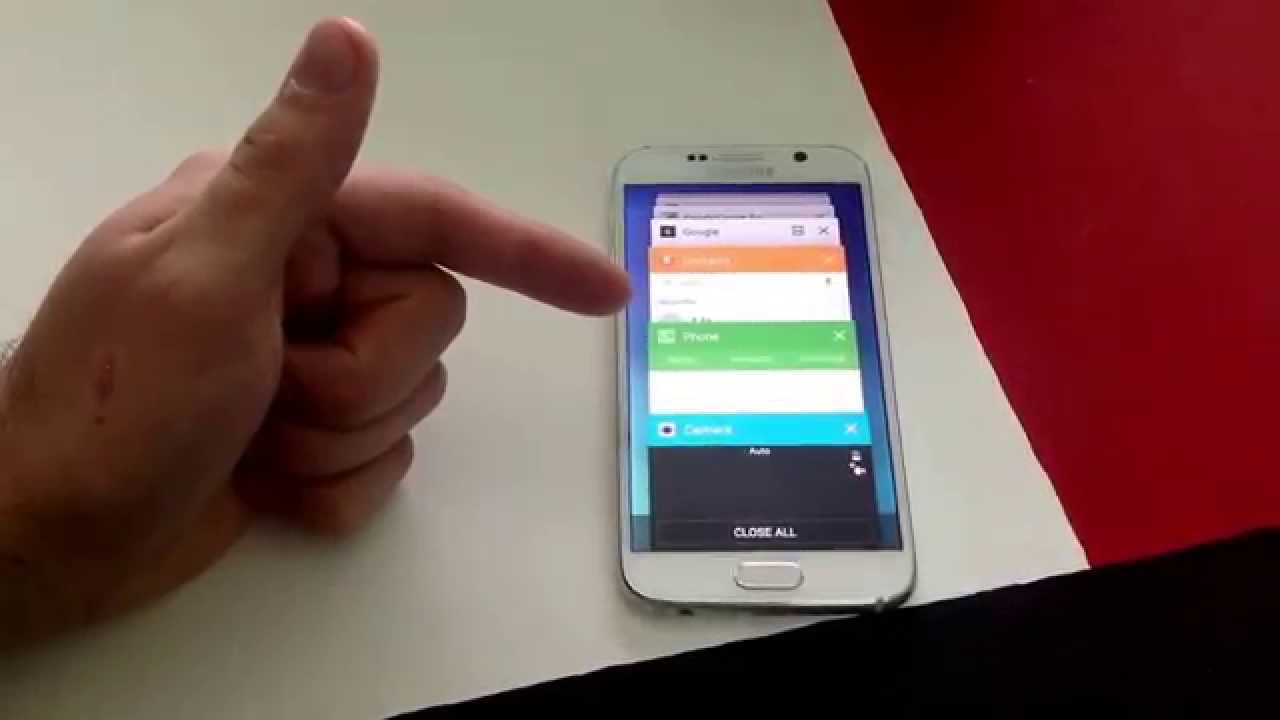 Step 2: You can even go to Settings>Apps>Application Manager and tap on "Force Stop" to close the apps running in the background.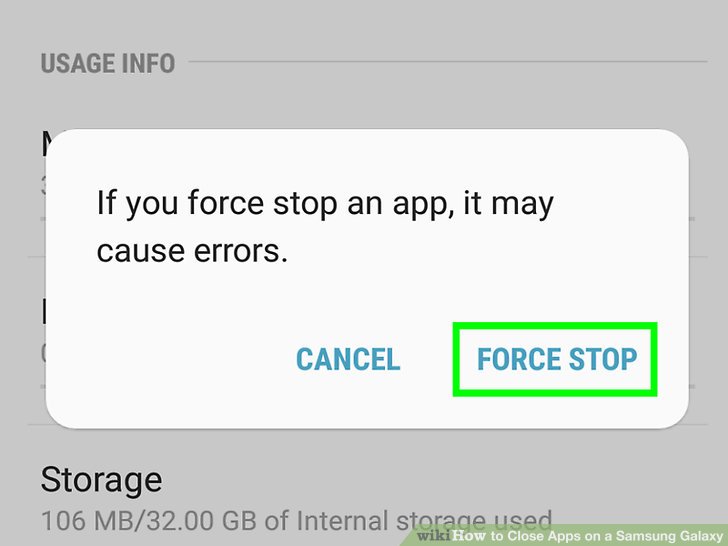 Check if this worked by plugging in the charger.
5. Replace the Battery
If the above methods do not work there is definitely an issue with the battery of your Samsung device. You can contact the Samsung customer care or reach the nearest Samsung service center to deal with this problem. After you get the battery replaced of your Samsung device, your Samsung phone would charge normally.
Conclusion
Overall, here are some common ways to fix your Samsung phone /tablet, if it's not charging. Keep in mind, if these common fixes do not help, it is probably an internal system issue and that can be only fixed if you use an Android system repair tool. We highly recommend using Tenorshare ReiBoot for Android here. It is the best system repair tool that can solve any type of Android stuck issues effectively. Go for it!