How to Downgrade iPadOS 16 in 2 Easy Ways (Video Guide)
by Anna Sherry Updated on 2022-11-10 / Update for iPadOS
On Monday, June 6, Apple unveiled the iPadOS 16 version at WWDC (Worldwide Developers Conference). As always, the early release of this beta version is specifically for testing purposes until it releases the public iPadOS 16 in September, according to Apple. It is meant for developers and for those users who want to try out the new and exciting features. Whether you downloaded and installed the iPadOS 16 Beta for checking out the improvements or you updated your iPadOS 15 to iPadOS 16 for adventure, you surely are going to experience some bugs and issues in it.
If you're done with the testing and the bugs bother your daily use, you need to downgrade to a stable older iPadOS. Downgrading your iPadOS is quite easy and quick. In this article, we are going to share two effective methods to downgrade iPadOS 16 to 15 without losing any data. Let's get started!
Preparation: Make A Backup Before You Downgrade iPadOS 16 to 15
The best practice is to do a backup for your iPad before going to downgrade the iPadOS. The reason is that you might lose data in the process. Backup allows you to restore your data and transfer it when you are done downgrading the iPadOS. There are primarily two methods of making a backup on your iPad.
1. Backup using iCloud
In this method, you don't need to connect your iPad to a computer. All you need to have is an internet connection you can back up your device's data using iCloud.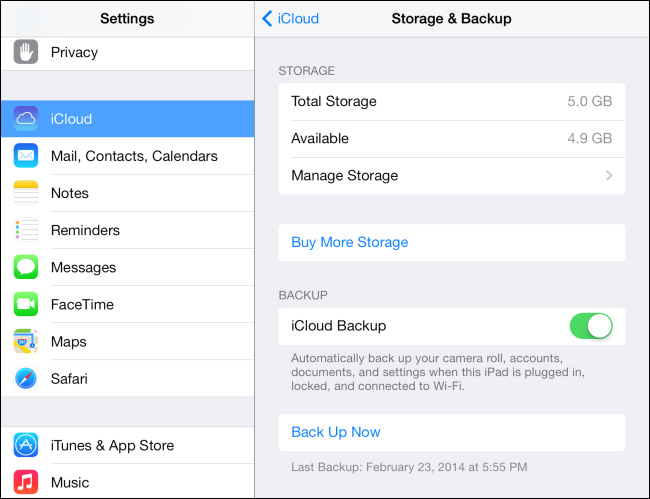 2. Backup using iTunes (Computer)
This method allows you to automatically back up your device when you connect it to your computer with the help of iTunes.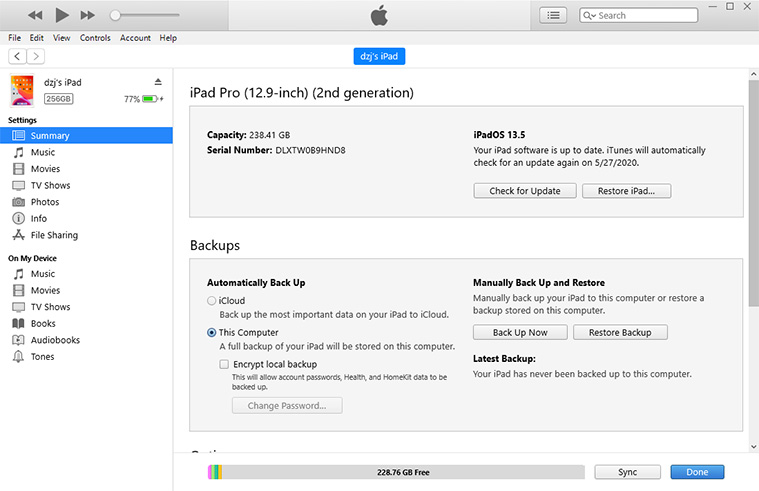 2 Methods to Downgrade iPadOS 16 to 15
Beta versions of iPadOS usually have usability and stability issues that can affect your day-to-day usage. It's better to update your iPadOS until the final public version is released. However, if you want to downgrade iPadOS without losing data, you can do this by two methods shared in this article.
Method 1. Downgrade with iTunes
iTunes app helps you with iPadOS downgrade to your chosen version. Here are the steps to downgrade iPadOS 16 to iPadOS using iTunes.
In the first step, open the browser of your choice on your PC and download the IPSW file for the version of the iPadOS that you want to downgrade to. In our case, we need to download the iPadOS 15.5 IPSW file.
Go to ipsw.me and Select iPad. Choose the model of your iPad.

Now, choose the iPadOS 15.5 IPSW file and click the download button. Wait for the downloading to finish.

Once done, launch the iTunes app and connect your device with your PC.

Make a backup of your device using iTunes before downgrading.

When the backup is complete. The next important step is to turn off Find My iPad in the settings.
Once it is turned off, go back to iTunes. Hold the shift button and click on the Restore iPad button at the same time.
From your computer, choose the IPSW file that you downloaded for your iPadOS version. This process might take some time so wait patiently for the process to complete.
Once done, your iPad will restart itself.
Good job! Now your iPad is downgraded to iPadOS 15.
Method 2. Downgrade with ReiBoot
If the first method doesn't work for you. The 2nd method for downgrading the iPadOS is using Tenorshare ReiBoot. It is undoubtedly one of the best iOS recovery and repair tools that allows you to downgrade your iPadOS without compromising your stored data. Using ReiBoot to downgrade iPadOS is pretty straightforward and quick. You can do this in a few steps, mentioned below,
Note: Unsigned IPSWs cannot currently be restored via ReiBoot.
First, you need to download and install the ReiBoot software on your PC.

Plug your iPad with the PC. Run the Tenorshare ReiBoot software. It will recognize the connected device. When detected, click on the Reset Device on the opening page of ReiBoot.

Now, click on the 'Factory Reset' and choose import local firmware.

Choose the IPSW file that you downloaded for your iPadOS 15.5 version earlier in method 1. After that, click on "Start Reset".
Once done, your device will restart. After that, set up your device.
To check, go to Settings > General > About, to check the iPadOS version of your device.

Now, we need to restore the data from the backup to our device. Remember, your backup file version is iOS 16 so first you need to modify the backup file. Hold win+R and then type %userprofile% in the command box.

Click Apple > MobileSync > Backup. Now, find the file of your backup and open it.
Scroll down to the bottom of the folder and find the info.plist file. Open it in Notepad.
Now hold ctrl+F and type 'Product. Now click 'Next' three times in a row.
You will see iOS 16 below. Change it to the 15 and save the file.
Connect your device with the PC and go to iTunes to restore the modified iOS 15 backup. This way, you are going to get all your data without any loss.
Summary
Downgrading iPadOS 16 to iPadOS 15 using iTunes is free. However, you may face problems using iTunes like running slow or even stuck. Tenorshare ReiBoot is a reliable tool to make your downgrading process easier. It allows you to downgrade your iOS to its previous stable version along with creating a backup for your data. It is fast and efficient as compared to iTunes but charges you to use it. Hope this guide is helpful and now you know how to downgrade from iPadOS 16.