How to Transfer Files from PC to iPhone with 3 Easy Methods
by Jenefey Aaron Updated on 2019-07-25 / Update for iOS File Transfer
Although you are a big fan of iPhones, it is not a crime to use a Windows PC instead of Mac. But there are various ways Apple has been punishing the PC users for many years. The problem is that iOS is a closed platform; so, users are able to send data to other iOS devices freely but those who are using the Windows PC face a lot of issues. But as a responsible company, Apple provides a way to transfer files outside of iOS. The answer they came up with is iTunes. It is a reliable and one of the oldest apps ever created and almost all users are acquainted with it. Fortunately, for PC users who are trying to transfer files from PC to iPhone, can do it with other apps also. They can use Dropbox or Google Drive for file transfer and also go for other third-party apps as well. So, in this article, we have come up with the best ways to get your job done effectively and quickly.
Part 1: How to Transfer Files from PC to iPhone with iTunes
iTunes is considered as one of the most efficient ways to transfer files between devices, but is it really that efficient? When you are troubled with how to transfer files from PC to iPhone, you will definitely look for the simplest but trustworthy medium. iTunes is able to transfer music files, photos, videos movies etc from Windows to iPhones or other iOS devices or if you want to get other files on your iPhone you have to create backup files using iTunes. Now, let's see how to copy files from PC to iPhone using iTunes,
1. Download and install iTunes for PC. Try to get the latest version of iTunes on your computer.
2. Now, connect your iPhone to your PC and click on the "Device" option.
3. Then navigate to the left panel under Summary and choose any one of the file types for file sharing like Music, Movies, Photos, and Books etc
4. Now, just click on "Sync…" and select the files you want to transfer.
5. Then click Done.

The required file will be transferred and it will be saved in a specified location on your iPhone. This is the oldest way to transfer files from PC to iPhone. Unfortunately, iTunes is not performing to the user's expectations these days, and there are a few drawbacks of using iTunes. They are mentioned below:
First of all, the PC version of iTunes is really slow, you will get frustrated.
It has lost its efficiency due to the fact that it is old and there are no significant upgrades given. Thus it now loses or corrupts files during transfer.
It is very difficult to transfer music files with iTunes. Only supports purchased music.
If you are using iTunes, you can only connect to one library at a time.
If you transfer any data through iTunes to your iPhone, all of the similar existing data on your iPhone will be deleted.
Several bugs and crashes reported.
It is unfortunate what happened to iTunes. The bug problem and all the cons have rendered the app unusable. So, it will be wise for the users to look for other sustainable replacements.
Part 2: How to Transfer Files from PC to iPhone without iTunes
As stated earlier iTunes is giving users a lot of trouble, this is the reason why users are transferring files from PC to iPhone without iTunes. Frankly, the app is not reliable anymore, the mishap has been going on for a long time but users kept thinking that Apple will fix it. But now the situation has escalated and Apple is not even concerned about this. So, now users are looking for even better replacements, like Google Drive or a stellar third-party app like Tenorshare iCareFone.
Way 1: Transfer Files to iPhone using iCareFone
The software market is filled with numerous apps which are able to transfer files from PC to iPhone with ease. Some of them are developed by Apple or Apple certified companies and some are developed by completely independent companies. Tenorshare iCareFone is also developed by an independent company and it is one of the best data transfer apps on the market. This app supports both Mac and Windows OS and supports all kinds of files, starting from Camera Roll photos, third-party images, app data, videos, music, ringtones, PDF, contacts, messages & attachments, books(either in epub or pdf), etc. You can mostly transfer all kinds of files with Tenorshare iCareFone. Here's how to use it:
1. Download and install Tenorshare iCareFone on your PC.
2. Get a USB cable and connect the iPhone X/8/8 Plus/7/6/6s/5 and your computer.
3. After iCareFone detects the iPhone, navigate to "Manage" on top menu bar.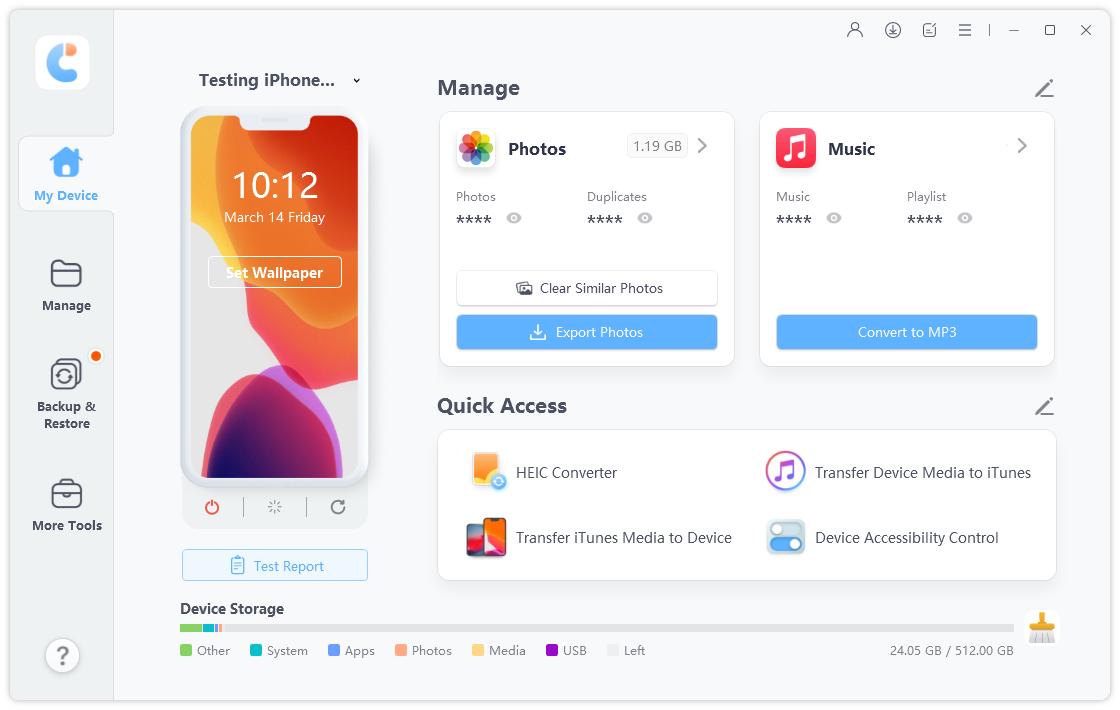 4. On the next panel, various type data categories will be visible to you.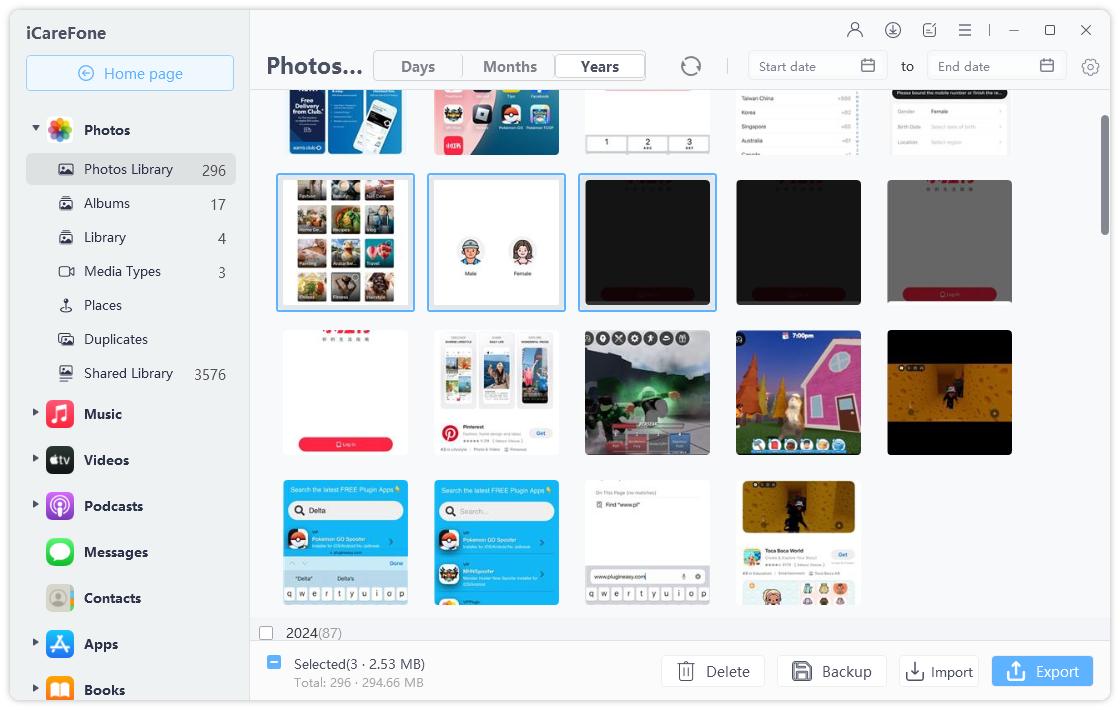 5. Select the one you wish to transfer and then click on "Import" button.
6. The file transfer will start immediately.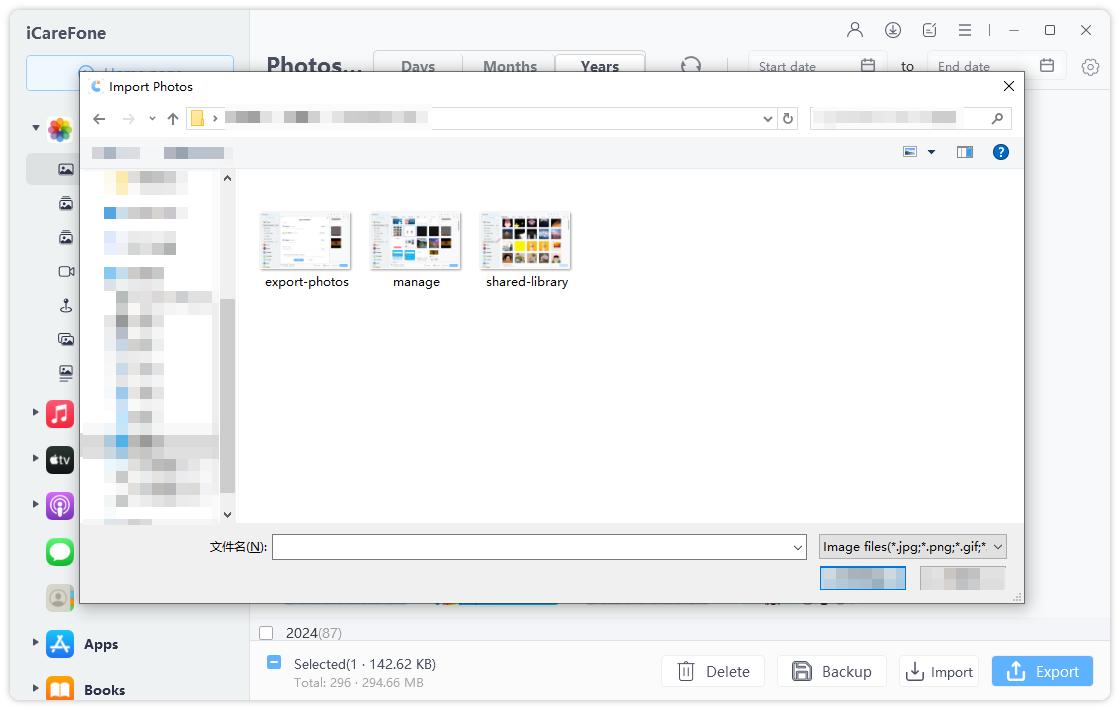 Now you know how to transfer data from PC to iPhone using Tenorshare iCareFone. We recommend using Tenorshare iCareFone as your official data transfer app. You won't be disappointed!
Advantages of Tenorshare iCareFone:
User-friendly interface.
Support to a wide range of files like videos, music, photos to email, books, contacts etc from iTunes library or your computer.
Lightning fast transfer capability.
One-click operation.
Selective and bulk transfer without data loss.
Preview options available.
2-way data transfer between iOS devices and computer.
No storage limitations
No Apple ID logins needed.
No Wi-Fi needed.
Way 2: Sync Files to iPhone using Google Drive
Today, there are a variety of cloud storage options available on the market and Google Drive can be considered as one of the versatile options out there. The purpose of Google Drive is similar to other cloud storage services, and that is to expand your storage capabilities. But it operates in a different way altogether. And the important part is that you can transfer files from PC to your iPhone with Google Drive cloud service. You can sync a lot of files and file types using Google Drive like images, videos, audio, texts, archives, Adobe files, Excel files, PowerPoint files, Word files and even XML. Here's how to use it:
Upload method:
1. Go to drive.google.com from your computer.
2. Tap the "New" button and choose the option to upload files or folders.
3. After uploading you can see the files on your Drive account immediately.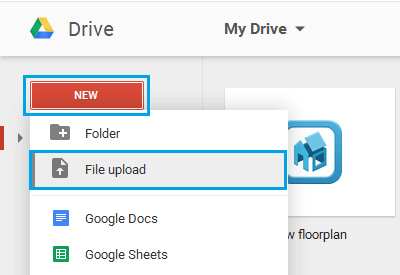 Backup and Sync method:
1. Download and install Google Drive on your PC.
2. Login with required credentials.
3. On your PC, you will now find a "Google Drive" folder.
4. Now, just drag and drop files or folders into this and everything will be synced to your Drive account.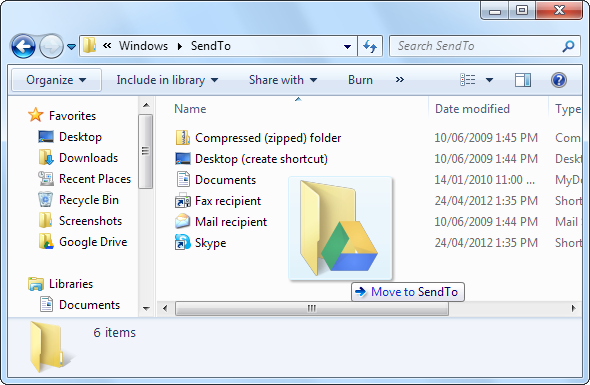 Now in case you have a Dropbox account and you are wondering if you can get access to Dropbox files on your iPhone, then you can easily download files onto your iPhone. This is how to do it:
1. Install Dropbox app from App store and run the app.
2. From the Home Screen, sign-in with the Dropbox account credentials.
3. Go to Personal, a window will be opened that contains all of your saved files. Now, select the required files, go to the three dots, tap export and simply save to device.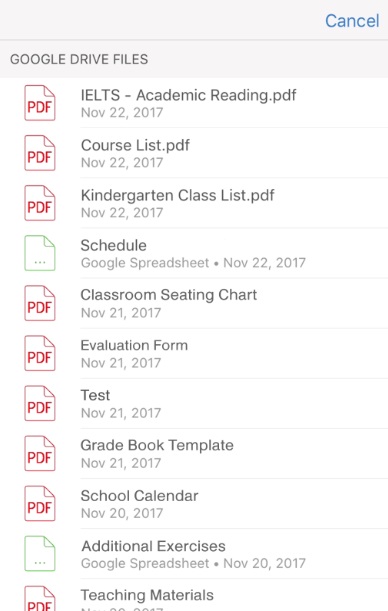 As you can see, this is a very unconventional method to synchronize files from PC to your iPhone but it is very effective. So, stop thinking about how to transfer files from PC to iPhone without iTunes and sync the files using these two exceptional cloud services.
Conclusion
So, basically, when it comes to file transfer from PC to iPhone, you have two ways. Either you have to do it with iTunes or without iTunes. If you still want to use iTunes, it is up to you. For the moment the app is not performing well but if we talk about iTunes alternatives, then we have given you two of the best choices. The first one is Tenorshare iCareFone, an independent app designed to conveniently transfer data with efficiency. The second one is Google Drive, a type of cloud service by Google, which works effectively as a medium for data transfer. Out of all these, we highly recommend you to go for Tenorshare iCareFone software as it is the best and most importantly the most effective here.