How to Transfer Music from iPhone to Mac without iTunes
by Jenefey Aaron Updated on 2022-12-07 / Update for Transfer Music
For many years, iTunes has been a key program among iOS users. It is one of the oldest apps in the iOS ecosystem which can sync music, photos, videos, ebooks etc across all iOS devices. But is it really required now? Is it capable enough? The main concern about the iTunes app is the fact that it didn't get any update which can make the experience a whole lot better. The interface has remained the same, and there had been no major upgrades whatsoever. So, the simple answer to the questions is No! You don't require iTunes to sync music or any data anymore. In this article, we have come up with 2 methods that can help you transfer music from iPhone to Mac without iTunes. So, let's get started.
Way 1: Transfer Music from iPhone to Mac with 3rd Party Tool
Tenorshare iCareFone is the best way to go if you want to transfer songs from iPhone to Mac without iTunes. It is much more than just an alternative though. It is an all-in-one program which can help you transfer music or any data from iPhone 13/12/11 to Mac/Windows and vice-versa. It is supremely fast and supports all types of music irrespective of size and nature of file types. The reason we highly recommend iCareFone is mainly because it has a lot of advantages when compared to other methods and related software. Here are some:
Select music and then transfer. One, multiple or in bulk!
Transfer purchased as well as non-purchased music
No quality loss during transfer.
Transfer 10 songs for free
Supports 2-way transfer
Superior transfer speeds
Here's how to use Tenorshare iCareFone to send music files:
1. First, download, install and run the Tenorshare iCareFone software on your MacBook/Air/Pro/iMac
2. Connect your iPhone to Mac with a USB cable.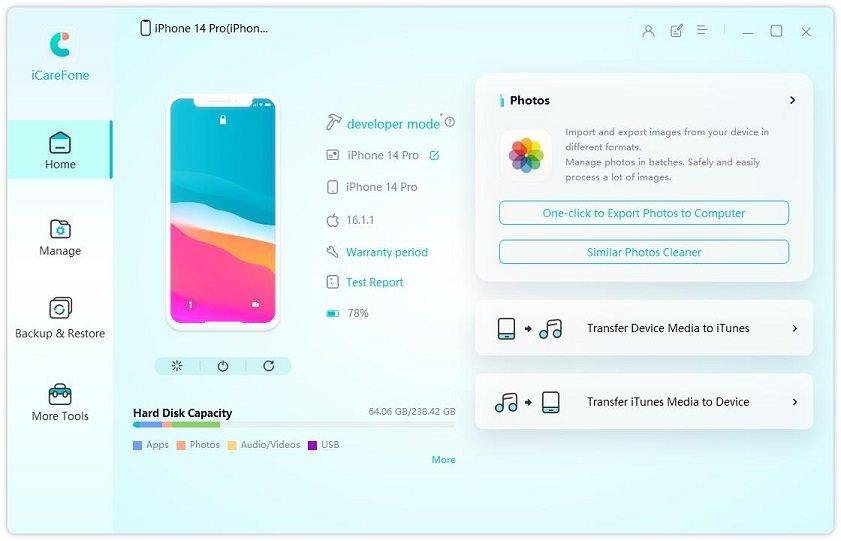 3. Navigate to "File Manager" and select "Music".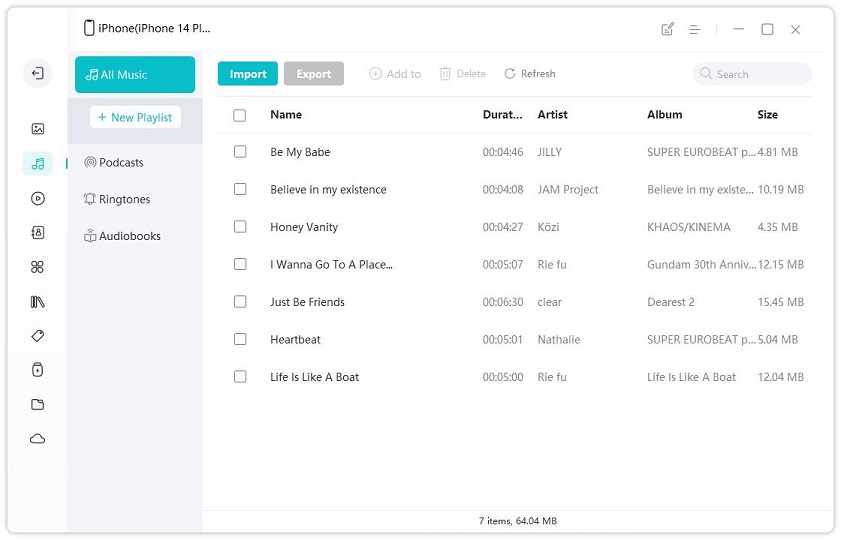 4. Select the music files from the list and then tap "Export".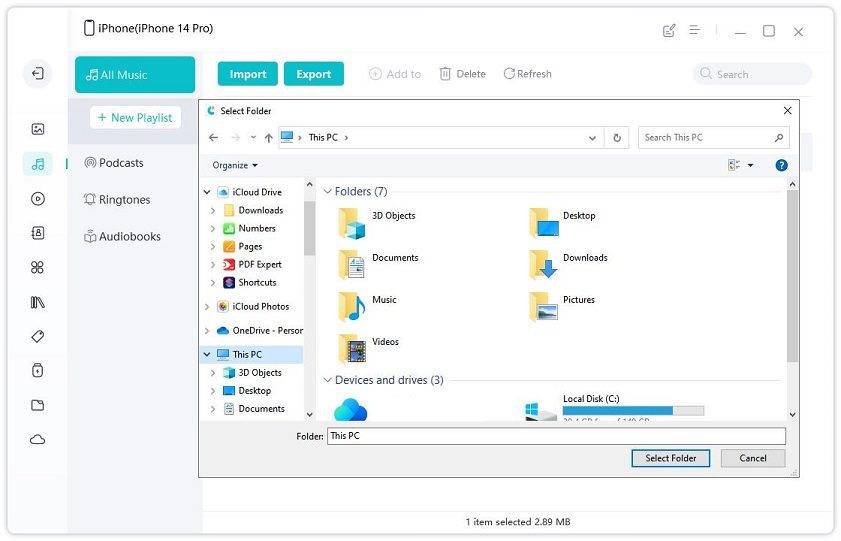 After the export completes, you will have your selected music transferred successfully to your computer right away! So, with the help of iCareFone, this is how to transfer music from iPhone to Mac without iTunes.
Related Read: How to transfer music from computer to iPad without iTunes
Way 2: Sync Music from iPhone to Mac with iCloud
iCloud Music Library is an Apple iCloud service that can store your own music online. It basically syncs music across all devices when they are connected to Wi-Fi and a suitable alternative if you want to copy songs from iPhone to Mac without iTunes. But before that, you have to activate the iCloud Music Library feature on each device you own. Sadly, as it is a feature of iCloud, you only get the same portion of the 5GB of free storage for music as well. Anyhow, it is a viable method of music transfer and this is how you can use it:
Activate iCloud Music Library on iPhone:
1. First, navigate to "Settings" on your iPhone and then go to "Music".
2. Now, find the iCloud Music Library option and turn it on using the toggle switch.
3. To keep your iPhone music after activating iCloud Music Library, don't forget to tap on "Keep Music".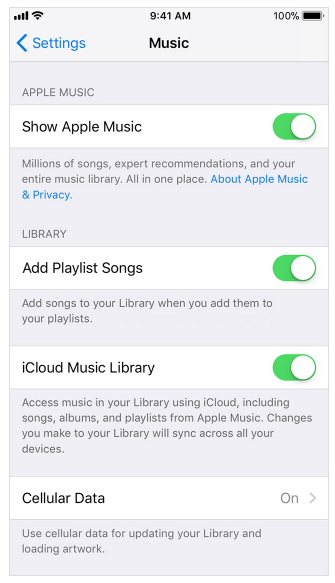 Activate iCloud Music Library on Mac:
1. First, open iTunes on Mac, and navigate to "Preferences"
2. Now, tap on "General".
3. Turn on the iCloud Music Library option.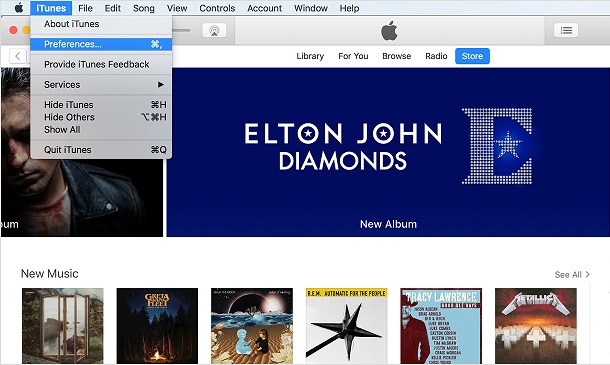 3. Now tap "OK", and it's done!
This is how to import music from iPhone to Mac without iTunes. So, whenever you are under Wi-Fi, your iPhone music will get synced to your Mac and appear in iTunes with cloud icon. You can click on the cloud icon to get music offline to your Mac.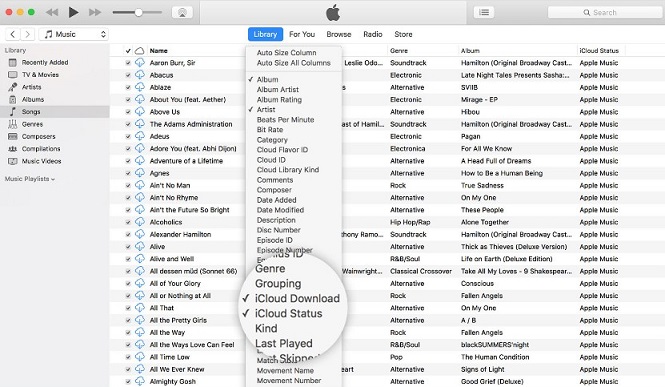 Make sure you have a stable Internet or Wi-Fi connection unless the music will not sync automatically. However, there are still some disadvantages of using iCloud for music transfer:
Some songs are ineligible for upload
Music synced and uploaded this way cannot sync again with iTunes, as whenever you open iTunes, the iCloud Music Library On message will pop-up and you will have to sync music again by starting afresh.
You may have to duplicate playlists on iOS devices by using this option
Needs steady Internet connection or else it will fail to sync properly
Limited storage space
So, these are the most effective alternative ways if you want to know how to move music from iPhone to Mac without iTunes. As discussed earlier, it is not mandatory to use iTunes now, as you have got the support of other software and methods. The methods listed here are efficient and works well if done right. If you need the best way, we recommend Tenorshare iCareFone. It can take care of all your music transferring needs, and look after your iOS system thanks to its other helpful features such as the speedup and clean feature, fix iOS stuck issues, repair iOS systems etc. Go for it!