2 Best Ways to Transfer Songs from PC to iPhone
by Jenefey Aaron Updated on 2022-11-28 / Update for Transfer Music
It is not easy to share music if you are an iOS user. This is a problem faced by more than half of iOS users and Apple is very strict on this particular matter mostly because a large portion of the company's revenue comes from iTunes purchases. But you can transfer music with iTunes from PC to your iPhone. But now, the problem is worse as even after a decade iTunes still uses those old school methods to transfer files. So, now the users are asking how to transfer songs from PC to iPhone, without iTunes. And this article will detail everything about the topic. So, let's get started!!
Way 1: How to Transfer Songs from Computer to iPhone with iTunes
"How to copy songs from PC to iPhone?" or "How to copy songs from computer to iPhone?" are the typical questions asked by any iPhone users. Unfortunately, for them, the job is not as easy as it sounds. As Apple earns a lot from iTunes purchases, they have made it very clear that they won't make song transfers easy for the users. Still, they had to make a way through all the red tape for the sake of the users and the reputation of the company to transfer songs to other devices. Apple created iTunes for that purpose and they did not make it easy. Any new user would not know what to do if they had to transfer using iTunes. So, the proper instructions are discussed below:
If you want to manually add files to iTunes then,
1. You have to connect your iPhone to your computer with USB cable.
2. Get the latest version of iTunes and run it on your computer.
3. Select the music file you want to add to your library.
4. Now, just drag and drop the files on your iPhone located on the left side of the panel.

Unfortunately, if you are using iTunes, you can only add music from a single library.
If you are unable to manually add files from your device then try below steps:
1. Connect both of the devices with USB cable, like the last time.
2. Run the latest version of iTunes on your computer.
3. On the top left of the iTunes window, a phone icon will be visible. It indicates your iPhone.
4. On the left side on the window, click on "Summary".
5. Now, go to the Options and click on "Manually manage music and videos".
6. Lastly, click "Apply".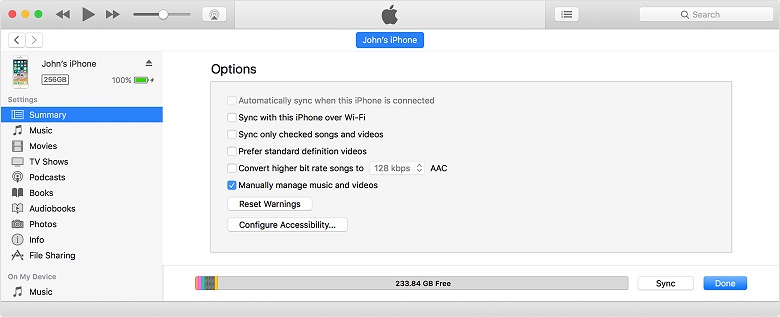 As you can see, you can transfer music files to your iPhone but you have to go through a lot of steps to do it. Nonetheless, it works and is a viable option. So, if you are stuck with how to add songs to iPhone from PC, you can use iTunes to perform the activity.
Way 2: How to Transfer Songs from Computer to iPhone without iTunes
Honestly, these days a lot of users are looking for apps other than iTunes for data transfer. Although some of the users are still fixated on using only Apple-certified apps to transfer songs from computer to iPhone, this is mainly due to the fact that Apple has made it really difficult to transfer particularly music files to another device. Nonetheless, there are other efficient ways to perform the task and one of them is Tenorshare iCareFone.
While many were stuck with how to transfer songs from computer to iPhone, Tenorshare iCareFone was already transferring music files from PC or Mac to iOS devices very easily. It is available for Mac and Windows. It supports selective and bulk transfers and it can easily transfer any type of music files from computer to iPhone as well as the other way around. Still, if you have any other concerns, just read the following steps below:
1. Install the trial version of the Tenorshare iCareFone app on your computer.
2. Run the app on your computer then connect the iPhone and your computer with a data cable.
3. In a few seconds, the computer will detect the iPhone and then navigate to "Manage" on the main interface.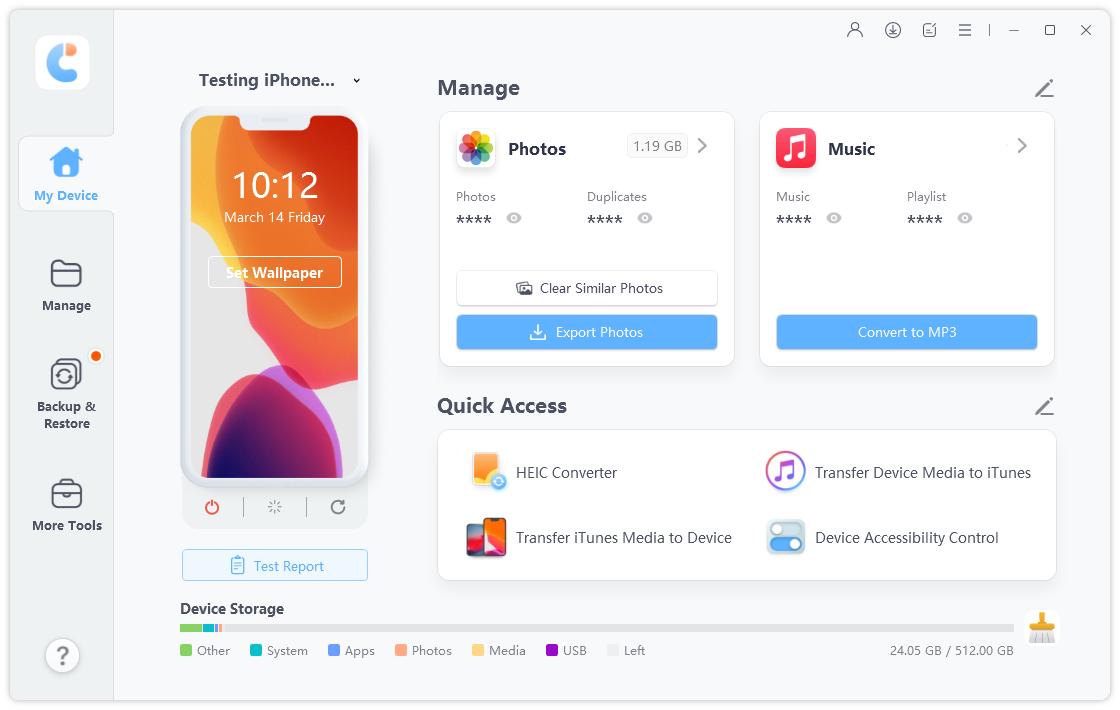 4. Among the list, select "Music".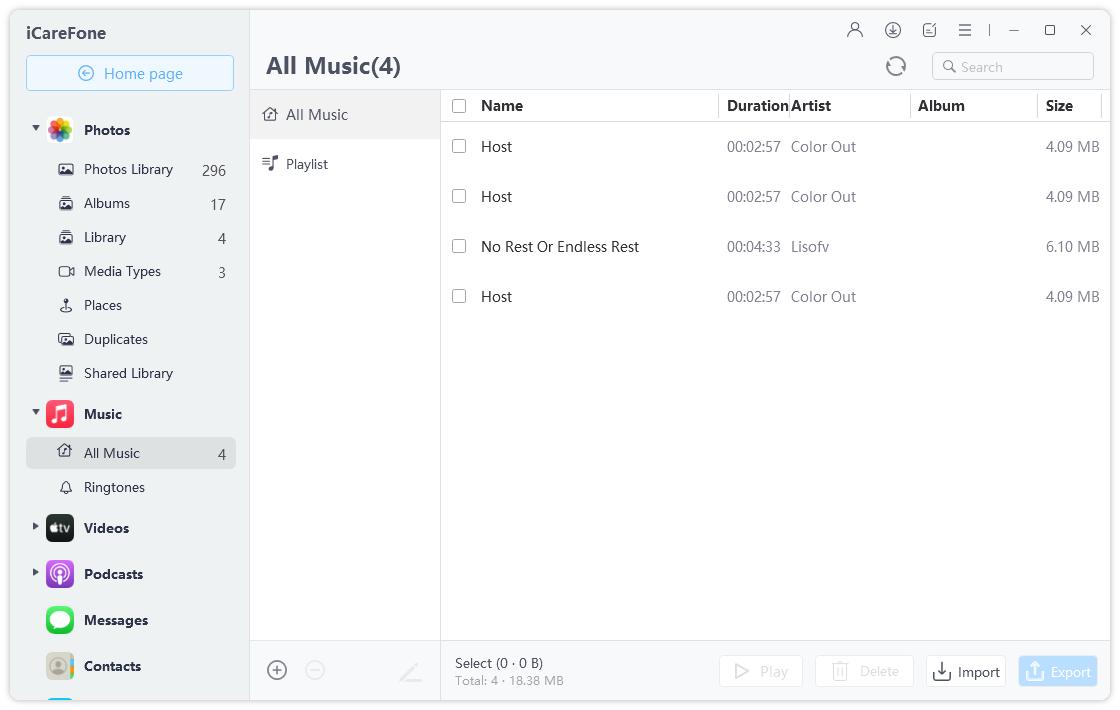 5. Then click on "Import" on the top of the panel, choose the songs and finally transfer the files to your iPhone.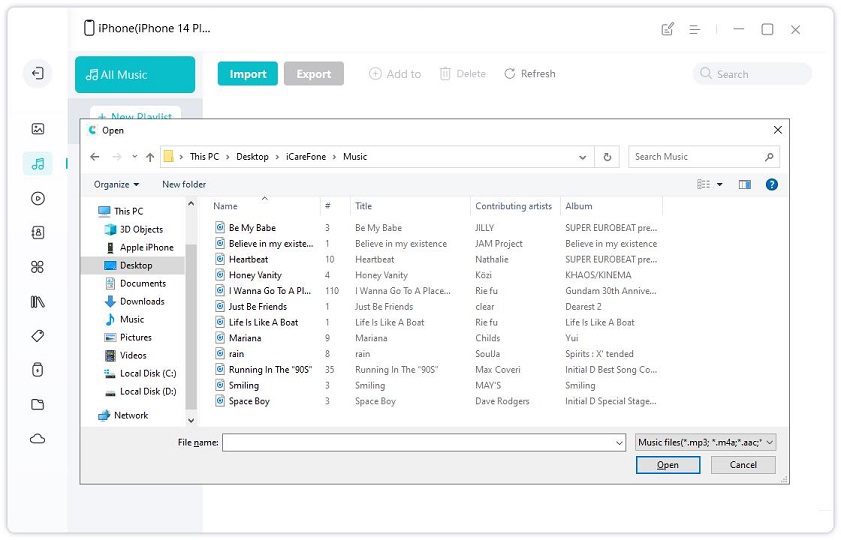 Now, you can clearly see that you can easily transfer songs from PC to iPhone, with the Tenorshare iCareFone app. It is faster and much more convenient than iTunes.
Advantages of Tenorshare iCareFone over iTunes:
Tenorshare iCareFone is one of the fastest apps on the market. No crashes or bugs.
User-friendly interface and simple working.
Fast transfer speed.
Selective and bulk transfer files available.
No storage limitations and no data loss after transferring.
It can transfer both purchased and un-purchased music with ease.
Conclusion
Well, if you are an iOS user then you should know how difficult it is to transfer music files without replacing existing files. Mainly because of the revenue stream, Apple is so strict about this particular feature. Although the company has opened a way for popular demand, there is still too much red tape when you are using iTunes to transfer music files. So, the better option is to use the third-party app called Tenorshare iCareFone. It is free, efficient and does not care if you have purchased music or not. Highly recommended!