[Solved] How to Transfer MP3 to iPhone
by Jenefey Aaron Updated on 2022-11-28 / Update for Transfer Music
"Recently I have uploaded an mp3 file on my iTunes, but I am unable to transfer it to my iPhone as usual. Please help me out!"
This is one of the many problems users are facing these days when they are trying to transfer music files to iPhone from computer. They are still facing this even though they already tried to synchronize the file but without any luck. I did not understand what was going on as I used to do the same transfer almost every week but then I never had any problems. For the time being, I was a bit troubled, but thank god that all the other features were functioning properly. Momentarily I was glad to know that I was not the only one in this situation and I was sure that I would get out of this as thousands of users all over the world are looking for other ways to download mp3 to iPhone.
Way 1: How to Add MP3 to iPhone using iTunes
Well, before we actually discuss how to transfer mp3 to iPhone without iTunes, you should at least once look into iTunes first. You may not like this as right now you are having a bit of a problem with the app but not long before iTunes was actually one of the most reliable apps for iOS users. But now problems are occurring, Apple is doing nothing about it and the dedicated users have already moved to how to download mp3 to iPhone without iTunes. It could be also possible that you are new to iTunes and you are doing something wrong, so, read the instructions below properly.
The best way to transfer mp3 files from your computer to iTunes is to import them to the iTunes Library. This way you can also add those songs to your iPhone or iPad very easily. So, you can perform the task in two ways:
Drag and Drop:
1. Run the iTunes app on your computer.
2. Then, select the single mp3 file or a folder containing multiple mp3 files and drag and drop it to the iTunes window.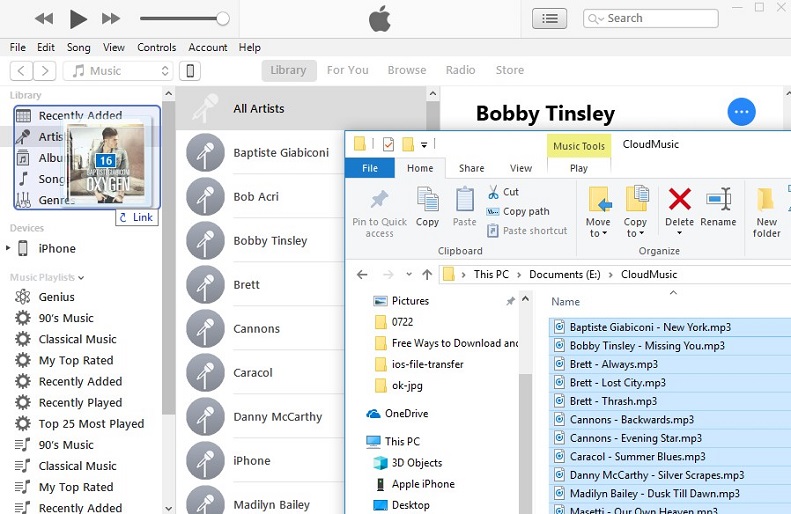 Do not worry if you are adding a folder as iTunes will sort out the mp3 files inside the folder automatically.
Import:
1. The second option is to go to iTunes and select "File" from the menu.
2. Then, select "Add File to Library" and find the folder and then click "Open".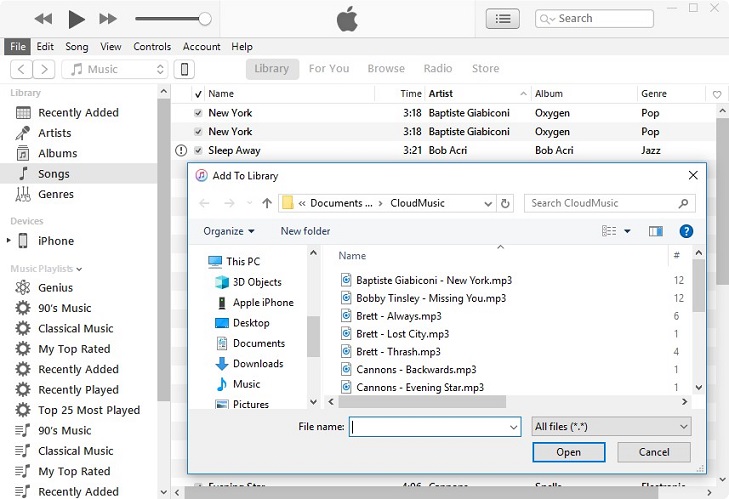 As you can see that transferring music files with iTunes is not very difficult but if you do not want to delete your main file then you have to choose "Copy files to the iTunes Media folder when adding to library."
Once, it's done you just have to sync the music to iPhone. This is how to do it:
1. Plug-in your iPhone to your PC.
2. Open the iTunes app.
3. Tap the iPhone icon on the iTunes panel and then go to the Music tab.
4. Select the "Sync Music" option and then choose the files or folder for syncing.
5. Finally, click "Apply".

iTunes will start the transfer immediately. Please note that the music library on your device will be replaced by iTunes library after sync. If this is not working for you, follow the next methods below.
Way 2: How to Transfer MP3 to iPhone without iTunes
Now, coming to the point that you were really looking forward to! "How to transfer mp3 to iPhone without iTunes?" There are already various apps developed for this specific reason and all of them are available on the market. However, if you were a dedicated iTunes user you would not know about it. So, keeping that in mind there are a lot of apps but among them, Tenorshare iCareFone is the one that really stands out.
Although it is a third-party app, still the app is able to stand its ground against all of its competitors because of its features, effectiveness, and user-friendliness. It is a potent data transfer tool available for both Mac and Windows. It boasts a full-fledged File Manager option that can manage and share any kind of data with ease. Also, it supports purchased and un-purchased music transfers and that too both selective as well as bulk transfers whenever necessary unlike in iTunes. So, if you are certainly looking for how to add mp3 to iPhone without iTunes then you should use this app and try it out by following the steps below:
1. At first, you should download and install the Tenorshare iCareFone on your computer.
2. Launch the software on your computer.
3. Now, connect both of the devices with a USB cable.
4. After the connection is established, select the "Manage" option from the top menu.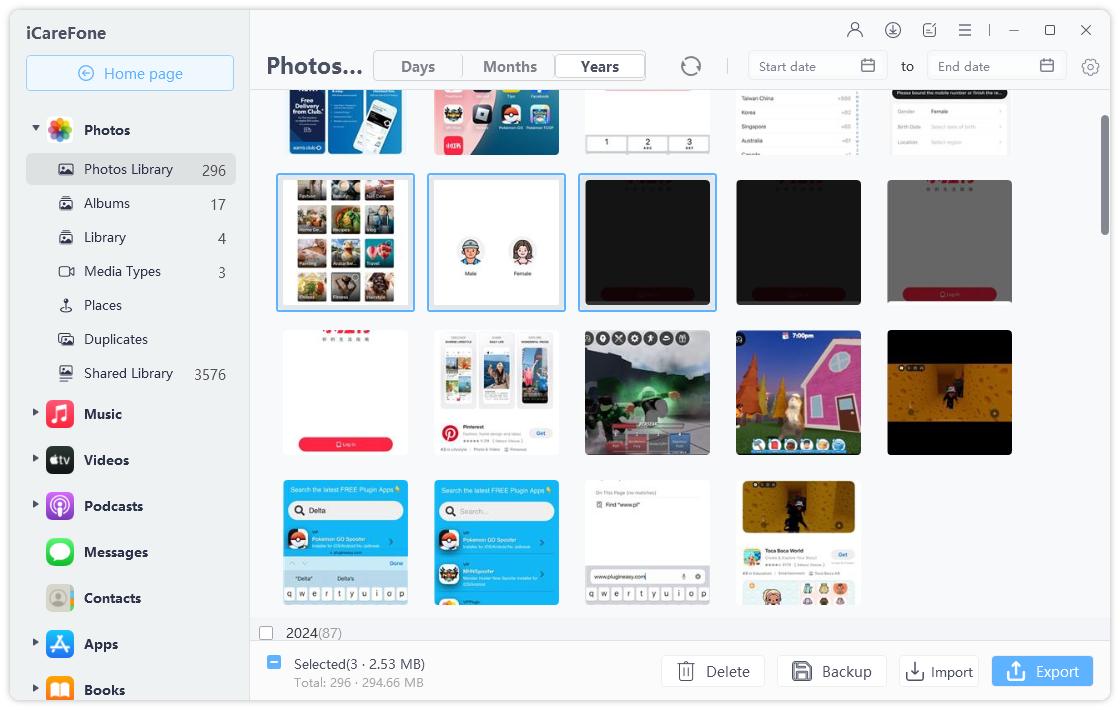 5. All of your data on your computer will be visible in form of a list.
6. Select "Music" option among them.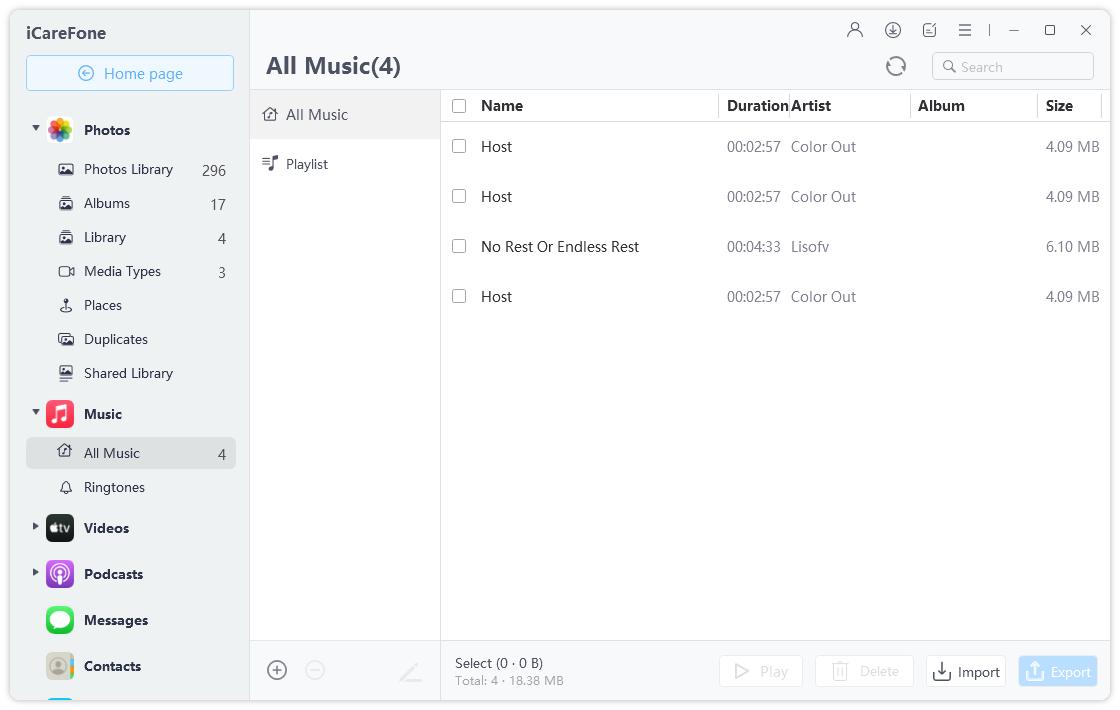 7. After, click on "Import" and then choose the mp3 files you want to transfer.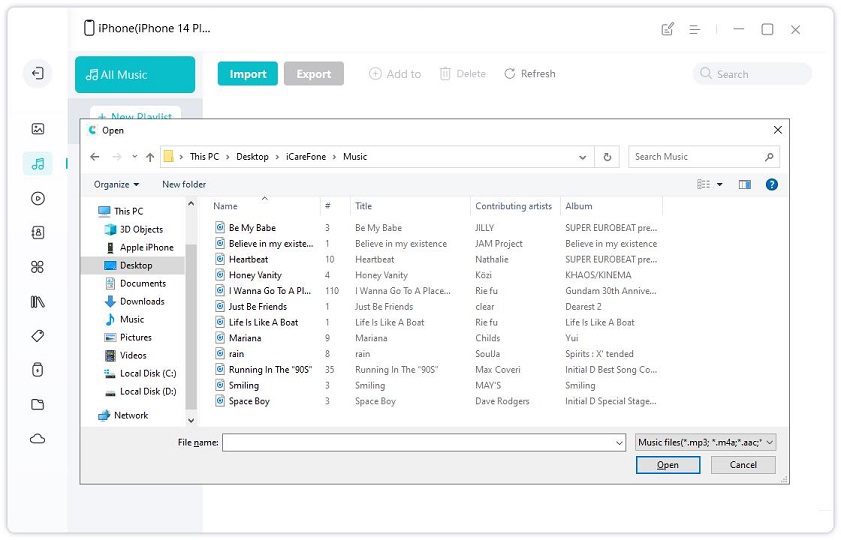 The files will start transferring immediately. The most important thing about the Tenorshare iCareFone is no data overwriting after transferring. So you can rest assured to transfer music and other files with iCareFone.
Conclusion
Finally, it can be said that the users who are looking for other efficient ways to transfer mp3 files to iPhones are really desperate. There was a time when if you had the registration to iTunes, you do not have to worry about anything but now things have changed. If iTunes is working for you then you do not have to worry about anything for the moment but if it is giving you trouble then go straight for Tenorshare iCareFone and you do not have to worry about how to put mp3 on iPhone without iTunes anymore. iCareFone is the best answer on how to add MP3 to iPhone without iTunes. Being a user myself, I highly recommend this software. Don't miss it!