How to Clone Phone Number at Ease
by Jenefey Aaron Updated on 2020-07-15 / Update for iPhone Transfer
The most important and the hectic thing is to clone phone numbers when it comes to switching our devices, be it from old Android device to a new iPhone or from on old iPhone to a new iPhone. Cloning phone numbers has always been tedious cause you have to get it done meticulously to avoid any sorts of loss. Well, gone are those days now! We have brought to you the easiest and the safest method to clone phone numbers in this article, let's explore!
Recommended Way: Tenorshare Phone to Phone Transfer
To begin with, let's uncover the most reliable and recommended tool – Tenorshare iTransGo. With the help of this tool, you not only can clone phone numbers but also can seamlessly transfer all your other data (like photos, videos, music etc).
Tenorshare iTransGo offers full support for all iDevices (even devices running on iOS 12 are supported) and transfers the data at lightning fast speed. Let's now understand the detailed procedure to clone phone numbers from one device to another.
Step by Step Tutorial
Step 1 – Install and launch the Tenorshare Phone to Phone Transfer tool on your PC. Connect your PC and both the source and target iDevices using genuine lightning cables. Once done, hit on 'Next'.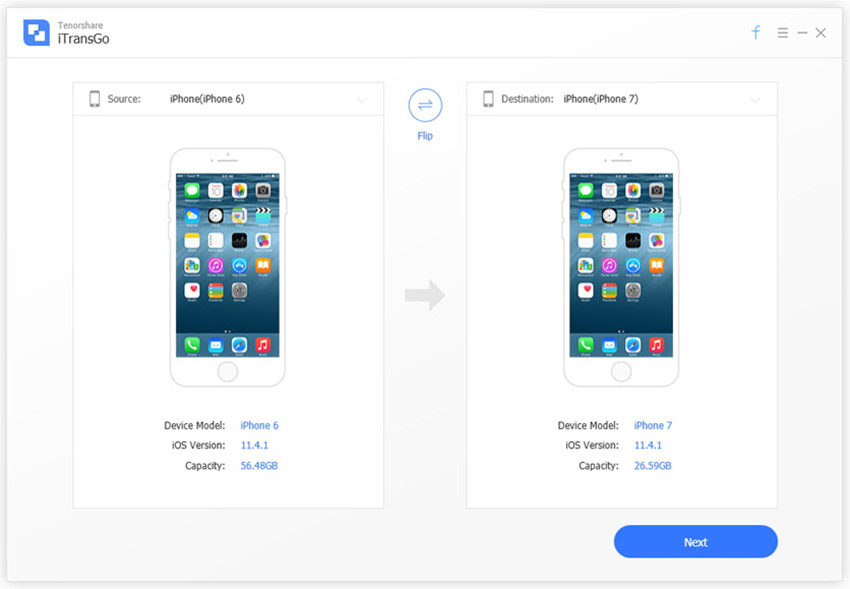 Step 2 – The software will now start to analyze the contents over the source device and the storage space available over the target device. Post that, in order to clone phone numbers you need to choose the desired data type, i.e. Contacts, from the list of option available.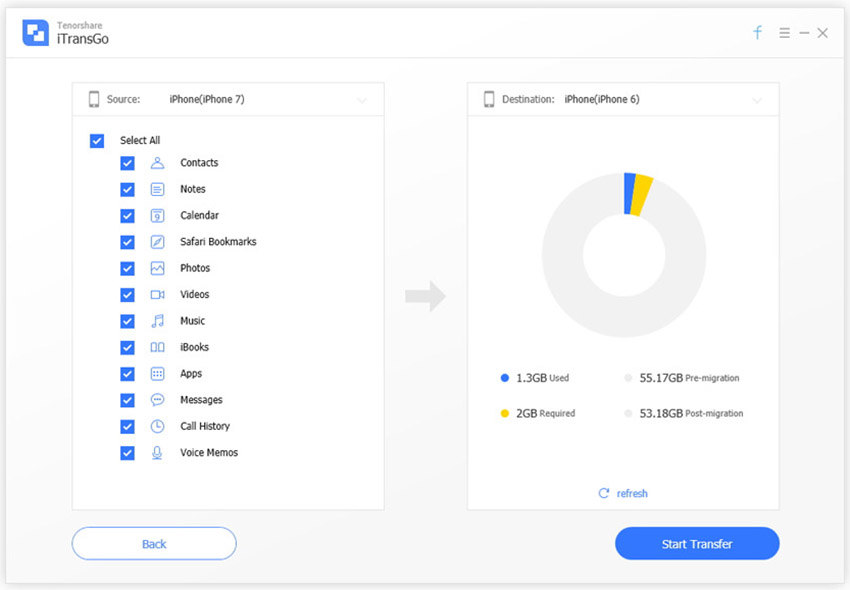 Step 3 – Lastly, hit on 'Start Transfer' button to initiate the transfer. That's it! You have now successfully clone phone numbers from one device to another.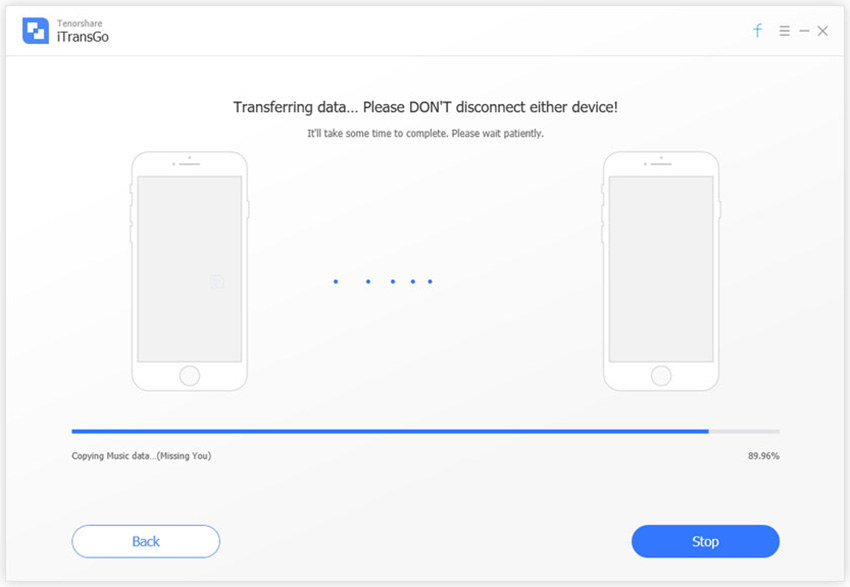 Other ways to Clone Phone numbers
How to clone phone numbers via iCloud
Step 1 – Grab your old iPhone device from which you wish to clone phone numbers. Launch the Settings app and hit on your '[Apple Profile Name]'. Then, get into 'iCloud' and ensure to turn on the 'Contacts' toggle, if it is not already.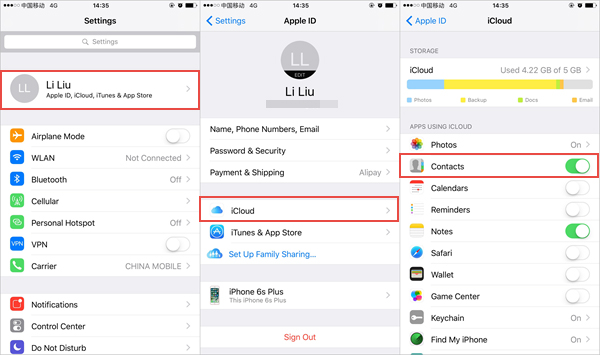 Step 2 – Scroll down a bit and hit on 'iCloud Backup'. Toggle on the 'iCloud Backup' switch now and then hit the 'Backup Now' button below. Within a short while your contacts will be backed up to your iCloud account.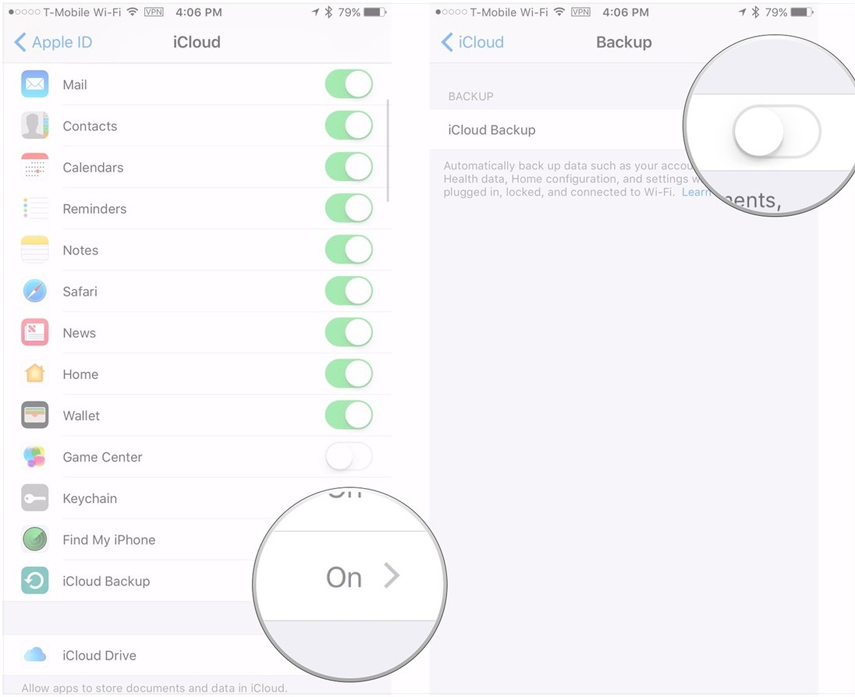 Step 3 – Now, grab the new iPhone and make sure that it is configured with the same iCloud account on which you just synced the contents of your previous device. Then, follow the Step 1 & 2 again on this new iPhone to clone phone numbers from old iPhone to new iPhone.
How to clone phone numbers via iTunes
Step 1 – Grab you iPhone and get it connected with your PC using a genuine lightning cable. Now, initiate the iTunes application on your PC.
Note: Make sure that you are running only the most up to date version of iTunes application or you may end up encountering unknown error.
Step 2 – Next, select your device from iTunes interface and hit on 'Back Up Now' button available under the 'Summary' section. Allow some time for backup to complete.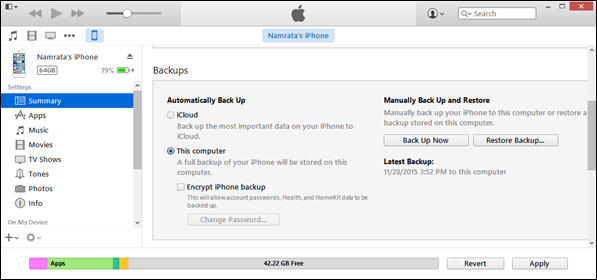 Step 3 – Once, backup is complete. Disconnect the old iPhone and connect the new iPhone to the computer. Then visit the 'Summary' page again and this time you need to hit on the 'Restore Backup' button.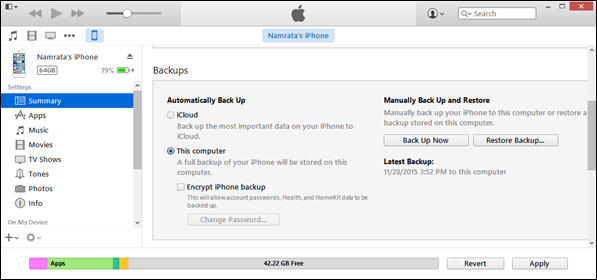 Step 4 – Select the most recent backup that you just made and hit on 'Restore' again.
How to clone phone numbers via Secret Menu--Not Recommended
This is quite lesser known method to clone phone numbers but is actually effective. For this, you need to first obtain the hack code of the source device. You're confused about how to obtain it, right? Well, you can easily acquire it from any of the hack sites that provide such codes, one such site is cellphonehacks.com.
Step 1 – Head to the website that provides hacking code and punch in the source device's information to acquire hack code for your device.
Step 2 – Now, on your source device, dial the code you've just received. A pop up menu will crop up on your screen.
Note: Make sure you have an active cellular network connection while dialing the code.
Step 3 – Now, you'll be directed to the secret menu where you'll be equipped with an 'Electronic Serial Number (ESN)', jot it down as you'll need it earlier and then exit the menu.
Step 4 – Repeat the Step 1 & 2 for the target device as well to gain access to the secret menu. But this time make sure that the target device must not have cellular network connection.
Step 5 – Now, you need to replace the ESN of target device with the source device. For this you need to dial '#639#' if your device is Nokia device. For other devices, you can visit the respective code for other manufacturers.
That's it, you have now cloned phone numbers of one device to another with the help of Secret menu.
Final Comments
So those were the best ways to clone phone numbers at ease. By discovering all the aforementioned ways with their step by step tutorial, Tenorshare iTransGo has turned out to be the easiest and the most effectively tool in order to not just clone phone numbers but also to clone any other data prevailing on the source device. We hope you have now full understanding about how to clone phone numbers with several different easy ways.