How to Transfer Contacts from iPhone to Android
by Jenefey Aaron Updated on 2020-07-15 / Update for Contact
There are numerous people like you who feel it right to switching from iPhone to an Android device. And the main concern while doing this is transferring contacts between the devices. A lot of users find this a demanding job since these are two different operating systems. But fortunately, we have some ways through which it becomes easy to transfer contacts from iPhone to Android. So, for all those who want to learn how to move contacts from iPhone to Android phone, this article is a must read for you. We are going to state 3 easy methods to achieve the task. Let's begin to learn them.
1. Manually to Transfer Contacts from iPhone to Android (Small lists)
Well this method is only suggested to you when you have a small list of contacts to transfer. This is because the manual transfer will be done one by one and you could feel lazy while doing this with a huge list of contacts. To do this, your iPhone offers 'Share Contact' option when you tap on any of the contact.
So, tap the contact you wish to transfer and choose 'Share Contact' option. Now, choose the medium of sharing i.e. choose whether you wish to share the contact via email or text. Proceed with the desired option.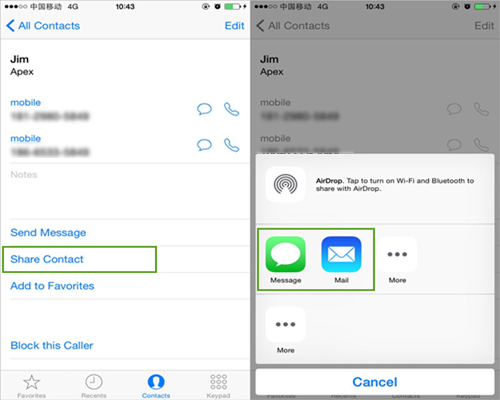 Again, we will say that this method is only recommended if you have less amount of contacts say 8-10 contacts.
2. Move Contacts from iPhone to Android with iCloud
You all must know about iCloud when you're using an iPhone and this is our next way to make you learn how to transfer contacts from iPhone to Android. The steps are as follows:
On your computer, visit iCloud.com
Click on 'Contacts' option and choose the contacts that you wish to transfer.
Now, look for the gear icon at the bottom left corner and click on 'Export vCard'.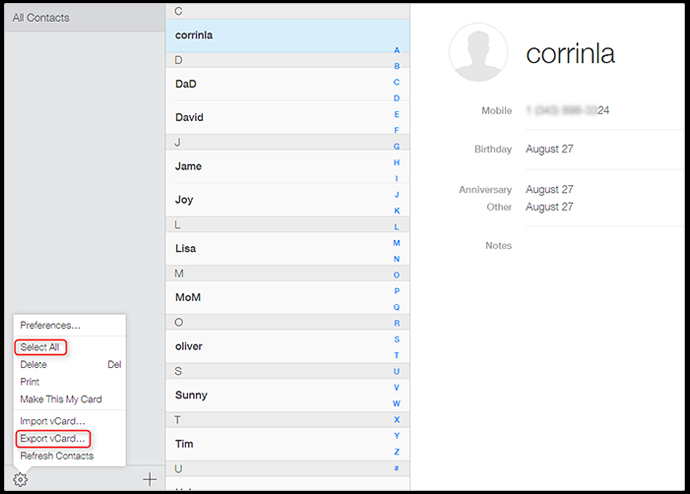 After when you do this, the VCF file having the chosen contacts will be downloaded on your PC.
Subsequently, you need to make connection between your Android device and PC. Then just start copying the VCF file into the native storage of your device and get the contacts imported from either 'Contacts' or 'People' app.
3. Copy Contacts from iPhone to Android With Gmail/ Google Driver
If you find the above method of no use or simply you don't want to follow the aforementioned process, the next way to move contacts from iPhone to Android is using Gmail. This is also a simple method. Go through the following steps to learn how to copy contacts from iPhone to Android via Gmail.
Firstly, turn on your PC and head to iCloud.com.
Again, select 'Contacts' tab and start picking out the contacts you wish to move.
As we did in the above process, choose 'Export vCard' from the gear icon on the left bottom. Now, as above, your VCF file will be downloaded in PC.
Now, visit gmail.com and login with the Google credentials which is also configured with your Android device.
You need to look at the grid kind of icon at the top right of the screen. Click on it and choose 'Contacts' from there.
Now, begin to select the contacts you want. Hit on 'More' dropdown menu form the left panel and choose 'Import' now.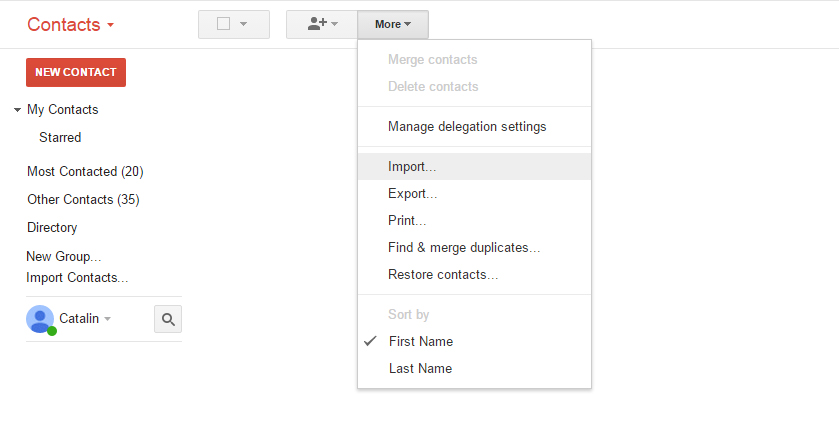 Now, wait for a while and all your imported contacts will be synced to the Android device.
4. Bonus: Tenorshare iTransGo for iPhone Data Transfer
We introduced you three simple ways to copy contacts from iPhone to Android. Now we are concerned what would you do if you wish to transfer contacts between two iOS device i.e. from iPhone to iPhone. Therefore, we would like to introduce you the most recommended tool for such case. You need to try Tenorshare iTransGo in case you wish a smoother transfer between two iPhones or any other iOS devices. Its intuitive design, one click operation, complete support to latest iOS devices and versions and better performance will make you end up feeling that this was the right choice to use. The steps included are as follows:
Go to the /powser and visit the official website of the program. Download it from there and install it. Now open the program and get both the devices connected with the PC via original lightening cables. You can even choose the target and source device on yourself by clicking on the 'Flip' button.

Hit on 'Next' and the tool will scan your device's contents. After the contents get displayed on the screen, choose Contacts or any other you want and click on 'Start Transfer' button.

When you do this, the selected data will start getting transferred. Wait until you are notified that all the data is transferred successfully.
Conclusion
Syncing contacts from iPhone to Android has never been easy for the people until technology moved in pace. There are lots of apps to transfer contacts from iPhone to Android in the market but we have offered you some ideal methods for the purpose. You should be using one of these ways and we hope that you found the contact transfer much easier now after reading this post. So, don't sit idle and start importing contacts from iPhone to Android now! Also, please leave your thoughts below and make us know about the post.