iOS 17 Standby VS Low Power Mode, Which One Should You Use?
by Sophie Green Updated on 2023-09-19 / Update for iOS 17
Apple's iOS 17 is making its grand entry on WWDC 2023's keynote stage. We are excited about its new features, including better auto-correct, voice transcription, a new nightstand mode, and much more. The new iOS 17 standby is a new display mode for charging the iPhone placed in a horizontal direction. It turns your iPhone screen into a home hub with various full-screen widgets. iOS 17 standBy mode activates automatically when you place your iPhone on charging in a horizontal position. Now, you can see the essential widgets like time, calendar, weather, music, photos, etc. Swipe left or right and long press to customize your display widgets. Let us move on to a detailed analysis of iOS 17 standby mode and what to do when iOS 17 standby mode is not working.
Part 1: What Is iOS 17 Standby and Why It Matters
iOS 17 StandBy promises a full-screen experience by using all the space on the screen to show critical information. This is a nightstand mode that enables when you to put your iPhone to charge in a horizontal orientation. The displayed information can be customized as it is shown as widgets. It displays a range of beautiful clock styles and favorite photos and supports live activities, Siri, incoming calls, and more prominent notifications.
iOS 17 StandBy is gaining popularity because it is Apple's attempt at a proper smart display. It offers many new features and a particularly innovative display system. iOS StandBy mode is essential because it makes the iPhone more valuable even when viewed from a distance. Also, when using MagSafe for charging, StandBy remembers and switches to your preferred view setting.
Standby smart display also changes based on location. So, your kitchen StandBy mode may show photos, while it might show the clock and battery status when you dock it in the bedroom.
Part 2: How to Enable iOS 17 Standby on iPhone
Now that we are convinced about the usefulness of iOS 17 Standby Nightstand mode, the next step is to learn how to enable it on any iPhone. The prerequisite is that your iPhone must be running iOS 17.
In iOS 17, the Standby mode is enabled by default. Otherwise, navigate to Settings > StandBy and slide the toggle button to the on position.

Your iPhone's display must be locked.
To activate the iOS 17 Standby mode, place your iPhone horizontally on any wireless or MagSafe charger. If you use a wired charger, place your iPhone in Landscape mode.
Part 3: iOS 17 Standby VS Low Power Mode
iOS 17 Standby-supported devices include all iPhone models running iOS 17. However, the always-on StandBy mode is limited to iPhone 14 Pro/Pro Max. In the older models of iPhone, you need to tap the screen to access StandBy.
Low power and iOS 17 standby modes are aimed at two different needs. Low Power Mode can always be enabled, reducing power consumption, turning off apps, and suspending many features. While the iOS 17 standby mode is enabled when you put your phone on charging.
In contrast, iOS 17 Standby mode is automatically enabled when you connect your iPhone to a charger. It optimizes power consumption while the device is idle and charging, ensuring efficient usage of power resources. Standby mode helps extend battery life by minimizing background processes, reducing network activity, and adjusting display settings.
So, while Low Power Mode is a user-controlled setting that can be enabled and disabled as needed, iOS 17 Standby mode is automatically activated when your iPhone is connected to a charger. Both modes contribute to conserving power and improving battery life, but they serve different purposes and are triggered under different conditions.
Part 4: Fix iOS 17 Standby Not Working in Minutes
If your iOS 17 standby mode is not working and things are not working as expected, you need to fix your phone. The best way to fix all errors is to use a free fixing application Tenorshare Reiboot. It is a robust application that keeps your phone data intact. Here is a quick tutorial on how to use Reiboot to fix iOS 17 standby mode not working.
Download and Install ReiBoot on your computer from the button below. Launch Tenorshare ReiBoot and connect your iPhone to the computer using Apple's original lightning USB cable. When it recognizes your device, click the 'Start' button to use the iOS System Recovery tool.

Choose the 'Standard Repair' to proceed and read and understand the process.

Download the latest firmware package and wait till the download completes.

Click 'Start Standard Repair' and start the system recovery process. It may take some time.
Your iPhone will automatically reboot once the recovery is complete.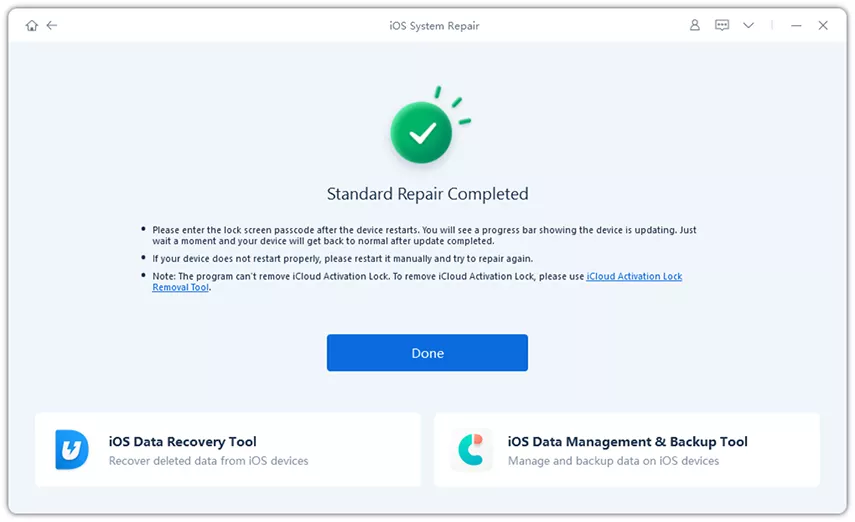 Extra Tips: Best Practices to Maintain iPhone Battery Health
iPhone battery consumption depends on many factors, including the health of your battery, the charging pattern, the number of apps running on the phone, and the phone's working mode. You need to carefully analyze and optimize your phone usage to keep your battery healthy so that it lasts longer. So, here are some general guidelines for you to maintain iPhone battery health.
Excessive heat is dangerous for your iPhone's battery health. Never leave your phone in direct sun or front of the heater vent. Also, temperatures below 32°F (0°C) impair the battery's capacity to store charges.
Using Apple's original cords, adapters, and wireless chargers keeps your battery healthy. The third-party chargers don't maintain standards properly and have poor wires.
Do not let your iPhone discharge completely. A discharged lithium-ion battery goes into a deep discharge state and may never work again.
If your phone discharges completely, charge it as quickly as possible.
Use iPhone's Low Power mode if the battery is 20% or less.
Long hours of charging and overnight charging are also discouraged. You can also enable optimized battery charging by going to Settings >Battery >Battery Health > Optimized Battery Charging.
Keep your battery level between 40 and 80%, and avoid charging your iPhone 100%.
Charge your iPhone to 50% while storing for a longer time.
Turning off the Always-On display will also prolong your iPhone's battery time.
Final Thought
iOS 17 StandBy mode is a new feature introduced by Apple in their new lineup. It turns the screen into a status display screen when placed horizontally while charging. It can show dates and times, live activities, and widgets while smartly using all the screen space. If you need to fix iOS 17 standby mode is not working, we introduced the Tenorshare Reiboot application to resolve all iPhone problems without data loss. You might want to try it and recover your iPhone.
Fix iPhone Stuck and Update Issues without Data Loss