How to Fix iOS 16 Wallpaper not Showing on Notification Bar in Horizontal Mode?
by Anna Sherry Updated on 2022-09-30 / Update for iOS 16
Hello everyone, i updated to IOS 16 and i think i have a question. When on horizontal mode like for example when watching Netflix or YouTube the notification tab is now dark but when vertical it's normal showing the wallpaper. Is this a new weird feature or a bug? Please let me know.
There is one challenge that many iOS 16 users always make use of. This is their iOS 16 wallpaper not working on notification tab anytime they are trying to explore such device via horizontal mode. Probably you have tried different methods to correct this and eventually concluded that such is how the device has been designed to function. This is not true in any way as it can be corrected.
The major aim of this article is to explain some of the ways in which problems related to iOS 16 wallpaper not working on notification tab in horizontal mode can be fixed. Just follow the steps outlined below for the best results.
Part 1: How to Fix iOS 16 Wallpaper not Showing on Notification Bar in Horizontal Mode?
The good part is that there are 6 methods or ways to correct any problem related to iOS 16 wallpaper not showing on notification bar. Check them out.
Method 1: Disable Reduce Transparency
This is one of the most popular methods that can help you correct problems of iOS 16 wallpaper not showing on notification bar. With this setting, you will have a much better contrast. If you reduce its transparency, it is true that battery can be saved. However, you will likely experience iOS 16 wallpapers horizon & vertical problems. Just follow the steps below to fix this.
Go over to your iPhone Settings and click on it.
Once you have arrived at the settings section, scroll down and locate Accessibility.

Now, click on Display & Text Size. On your next interface, switch on the right option which says "reduce transparency". Once you have done this, you can check whether the challenge of iOS 16 wallpaper not showing on notification bar has been resolved.
Method 2: Changing the Wallpaper
This method becomes necessary once you have tried out the one explained above without any success.
Head over to your iOS device Settings and then click on Wallpaper.

Click on Add New Wallpaper.

To choose any picture of your own as wallpaper, click on "Photo". This can also be done by clicking "Photo Shuffle" or "People". It is also possible to choose a wallpaper from the device itself. This can be done by choosing options like colour, collections, emoji, weather & astronomy.
After selecting a wallpaper of your choice, click on Done.
Method 3: Force Restarting Your iPhone Device
Have you tried the option mentioned above without any result? It is high time your device is restarted. This helps whenever your Notification bar is dark in horizontal mode on iOS 16. It is the best when your iPhone isn't responding as expected. Don't know how to force restart iPhone? Check out the steps below:
Press the Volume Up button and then have it released quickly
Press the Volume Down button and then have it released quickly
Press and then hold its Side button
As soon as you see the logo has appeared, the (side) button should be released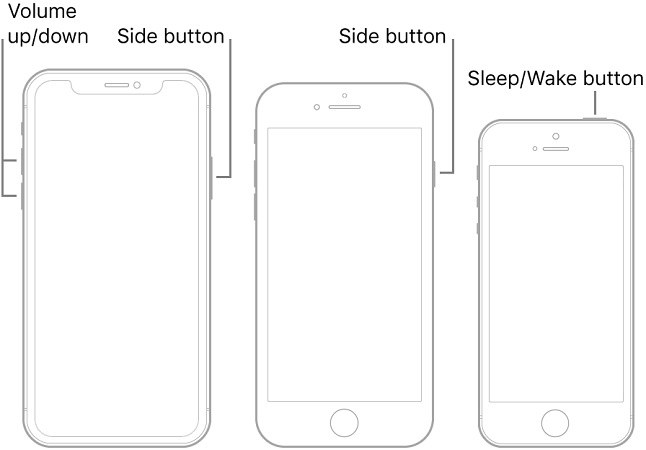 Method 4: Reset All Settings
One of the reasons why you are experiencing iOS 16 wallpapers horizon & vertical problems could be due to software errors. In order to resolve these issues, resetting such device can be the only reliable solution. When an iPhone is restored to its factory settings, it can start to function normally. Here is how this is done.
Go to your iPhone's Settings.
Locate the option which says "General" and click on it. It will make several options available to you.
At the bottom, there is the option to "Reset" your device.

You will be shown several options. Choose the one which says Reset All Settings.

In order to confirm such action, you will need to have the Reset All Settings tapped again. This is to authorize the process.
You will be requested to input the passcode for your iPhone device.
Once you have submitted your passcode, the process of factory reset will then start.
Method 5: Use One Click Way to Fix Notification Bar Getting Dark in Horizontal Mode
Have you tried all of the above 4 methods but are still experiencing the same problem of iOS 16 wallpaper not working on notification tab? If that is the case, there is one simple and effective way to get rid of this problem once and for all. This is using an extremely powerful tool - Tenorshare ReiBoot. It can help to fix any kind of problem your iOS 16 is currently experiencing for the ultimate user experience. See the steps below on how it works.
Download as well as install the Reiboot software and click the "Start" option.

Have your iOS device connected to your PC. Select the Standard option as shown below.

Start the process of downloading firmware package. After that, click on Standard Repair. This process will only take a few minutes. Once it is completed, your device is going to reboot automatically.
Method 6: Contacting Apple
You can also contact Apple for iOS 16 wallpapers horizon & vertical problems. You need to send a message to them by clicking here. Its 24/7 online support is quite comprehensive thus, you will get the best assistance.
Part 2: You May Want to Know: How to Make Picture Fit Wallpaper on iOS 16
Formerly, users of iOS are required to use online services to resize their wallpapers. iOS 16 has managed to change all of these. This makes the process much easier and stress-free. Let us show how your pictures can fit wallpapers on devices that run on iOS 16.
Update the phone to iOS 16.
Head over to the Photos and select the particular picture to be used as wallpaper.
Locate Edit and click on it. This is usually at the upper right of your interface.
At the screen's bottom, select the Crop tool.
Locate the icon that says Aspect Ratio.
At this point, you can edit the picture as you like. After everything, just click on Done.
Once the photo has been resized as explained above, you need to set it as wallpaper. Follow the steps below to do this.
Choose the resized or edited photo.
Locate Use As Wallpaper and tap it.
Conclusion
Having seen the above, it is obvious that iOS 16 wallpapers horizon & vertical problems can be resolved in many ways. Amongst all these methods, the use of Tenorshare ReiBoot software is the most effective. This tool can help you repair an iOS device with the click of a few buttons.