All Things about iOS 16 IPSW Download
by Jenefey Aaron Updated on 2022-09-02 / Update for iOS 13
We believe that most of you might have less knowledge about how to use IPSW file to update or downgrade iOS system. Recently, iOS 16 beta 1 to beta 5 have been continually released and some users still have the iOS 15. We know that this is not an easy thing, because there are many bugs and errors during the process of updating to install iOS 16. Here we sort out some useful tips for you rookies even experienced iPhone users.
Part 1: What are IPSW Firmware Files?
If you want to download IPSW iOS 16, primarily speaking, you need to figure out what is a IPSW file. IPSW file is a compressed archive, commonly referred to as the Apple Device Software package of iOS devices. It can be read directly from iTunes and other iOS administrative assistants to update iOS system. As a whole, we can look upon it as a system file to reset your iPhone.
Part 2: What Need to Do Before iOS 16 IPSW Download?
Don't rush to download iOS 16 IPSW firmware files. Before that, you're supposed to pay attention to some important preparations. If there are not enough checks and patience, a high failure of download is likely to happen. A lot of users once fail to update iOS system because of this.
Check for device compatibility.
Back up your device with iTunes or iCloud.
Make sure you have good Wi-Fi environment.
Spare enough space on your device.
Don't forget your Apple ID password.
Note: If you want to download iOS 16 IPSW, especially jailbreak users are not suggested to update new iOS system because iPhone/iPad will restore to non-jailbreak state.
Part 3: How to Download iOS 16 IPSW Firmware Files
The most concerned part is about iOS 16 download. Some people once felt it seems a little bit hard to download iOS IPSW firmware files because of there are many guides on Google. We here sort out some useful ways to help you figure out which is best fit for you.
Way 1: Download iOS 16 IPSW File via OTA in iPhone/iPad
This is the easiest way to update your devices because just taps on them. OTA update (Over-The-Air update) means you can manually or automatically update iPhone/iPad once a new update has been detected. If you don't have a computer right on hand, congratulations on you, this way works on your own iPhone.
Step1: Go to Settings > General > Software Update.
Step2: Then your device will check for an update, and if it is ready, please tap Download and Install.
Step3: If you don't want to update by yourself, just tap Automatic Updates. iOS 16 will install itself probably during the night.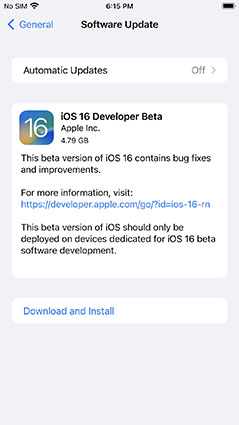 Note: If you want to obtain the iOS 16 developer beta or public beta on your iPhone/iPad, please join in Apple Developer Program and download a configuration profile from official website and install, then you will get notification from iOS beta.
Way 2: iOS 16 IPSW Download Links from IPSW Website
Of course, if you have computer and want to download iOS 16 IPSW firmware files directly, please turn to IPSW Downloads. This offers official IPSW firmware download from Apple Server. Let's take an iPhone XR for example.
Step1: Choose a product iPhone.
Step2: Then you comes to "choose a platform", select iPhone XR.
Step3: Now you can see many IPSW firmware files listing. Signed IPSWs (marked as green) are the ones you need to choose. Download the signed IPSW file and save it to your computer.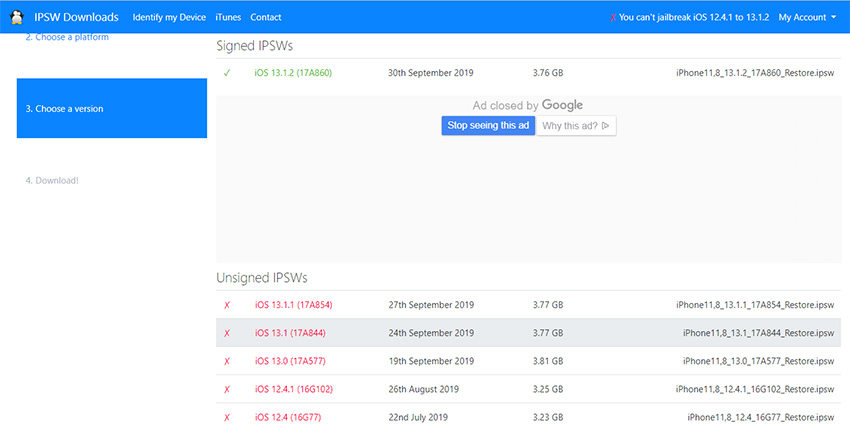 Note: Unsigned IPSWs can't be restored through iTunes. Because , iTunes calls to the Apple servers and ask for that approval signature when new IPSW firmware is downloaded on iPhone.
Way 3: iOS 16 IPSW Firmware File Download via ReiBoot
What if you don't want to visit website to download iOS 16 IPSW? Don't worry, here is another easy way to help you come true. Tenorshare ReiBoot can help you to automatically download iOS 16 IPSW firmware files according to iPhone model. With this tool, you can also repair the majority of issues about iOS system, such as update and downgrade iPhone, iPhone got frozen, stuck on black screen...
Launch ReiBoot, connect iPhone to computer, and choose click "Reset Device" from the main interface.

Select "Factory Reset" and click the blue button to start.

Click "Download" to download firmware, then you can see iPhone model and firmware version. Just save it to folder by default. Click "Download" and wait for minutes.

Now if you want to reset your iPhone, just continue to do it. If not, you can return to home interface and close the software.
Part 4: How to Install iOS 16 IPSW File on iPhone/iPad
Next, how to install iOS 16 IPSW after you successfully download firmware file? We give you some important tips in case of wrong or incorrect installation. If you are experienced Apple users, you know that IPSW file is usually decompressed in iTunes or other third-party tool, because there is no way to look through and open directly.
Install iOS 16 Firmware File with iTunes
As we have mentioned before unsigned IPSW file cannot be restored in iTunes, so remember that. Now connect your iPhone with lightning to USB cable or lightning to USB-c cable to computer and make sure your iTunes has updated to the newest version.
Step1: You can see iPhone icon on the left-upper corner and click.
Step2: Then select "Restore iPhone" from the right pane. Or hold down Shift on Windows or Option on Mac and then press the restore button in iTunes.
Step3: Choose the IPSW file you have downloaded before.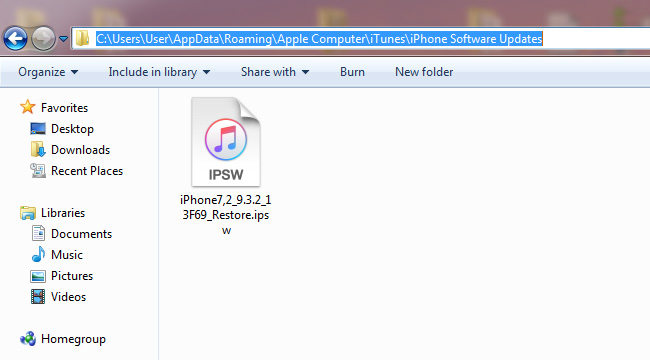 Now just follow instructions to check and set your iPhone. It takes some minutes to finish.
Install iOS 14 Firmware File via ReiBoot
If you haven't downloaded iTunes or you are not familiar with iTunes. There is another way to install iOS 16 firmware if you have already downloaded one. Here we recommend you to use Tenorshare ReiBoot to import your downloaded firmware file and install. Apart from that, this tool is also a multifunctional assistant to fix iOS system related problems. Downgrade, iTunes error, iPhone stuck...etc, the majority of issues can be solved.
Turn on ReiBoot and connect iPhone or iPad to computer. Enter "Repair Operating System" and Click "Download" to download firmware file.

Some tips prompt to you at the bottom of download firmware, please click "Select" to import firmware you have downloaded once.

Now wait for a while until the download process is finished and click "Start Repair", your iPhone is resetting again without data loss.
Useful Tip: How to Fix Potential iPhone Problems When Installing iOS 16 IPSW on iPhone?
Usually, some problems might happen when you install iOS 14 IPSW on iPhone. Maybe you can't install iOS 16, stuck in update, or your iPhone gets stuck with black screen, stuck on Apple logo, or won't turn on...Another problem is that your iTunes error, which can't recognize your iPhone or unable to check for update, restore iPhone. What a bunch of issues, not all of them will exist on your iPhone, but what if you're unlucky to have? ReiBoot - iOS System Repair won't let you down, it help you with fixing those problems without data loss.
Download and launch ReiBoot and connect Apple branded Lightning USB cable to Mac or PC. Note: we recommend you to do with that to make sure you successfully repair iPhone).

Then download firmware to your computer.

After firmware is successfully downloaded and verified, your iPhone starts to repair.

Now the repair process is finished and your iPhone reboots normally without data loss. Again, you can enjoy ios 14 features of new iPhone.

Video Guide: How to Fix iPhone Problems with ReiBoot?
Conclusion
Here we show you a full guide about iOS 14 IPSW download. You know what is an IPSW file, then how to download iOS 14 firmware files, next how to install after download and how to fix possible problems when installing. We can take advantage of common way to finish, but we can also use one-stop solution that is >ReiBoot - iOS System Repair, download , install and fix iOS 16 IPSW file issues.