How to Fix iMessage Issues in iOS 15/14/13 with 8 Solutions
by Jenefey Aaron Updated on 2021-08-30 / Update for iOS 13
"I just bought the iPhone 11 Pro with iOS 15/14/13 installed and after download my personal data a couple times from iCloud the searching function in message app isn't working. In my old iPhone X with iOS 12.4.1 and older versions I was able to find messages just typing (for example) the last 4 digits of a phone number. Now that doesn't work and after 3 days I keep receiving the "more results will be shown once Messages finishes indexing" message."
iMessage issues continue to soar after users updating their iPhone to iOS 15/14/13. Many users complain iMessage App is not the typical one. Yet, a string of glitches hasn't been solved as users seek for help from Apple. Here, we are going to grapple with top 8 iMessage issues with you after updating to the latest version.
Top 8 iMessage Issues After iOS 15/14/13 Update with Common Solutions
1: iMessage App Keeps Crashing on iOS 15/14/13
Well, a growing chorus of users voiced they can't find iMessage app icon anywhere on their idevices. This exactly damage their life and work productivity. Such things are down to updating to unstable version or running an old version.
How to Fix:
Force Restart

On iPhone 8 or above: Tap volume up button and then volume down button. After that, hold the power button until the iPhone restarts and the Apple logo appears again.

On iPhone 7 and 7+: Hold volume down button and power button at the same time. Then, iPhone will restart and the Apple logo will appear again.

On iPhone 6 or earlier: Hold the power button and home button simultaneously. The Slider will appear but ignore it, do not release the button until Apple logo appears.

Use Siri & Search: Go to settings> Siri & Search>Scroll down to Message> Turn on all selections.

Set Messages: Go to settings>Messages>Turn off and turn on iMessage.
2: iMessage Can't Search Old Texts on iOS 15/14/13
Most users said they can't find the "Search Feature" on iMessage, only keeping receiving the "more results will be shown once Messages finished indexing" messages.
How to Fix:
Open your homepage and swipe down to the right. Type what you want to search from Message on the "Search" bar. Then you can see the results.

If you are using iOS, you should update to the latest version for Apple solve this issues.
3: iMessage Not Activating on iOS 15/14/13
A user said he had trouble with activating iMessage, ever since he downloaded iOS 13. He tries all possible ways to deal with it, but nothing helped. That seems he signed out of iMessage, and cannot sign in again.
How to Fix:
Make sure Date & Time are exact: Setting>General>Date & Time>Set Automatically.
Check if you've connected to Wi-Fi.
Recheck if carrier supports iMessage.

Go to settings>Swipe down to Message>Turn off and on iMessage>Fill in Apple ID.

If your carrier is Google Fi, we suggest you reporting the issue to their support and then try again. Or you can revert to a previous version as people said that there was no problem with verisons before iOS 13.3.
4: iMessage Not Available to Register on iOS 15/14/13
"A spinning circle next to my phone number when I am signing in Apple ID in iMessage settings. What went wrong" a user over iMessage not available to register on iOS 13 asked for help.
How to Fix:
Go to Settings > Messages and make sure that iMessage is on. You might need to wait a moment for it to activate.

In the "You can receive iMessages" section, make sure that your phone number and Apple ID are selected.
5: iMessage Notification Not Working on iOS 15/14/13
If you are unable to receive notification on iMessage. Here, you should do these steps below.
How to Fix:
Check your notification settings on iPhone: Setting>Notifications> Slide down to Message icon> Switch on Allow Notifications> Then check the sound settings and others.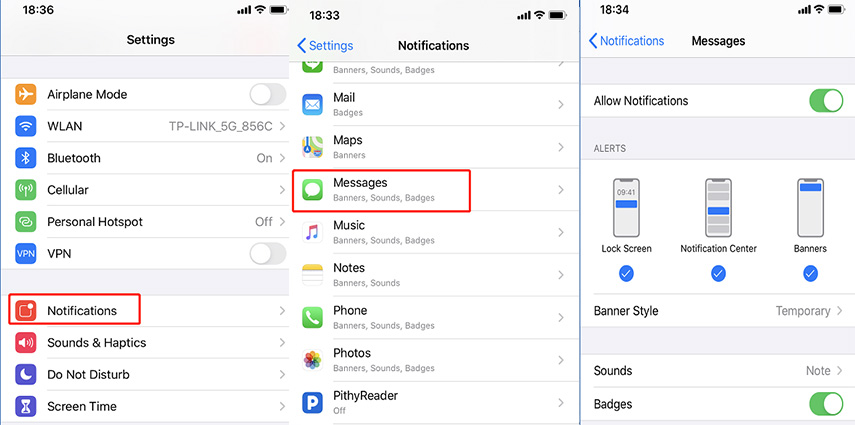 6. "Repeat Alerts" for iMessage No Longer Happening on iOS 15/14/13
People said when the message came in but there were no repeat alerts. This feature enables to use in the lower version. Apple doesn't delete this feature; it just makes users arrange this feature themselves. Here we go.
How to Fix:
Check your notification settings on iPhone: Setting>Notifications>Scroll down to Message icon>Slide down to bottom>Tap "Repeat Alerts" in "OPTIONS COLUME" and select times you want.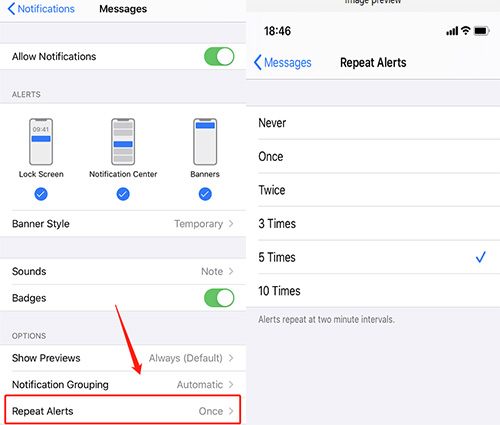 7: iMessage Unable to Delete Multiple Photos on iOS 15/14/13
Many users said they unable to delete multiple photos imessage ios 13, now they can only do this for one picture at a time, further attempts to select and delete pictures don't work.
How to Fix:
Go to Settings > General > iPhone Storage > Move Down to Messages icon > Remove large documents.

Next, press your finger on any photo in a text message until a box pops up. Then, tap more. A circle will appear next to each response including each photo. Tap photos you want to delete, then tap trash bin.
8: Cannot Send iMessages But Receive on iOS 15/14/13
Once you can't send iMessages, you will feel cut off from family and your friends. What ways you can try to solve? Just ignore it or make a call phone?
How to Fix:
Restart your iPhone.
Disconnect Wi-Fi or Cellular data and then re-connect it.
Examine the recipients' phone number or address.
Ultimate Solution for All Kinds of iMessage Issues via Tenorshare ReiBoot
One of the most major problems you will confront is that some solutions are helpful, while others don't work at all. It's possible that you will lost huge time as well as be in bad mood. Hence, we are planning to suggest you an ultimate solution to fix all iMessage issues via Tenorshare ReiBoot. The tool will help you get rid of all iMessage bugs and glitches with professional tech. Compared with other common solutions, Tenorshare ReiBoot will reassure you using trouble-free iPhone/iPad/iPod touch. Let's get start how to use it as follow steps.
Download Tenorshare ReiBoot from the below icons. Then, launch it and follow the tips to connect to iPhone with an original USB cable. Then choose "Repair Operating System (Fix All iOS Problems)".

Don't disconnect it. Now, shift you mouse on "Fix Now" button.

You will see the firmware package download page. Here, you can change the save path via "Browse" button. Or, you are prepared for it, just click "Download".

Once the firmware package downloads to your computer, you can click "Repair Now". The program is going on. Just wait for a while then your iPhone as usual.
Conclusion
In a word, many users have been facing many iMessage issues after updated their phones to iOS 15/14/13. It's definitely annoying that searching on the internet to find solutions is a much tougher nut to crack. Just try Tenorshare ReiBoot, a famous technical fixer which is adept at dealing with all iOS system issues.