My iPhone Won't Update to iOS 16/15, How to Fix
by Jenefey Aaron Updated on 2022-08-19 / Update for iOS 13
Apple devices are some of the most sought after devices. They come up with new updates regularly to improve the performance and user experience of their devices. iOS 16/15 is one such update which was recently introduced by Apple for their devices. As soon as this update was introduced, several iPhone users rushed to update their devices to iOS 16/15.
Although this update comes with a new set of innovative features, there has been a rise in user complaints after its introduction. Many iPhone users reported that they were unable to update their iPhones to iOS 16/15. In order to overcome this challenge of my iPhone won't update to iOS 16/15, we have come up with a few innovative solutions which can help all the iPhone users fix this issue.
Part 1: Why Is My iPhone Not Update to iOS 16/15?
There may be a lot of reasons as to why is my iPhone not updating to iOS 16/15, here are a few of them.
Your iPhone does not support the latest iOS 16/15 update; this is a problem for all those iPhones which are not 64-bit.
There is a lack of storage space on your iPhone.
Your iPhone still has the beta version running on it.
The Wi-Fi connection is unstable.
Your iPhone may have run out of battery during the update.
The servers of Apple may be overloaded.
Broken or incomplete iOS 13 update file.
Part 2: How to Fix iPhone Won't Update to iOS 16/15
Now, since you know the reasons behind why won't my iPhone update to iOS 16/15, here are a few fixes to the problem.
Solution 1: Check the Available Storage
iOS updates generally require storage space of 1.5 GB or more and it may be possible that your iPhone does not have this free storage space due to which you may be getting the error of iPhone won't update to iOS 16/15.
In order to update your iPhone to iOS 16/15, you will have to ensure that you remove or delete all the unwanted files and folders stored in your iPhone which are occupying an unnecessary amount of space. You can delete the unused apps, games, clear out the cache files and other unwanted data like temp files, cookies, notes, or calendar events. You can also delete the large images, videos and audio files. If you do not wish to delete these files, you can also create a backup of these files and then format your iPhone to original factory settings.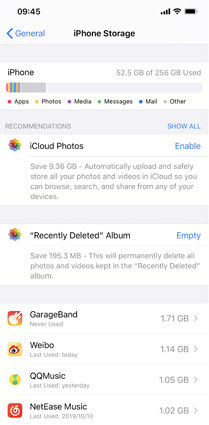 Solution 2: Connect A Good Wi-Fi
Still wondering why won't my iPhone 7 update to iOS 15? The Wi-Fi to which your iPhone is connected may not be having a strong signal. You can check this by connecting another device to the same connection and checking whether the online activities on that device are functioning properly when connected to the particular wireless connection in question.
If in case, the other device's online activities are also slow or lagging, it is time to switch to a better connection in order to update your iPhone to iOS 14. Without a good internet of wireless connection, the iPhone won't update to iOS 15 error is inevitable.
Solution 3: Charge Your iPhone with Original Charging Cable
Your iPhone may be low on battery due to which it is not getting updated to iOS 14. This issue is pretty common when any other charger other than the original charger is used. If in case you are using a duplicate or copy of the original Apple iPhone charger, you must go to your nearest Apple store or visit an online store to purchase the original charging cable. This way your iPhone will get charged optimally and won't run out of battery quickly which will make it possible for you to update it to iOS 16/15.
Solution 4: Connect your iPhone to iTunes (Data Loss)
Are you thinking about why my iPhone wont update to iOS 16/15? The Over the Air updates or OTA is a common way used by several people to update their iPhones to iOS 16/15 since they are much quicker and easier.
However, maximum issues while updating their iPhones to iOS 16/15 arise when the updates are carried out this way. You can instead opt for the update via iTunes. Here is how you can do this to fix the issue on my iPhone 6S Plus won't update iOS 15.
Launch iTunes on your laptop or computer and connect your iPhone to it with the help of a USB cable.
Click on your iPhone once detected and then click on "Summary".

On the right side of the screen, click on "Check for Update".

Confirm the process of the update by clicking on "Download and Update".
If prompted, enter the passcode to continue the update process.
Your iPhone will then be successfully updated to iOS 16/15.
Solution 5: Using Third-Party Software - Tenorshare ReiBoot (No Data Loss)
If you are among the iPhone users who are wondering why won't my iPhone 6S update to iOS 15, this tutorial can help you. Installing the iOS 15 update via iTunes is indeed a good way to overcome all the errors which are causing the failure in iOS 15 update.
However, this method may lead to some form of data loss which has been previously reported by many iPhone users. You can easily overcome this by using a third-party software like Tenorshare ReiBoot as an alternative. This is an incredible software which is aimed at fixing any kind of technical issues on your iPhone and allowing you to update it to the latest software. Here is how you can use this software.
Install this software to your system and connect your iPhone to it.

From the main interface, click on "Repair Operating System".

Select wither "Standard Mode" or "Deep Clean" mode and click on "Fix Now".

Download the latest firmware package by clicking on "Download".

Click on "Repair Now" and check the progress of the repair on the screen.

This is how easy it is to fix any problems on your iPhone and install the latest update on it.
Conclusion
The problems in the process of updating your iPhone to iOS 15 are pretty common. You can overcome this problem by trying out the various solutions detailed in this article. However, the best and safest solution to fix this issue would be to use Tenorshare ReiBoot. It does not cause any data loss and is highly recommended for its effectiveness.