The Full Guide to Recover Deleted Sticky Notes Windows 10/8/7
by Anna Sherry Updated on 2019-12-20 / Update for Windows Tips
A sticky note is a free tool available in Windows 10/8/7. You can scribble your daily works, write poetry, location to be reached, and many more what comes to your mind in Sticky Note. You may delete sticky notes which are of much value to you accidentally, and your whole day plan may be messed up. Some of the causes for Sticky files to miss may be: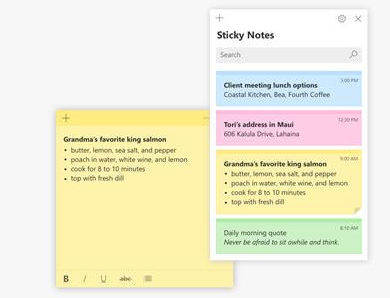 1.  Accidentally Deleted from Note:
Often you don't notice that you might have deleted the stuff, which is much more relevant to you. In some cases, you might intentionally delete them.
2. Sticky Note.snt Got Corrupted: 
Your windows might get damaged due to various causes like corrupted file format, unsupported file format.
3. Virus Infection:
While browsing, it's essential to make a note of the sites you might end up visiting malicious content. It is one of the reasons why users lose their data, including Sticky notes.
4. Power Failure or System Crash:
Sudden system crash or power failure might cause your SD card to wipe all the data on them.
In this tutorial, we will walk you through the ways on how to recover deleted Sticky notes from Windows 10/8/7 step by step.
Part 1. The Powerful Tool to Recover Deleted Sticky Notes Windows 10/8/7
Every daily computer users should keep a usual backup. From unknowingly deleted files or notes to failing hard drives to natural disasters, there are too many things that can go wrong to rely on fortune. Here we are suggesting you the most powerful tool to recover deleted sticky notes in Windows 10, Windows 8, and Windows 7. That is, Tenorshare 4DDiG for Windows Data Recovery.
On the home interface, tick the location where the lost files were saved, "Microsoft.MicrosoftStickyNotes_8wekyb3d8bbwe". If you have no idea, check "The Whole Computer" which will scan the whole system for you.

Hit "Scan" tab and 4DDiG for Windows Data Recovery will start scanning all the files.

Manually check the required files and hit on "Recover" option. The tool will do the required task for you. It is better not to save the recovered file in the place where you lost them. Choose another file path.
Part 2. How to Recover Deleted Sticky Notes in Windows 10/8/7 without Using Tool?
In this tutorial, we are going to teach you how to recover stick notes without using third-party tools. If you are skeptical about recovering your missing notes from third-party tools, you can use this easy method. But the successful probability is lower than Tenorshare 4DDiG for Windows Data Recovery.
Recover Deleted Sticky Notes Windows 10
Here is the easy way to recover Missing Sticky notes in windows 10.
Hit ctrl + R, which opens the Run interface.

Open Sticky Note by pasting path: %LocalAppData%\Packages\Microsoft.MicrosoftStickyNotes_8wekyb3d8bbwe

Open StickyNote.snt file in notepad or open file in Word and use Default action to view contents of your Note.

Note: Try this method if you have signed in Microsoft Account in your Windows.

Restore Sticky Notes on another Computer
Open the StickyNotes.snt File
Since all Notes you write in Sticky notes are sync to Outlook. In windows 10, you can recover deleted sticky notes via Outlook in case you have signed in before deleting.

Recover Deleted Sticky Notes Windows 8

The method of recovering Sticky notes in Windows 8/7 is different from Windows 10, because their stored location are different.

Hit Ctrl + R for Run promp
Paste the location: %appdata%\microsoft\sticky notes
If not present paste the location: C:\Users\User_Name\AppData\Roaming\microsoft\sticky notes

Open Stickynote.snt in notepad. All your written text will appear in the .snt file.

Recover Sticky notes in Windows 7:

Click Start
Type %appdata%\microsoft\sticky notes.

Select the Sticky Notes folder.
Conclusion
Sticky Note comes handy when you have to remember lots of things to do by the day. You can stick your memories, class notes in Sticky notes. It is a free tool available in Windows 10/8/7. If the above mentioned procedures do not work for you, then you can restore a sticky note with the help of Tenorshare 4DDiG for Windows Data Recovery.