How Much Do You Know About QuickBooks and TurboTax
by Anna Sherry Updated on 2019-12-12 / Update for Windows Tips
Well, if it is a fact that and integration between TurboTax and QuickBooks is difficult and close to an impossible task using any tax-creating software.
But you will be able to easily run reports in QuickBooks online, making it possible to gather all the data necessary make an entry to TurboTax. The data you need to provide includes balance sheet reports, profit and loss records also.
Part 1: What are QuickBooks and TurboTax?
Is QuickBooks compatible with TurboTax? The QuickBooks Online is unique and calculative software designed to make accounting easy if you are running a small business. On the other hand, Turbo Tax is a very different type of software that enables the users to upload their state and federal tax returns onto an online platform.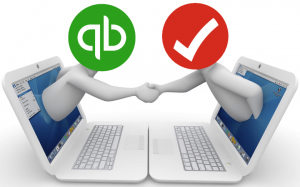 As you can see, both are effective but equipped with different capabilities. So, most of the users try to know, which is better; TurboTax VS QuickBooks.
Part 2: Is QuickBooks Compatible with TurboTax
Can I import QuickBooks Online into TurboTax business?
Well, based on all the information we have, it will not be easy to integrate QuickBooks with TurboTax. However, you know for sure that it is possible to import QuickBooks to TurboTax as TurboTax often works like programs similar to QuickBooks.
The QuickBooks TurboTax bundle mainly works via data transfer. You have to transfer or import data into the TurboTax business, and only then TurboTax QuickBooks will start working. But this data import can be done 2 ways. You can either do it by yourself, or you can get the help of expert accounting software. So, in order to form a connection between QuickBooks TurboTax you should follow the steps below:
Run the TurboTax business and view your returns.
After that, click 'Import' from QuickBooks online. The option is available on the menu available on the top left corner.

Lastly, follow the on-screen instructions to import data.
The previous steps helped you to import data from QuickBooks to TurboTax, effectively. So, now you are now ready to work with QuickBooks and TurboTax.
The data import can only be completed after you have converted QuickBooks data to software format. So, Mac QuickBooks data can only be imported to Windows after the conversion.
You should also avoid networking QuickBooks online and TurboTax. Those programs have to be installed on a single drive and after which you need to complete the registration.
While you are using the single-user format on QuickBooks, you need to make sure that you have entered the company name. The same thing has to be done on the computer you re importing before this said procedure.
Before continuing this procedure, you need to update QuickBooks to its latest version; in order to match the tax returns.
If you are trying to import updated QuickBooks data online, then it can be easily done by clicking on the 'Replace' option.
So, you can use TurboTax to prepare your tax requirements. After that, import the QuickBooks data into the application. Click on 'Business info' as visible on TurboTax and then click on QuickBooks.
After that, locate the QuickBooks data, then a guide will be visible on the screen. Follow that and click 'Import' and transfer data to TurboTax. So, it is a very complex procedure to use QuickBooks free with TurboTax, but with our guide, you will be able to do it properly.
Additional Tip: How to Recover Lost Data on PC/Mac
Are you experiencing a sudden power-off or system running error which lead to data loss ? Or when you export documents to computer from online website and accidentally delete them...this is not an always thing to happen but not a small problem if you don't have any choice to get your data back.
At this time, don't panic. There is a tool with high recovery rate that can retrieve lost data when you urgently need to do with those files. Tenorshare -UltData for Windows, is capable of restoring lost data including videos, documents, mails...from various situation such as file corruption, hardware failure, human error.
Now, let's take a look at how to use this software to recover deleted/lost data:
Download UltData for windows firstly. After you launch it successfully without any question, there are disk partitions showing on the interface and just choose the lost data partition.

Click "Scan" to start, and for a while all data will be listed in the left pane. Tree view or file view, two options to preview what has been scanned.

Now restore the file you choose and don't save it to computer. But remember, do not save it to the partition that once leads to data loss, otherwise, permanent data loos will take place.
Wrap It Up
So, what tax software works with QuickBooks? Well, TurboTax works with QuickBooks if you are able to follow the procedure we have detailed in the article. Like it is detailed in the article, get QuickBooks and TurboTax bundle, and you will be able to make tax returns very easily.