How To Fix iPad Won't Turn On (with Steps)
by Jenefey Aaron Updated on 2023-05-06 / Update for iPad
If you're an iPad user, you might have experienced an issue that iPad won't turn on, even when fully charged. This can be a frustrating and worrisome problem, but there are some common reasons why it might be happening. In this article, we'll explore the potential causes of this issue and provide some solutions to help you get your iPad up and running again.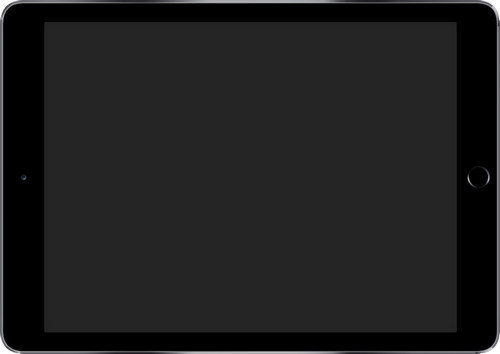 Part 1:Why My iPad Won't Turn on Even When Plugged in
You may wonder why "my iPad won't turn on even when plugged in". There are a plethora of reasons as to why users face "iPad won't turn on shows red battery" issue. Below are some of the foremost reasons for this issue.
Dead Battery: A dead battery is makes the iPad as useless as having no battery. Hence, a dead battery can be the reason for your iPad not turning on. You need to first check if the battery is really dead or not before reaching to a conclusion.
Software issues: A small glitch in any one of the installed app or the software might sometimes result in such situations where the iPad won't turn off. Hence, software errors have a major role in the occurrence of this issue.
Hardware issues: Most of the time, a loose connection in the wires or a short circuit between the components internally can also lead to situations where your iPad Mini won't turn on.
How to Fix iPad Not Turning on
Below are some possible solutions that might help you fix "iPad won't turn on black screen" issue.
Solution 1: Charge iPad
As silly as it might sound, but people always complain "my iPad screen won't turn on" and forget to check the battery status. If sufficient battery is not present in the iPad, then it is obvious that your iPad will not charge. Hence, always check if ample amount of juice is present in your iPad and charge it accordingly.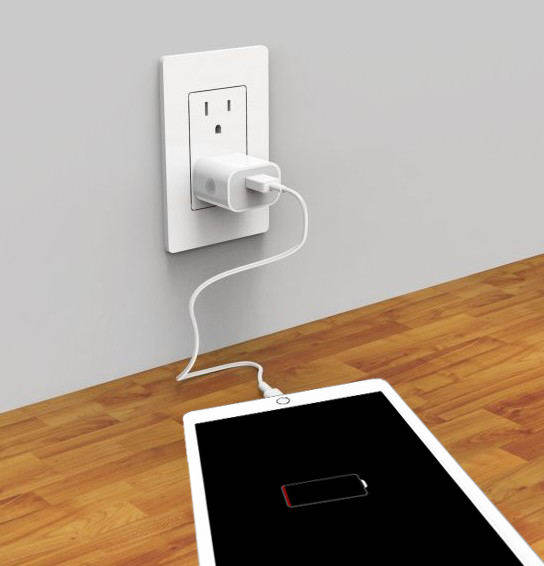 Solution 2: Check Hardware and Accessories
This might be one of the possible reasons that cause the issue. A slight damage to the hardware components or the accessories might result in severe damages. Hence, if you find any damages to the hardware, then it might be the cause for this issue. Water damages are also one of the reasons that can cause this issue. Hence, handle your iPad with care and check for any damages to the hardware or accessories.
Solution 3: Force Restart your iPad
If are thinking as for what to do if your iPad won't turn on, the force restarting is one of the options that you can opt for. Follow the given steps below to know how to solve the issue.
Step 1: Long press the Sleep button and the Home button of iPad for almost 8–10 seconds.
Step 2: Hold the combination till the screen will go off and the Apple logo appears on the screen.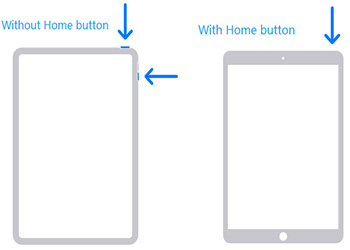 Solution 4: Burp Your iPad
Burping your iPad is very simple and easy method to solve "iPad won't turn on but apple logo appears" issue. It is similar to a burping a child. All you need to do is keep your iPad on your lap. Now, on the back side of the iPad, pat for a couple of times. This is similar to how we treat a baby for burping. Following these steps might help you solve the issue.
Solution 5: Restore iPad via Recovery Mode
Recovery mode is one of the solution that can assist you solve this issue. All you need to do is follow the given below steps.
Step 1: Connect your iPad to your PC and run iTunes.
Step 2: While your iPad is still connected to the computer, switch off the device and hold down the Home button.
Step 3: Let go off the home button when you see Connect to iTunes screen. Select the Restore options on your computer. Wait till the process ends. Restart your iPad.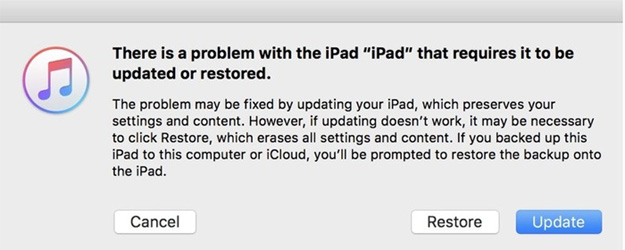 If you are experiencing issues with enter or exit recovery mode, Tenorshare ReiBoot is a powerful and easy-to-use free tool that can help. This software is designed to put your iPhone into recovery mode or exit recovery mode for free, without causing any damage to your device. With just one click, you can solve various iPhone issues and get your device back to normal. Plus, Tenorshare ReiBoot is compatible with both Windows and Mac systems, making it accessible to all iPhone users.
Solution 6: Fix iPad Not on with ReiBoot
However, soemtimes the above methods can fail to work if there are severe glitches in the iPad system. In that case, we sincerely recommened you to try Tenorshare ReiBoot - a professional iOS system reparing tool to reboot iPad by repairing system problems. This software is able to fix any iOS system issues like iPad black screen, iPad keep rebooting, iPad screen frozen and more. Free download this software on your Mac or PC and then follow the steps below to fix the problem.
Run ReiBoot on your computer and then connect iPad to computer to get it detected. Click "Start" from the main interface.

Click "Fix Now" to enter the repair mode. Select "Standard Repair" to proceed.

Download the firmware package and save it to your computer.

When the downloading process ends, click "Start Repair" to repair iPad system. The device should reboot after repairing.

After the repair is done, your iOS device will automatically reboot and all your data will not be deleted.
Solution 7: Restore iPad to Factory Settings
Restoring iPad to factory setting is also one of the solutions that you can use. All you need to do is follow the steps given below.
Step 1: Connect your device to the computer and open iTunes.
Step 2: Select your iPad when it appears in iTunes. Click on "Restore iPad" option.

Step 3: This will restore the device and solve your issue.
Solution 8: Repair iPad from Apple
If none of the solution work and you think that the hardware damages to the iPad are beyond your limits of solving, it is better recommended to visit the nearest Apple Service Center.
You just had a look on the best 8 solutions that could help you if your iPad won't turn on even when plugged in. If the article was help, you can let us know your feedback by commenting below.
Conclusion
In conclusion, dealing with an iPad that won't turn on can be frustrating, but it's important to troubleshoot the issue step-by-step. Besides, Whether it's a software or hardware problem, you can try Tenorshare ReiBoot to fix "iPad won't turn on" issue. By following the tips outlined in this article, you can hopefully resolve the issue and get back to using your device as normal.
Fix iPhone Stuck and Update Issues without Data Loss