iPad Keyboard Not Working? 8 Useful & Pro Fixes Here!
by Jenefey Aaron Updated on 2023-04-06 / Update for iPad
Recently, a lot of iPad users complained their iPad keyboard not working. Let's check out what kind of claims from Apple community:
iPad Pro is intermittently non reponsive to the iPad Pro Smart Keyboard.
iPad pro external keyboard stopped working.
My iPad Pro 12.9 inch started getting messages "This accessory is not supported" along with an almost continuous series of beeps.
Smart Keyboard not working since iOS update.
My iPad is not connectiong to the keyboard.
iPad Pro doesn't recognize smart keyboard.
Part 1: Why is My Keyboard not Working on My iPad Pro?
So, why would iPad keyboard not working? Usually, when you find that iPad Pro keyboard not working, just some software glithces and minor iOS bugs that lead to the keyboard issues. The following are the effective solutions to help solve the iPad Pro Smart keyboard not working on iPadOS 16/15.
Part 2: Basic Troubleshootings Before You Fix iPad Pro Keyboard not Working
Step 1. Make Sure the Correct Device Model. According to Apple official illustration, if you use a Smart Keyboard, the compatible iPad models are iPad (7th generation), iPad Air (3rd generation), iPad Pro 9.7-inch, iPad Pro 10.5-inch, or iPad Pro 12.9-inch (1st or 2nd generation).
Step 2. Check the Connection Port. Sometimes the problem can be a small one. So before you go trying more invasive solutions, you might make sure that the keyboard doesn't have dust and debris on the port which can interfere with its effectiveness.
Step 3. Disconnect Smart Keyboard and Reconnect. If everything is clean and the keyboard still will not working correctly, plugging it out and then reconnecting it may fix the problem.
Step 4. Check the Internet Connection. There are some iPad Pro users who have claimed that a faulty or poor Wi-Fi connection can cause the iPad Pro to fail to recognize the Smart keyboard. So, you might want to test the strength of your Wi-Fi connection before attempting any other solutions.
Step 5. Force Restart iPad. The simplest way to fix iPad Pro Smart keyboard not working is to force restart the iPad. To do this, just press the home button and the power button at the same time for at least 10 seconds. Release them when the Apple logo appears on the screen.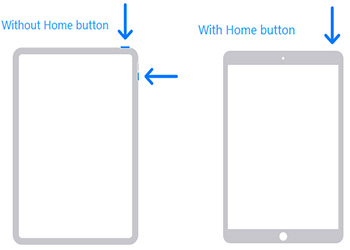 Part 3: If Caused by iOS Update, Fix iPad Keyboar not Working with ReiBoot-iOS Repair Master
As what we have mentioned above, some users get the issue logitech keyboard for iPad Pro not working since iOS 16/15 update. It's possible that your new iOS comes with some bugs. So how could this be fixed? Don't worry, you can try to use Tenorshare ReiBoot to help you quickly and easily repair iOS system and guarantee a super high repair rate. More, if you accidentally go through iPad not working, that tool also works perfect. Jusk kindly follow the steps below and soon to get your problem resolved.
Connect your iPad to the computer and run the tool. Now, click on "Repair Operating System" option.

Image 1. Run ReiBoot and start to repair iOS system

After you click on "Fix Now", ReiBoot starts to install the latest firmware package.

Image 2. ReiBoot begins to download firmware package

On the subsequent screen, tap "Repair Now" to begin the repair of your iPad.

Image 3. ReiBoot is repairing iOS system

After the process ends, your iPad will reboot with the latest iOS in it working fine.

Image 4. iOS system is repaired completedly
Now check your iPad and reconnect it with Smart keyboard to see if there is still problem existing there.
Related Read: iPadOS Magic Mouse Scrolling not Working
Part 4: If Minor Sofware Glitches, Try Simple Ways to Solve iPad Keyboar not Working
If you can't fix the Apple iPad keyboard not working problem, you can move on to these 2 methods below. Now let's take a look at how to fix:
Fix #1. Erase All Content and Settings
If logitech iPad keyboard not working, you may want to try to factory resettings on your iPad. This will often eliminate a bug in the settings that could result in the connection problem. Follow these simple steps to erase your iPad;
Open the Settings App on you iPad and then tap on "General".

Scroll down to tap on "Reset" and the select "Erase All Content and Settings".
Now reset your iPad as a new one and reconnect it to your keyboard.
Fix #2. Restore iPad from iTunes
Restoring iPad to factory settings through iTuens is also one of the solutions that you can use. Just follow the steps given below.
Connect your device to the computer and open iTunes.
Select your iPad icon on the screen when it appears in iTunes.

Click on "Restore iPad" option from the right side of the box.
Note: This method will overwrite the current data on your iPad and you need to think twice before you consider to use it.
Part 5: If Hardware Problem, How Do You Fix iPad Keyboard not Working
iPhone keypad not working after you have tried all of ways above? Ihat's probably caused by hardware damage. So how to fix iPad keyboard? Of course, you can turn to officical Apple store and ask pro technicist for help. Just keep in mind that don't fix it by yourself, because that will take huge risk of being worse.
Write at the End
We hope one of our solutions help you fix the iPad pro Smart keyboard not working issues. In this article, we walk you through some useful ways to solve the problem you're running into. Especially, if you come across that after an iOS update or other software issues, Tenorshare ReiBoot is an ideal way to fix, don't hesitate to have a try on this method. Let us know which method works best in the comments below.
FAQs about iPad keyboard
1. How do I reset my iPad pro keyboard?
If you're using Smart keyboard or Smart Keyboard Folio: First thing, you need to remove your Smart keyboard gently. Then restart your iPad. Now connect your keyboard to iPad correctly.
If you're using an onscreen floating keyboard: First, you can open up some app in which you need to use keyboard, and press the "simle icon", then click keyboard settings and reset your keyboard.
2. How do I fix unresponsive keyboard?
There're so many methods that may be useful and reliable for you.
Check whether you have stand you iPad to the correct position.
Reconnect your keyboard and check if it works properly.
Force restart your iPad.
Reset all settings.
Erase all content and settings.
Repair iOS system with professional software.
Restore iPad with iTunes.