YouTube Wont Play on iPad? All Fixes Are Here!
by Jenefey Aaron Updated on 2020-08-17 / Update for iPad
YouTube is the most popular video streaming platform. It is not new that people are complaining about the problem YouTube wont play on iPad. Here, you can try different solutions to fix this problem in different cases. YouTube app doesn't work on iPad, Tenorshare ReiBoot is the ultimate solution, you can download it to use if you already tried a lot of methods but no use.
Part 1: What iPad YouTube Not Working Problems Will be Fixed Here
Before we began, let us see what kinds of issues we are going to deal with.
YouTube is a huge platform. Hence there are many kinds of issues that can be seen. Sometimes, users complain about videos not playing on iPad. In such cases, the app works strangely and does not play YouTube clips on the iPad. Besides, when the app is working fine, sometimes the YouTube app not loading leaving the users clueless with a loading circle on the screen. Another incident that makes users go nut is the message "Playback Error Tap to Retry." If you see this message, then there is definitely an issue present.
Now that you have known the types of issue that occurs when iPad YouTube not working, we might move on to the facts which may cause these problems.
Part 2: Why Wont YouTube Work on My iPad?
You may ask "why wont YouTube videos play on my iPad?". There are a lot of facts that will cause YouTube not to work properly on the iPad. The top reasons why YouTube cannot work on the iPad are slow internet, browser problem, YouTube app bugs, or iPad system bugs. No matter what reasons, the most concern is how to fix it.
Part 3: How to Fix YouTube App Not Working on iPad?
Solution 1: Check Network Connection to Fix YouTube Videos Not Loading
Sometimes, network issues might also have a great role to play in this issue. All you need to do is follow the given below steps to check the network connection.
Switch off the Wi-Fi or cellular data on your iPad.
Reset the network settings for the cellular network or Wi-Fi on your iPad.
Connect again to the network after turning the cellular data/Wi-Fi on.
Solution 2: Force Quit YouTube to Fix YouTube Not Responding
If still you feel that YouTube videos not playing on iPad, force quitting the app might help you. This is simple. Just follow the steps below to solve the issue.
Double click the Home button and will see the list of apps that are running in the background.
Look for the YouTube app on this list.

As soon as you have spotted the app, swipe it up. This will remove the app from the list, thereby force quitting it.
Solution 3: Update YouTube to Solve YouTube Not Playing on iPad
If you feel the iPad won't play YouTube videos, then all you can try is to update the app. This might solve the issue. Follow the below steps to update the app.
Go to App Store. There will be a list of options at the bottom of the screen.
Tap on the Update option.

If an update for the YouTube app is available, then it will appear in the list. Click on the Update option in front of the app. Your app will be updated.
Solution 4: Reinstall the YouTube App to Fix YouTube Videos Wont Play on iPad
Sometimes, reinstalling the app might also come handy in this situation. All you need to do is follow the steps given below.
Long press on the icon on the Home screen till they start shaking. A cross icon will appear on the icons.
Click on the cross icon to delete the YouTube app.

Now head to App Store and search for the YouTube app and install it again.
Solution 5: Force Restart iPad to Fix iPad YouTube Problem
If your videos won't play on iPad, then force restarting the device can solve the issue. This is very simple. All you need to do is long-press the home and sleep button at the same time till the screen goes off and the Apple logo appears again.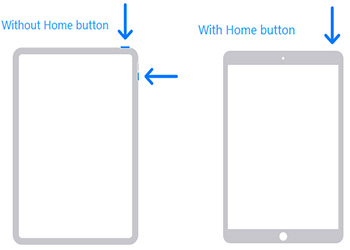 Solution 6: The Ultimate Solution to Fix YouTube Not Working on iPad
If the problem still remains after trying the above solutions, then you can solve it by Tenorshare ReiBoot. This software can solve any issue related to the iPad. Here is the step-by-step guide.
Once you have connected your device to the computer, run the software and click on "Repair Operating System".

Install the newest firmware package online. Click "Download" to start the package downloading process.

When the download is completed, select the "Start Repair" option to start the recovery of your device. Once the process is ended, your iPhone will have the latest official iOS installed with all the issues vanished.
The above solutions are suitable to solve the YouTube videos not working if you are using YouTube App. What if you are watching YouTube videos with a browser. In this case, continue with us to get solutions.
Part 4: How to Fix YouTube Videos Not Playing on iPad for Online Watching?
Solution 1: Check WIFI or Mobile Data
Our first step is the same as the YouTube app solutions. Go to check if your WIFI or mobile data works well for YouTube videos playing.
Solution 2: Clear Browser Cache
The problem may be caused by your browser's cache, history, you need to delete them. For chrome, just click more "..." at the right top side, find History, tap on Clear browsing data, select Browsing history, cookies and site data, Cached images and files, then, tap on Clear Data. Then, open Youtube.com and play your videos again.
Solution 3: Open with Another Browser
If you still cannot paly it, you can open it with another one browser. For example, if you are using Chrome, you can try to open this YouTube video with Firefox, IE, etc. This may solve this problem.
Solution 4: Free Download YouTube Videos on iPad to Watch Offline
If you tried the above solutions, but it still does not work for you. Do not worry, we have the most effective solution. Using free tool download4.cc to download YouTube videos on your iPad to watch directly.
Visit download4.cc this free tool with your browser on your iPad.
Copy the link of YouTube video not playing to download4.cc. Click the Download button to download it directly on your iPad.

Then, the problem iPad wont play YouTube videos is solved successfully.
Conclusion
Checking this article, YouTube wont play on iPad will not be the problem to you any more. If you are trying to fix the problem of YouTube app not working and cannot solve it after trying a lot of methods, we recommend you to use Tenorshare ReiBoot to fix it.